From Duke Student to Duke Employee
After graduating from Duke in May, some alumni now work at Duke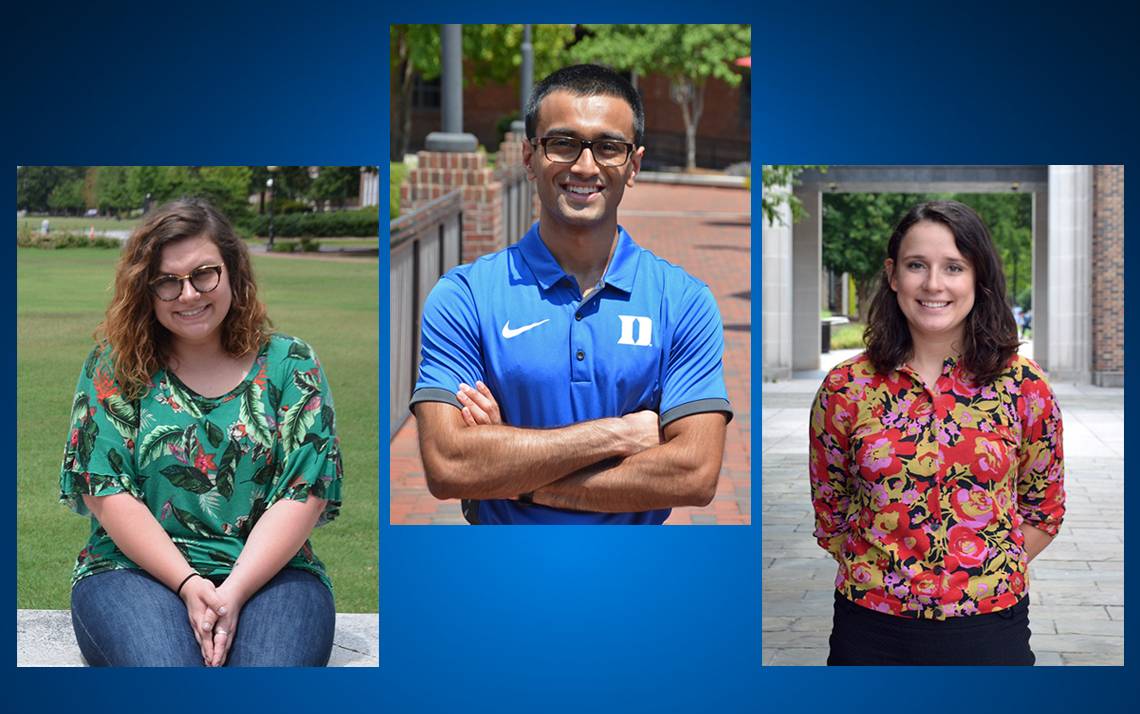 Duke senior Noor Tasnim went to bed on May 1 without knowing what his next life chapter would entail.  
He had finished his final project for "Soccer Politics" and was set to graduate in a few weeks, but he wasn't ready to leave Duke and hoped a job offer would come through from the Duke Alumni Association. Sure enough, the following morning, he was offered a full-time position at Duke. 
"It was honestly a perfect ending to my senior year," said Tasnim, Ubben Fellow for Student Programs for the Duke Alumni Association. "All of this happiness replaced a lot of sadness that was settling in because I thought my time at Duke was over."
With the academic year beginning today, Working@Duke talked with three May 2018 graduates who are now part of Duke's 39,000-member workforce. 
Noor Tasnim
Ubben Fellow for Student Programs, Duke Alumni Association
Bachelor's degrees in Global Health and Evolutionary Anthropology

As the clock wound down on his time as a Duke undergraduate, Noor Tasnim felt a sadness setting in at the thought of saying goodbye. 
Tasnim worked as a tour guide, researched foot pain in Madagascar and joined Duke's urban dance group, "Street Medicine," as a student. 
"A lot of the time I spent throughout senior year was reflecting on my Duke experience and how grateful I was for the different resources," Tasnim said. "I didn't want to leave that environment nor was I ready to leave that."
Tasnim applied for jobs across the country that would allow him to continue his research in foot pain, but his first choice was to work for the Duke Alumni Association. He applied for the Ubben Fellow at the recommendation of the Duke Alumni Association. 
Inga Peterson, assistant vice president of campus engagement for the Duke Alumni Association, said the Ubben Fellow position is open every two years and her office generally reaches out to the senior class for candidates. The position is named for Duke alumni Jeff and Laurie Ubben. 
"We give a strong preference to Duke grads given the line of work we're in," Peterson said. "They have experience and relationships that are a huge benefit to connecting us to the community."
Manda Hufstedler
Program Coordinator, Kenan Institute for Ethics
Bachelor's degree in English 

As Manda Hufstedler entered her senior year at Duke, she knew she wanted to get a master's degree but preferred to work for a few years and take a break from student life. 
While a student, Hufstedler wrote articles for "Encompass" a magazine published by the Kenan Institute for Ethics, so when Kenan announced a program coordinator position opening, Hufstedler applied. 
"I knew I wanted to stay at Duke as an employee if I could," Hufstedler said. "It seemed like perfect timing that the job opened at the Kenan Institute. It was one of those organizations that I had wished I could have participated more in as a student."
Denise Motley, executive director of recruitment and staffing for Duke Human Resources, said hiring recent Duke graduates is beneficial because alumni are passionate about the university. 
"Duke graduates are already committed to Duke's mission and vision," Motley said. "They have proven to be continuous learners who adjust quickly to new positions and embrace the challenges that come with them."
Hufstedler is now planning author Mohsin Hamid's visit to campus this fall. She'll also mentor students in the Global Citizenship and Ethics Living/Learning Community and in the Ethics & Society Certificate program. 
"People at Duke and Durham are accepting and caring of one another," she said. "I fell in love with this community and am thrilled I get to stay here."
Libby Dotson
Associate in research, Center for Global Women's Health Technologies 
Bachelor's degrees in International Comparative Studies and Global Cultural Studies

A study abroad opportunity in her sophomore year led Libby Dotson to her first job after graduating from Duke in May. 
Through Desarrolla, a Duke student organization that does research and service projects in Latin America, Dotson traveled to San Andreas, Guatemala, to provide renewable flashlights to an all-girl's boarding school. When the summer was over, Dotson took an independent study to write a report on how the school used the flashlights.  
"The doors kept opening for me when I was persistent about the things I was passionate about," she said. "Before I knew it, the [Center for Global Women's Health Technologies] asked if I wanted to stay on as a full-time research fellow. 
Dotson is now helping the Center for Global Women's Health Technologies curate an exhibit on women's health that will be on display at the Rubenstein Arts Center in the spring. She'll also be scheduling a clinical study in the fall for women to try devices that replace the speculum. 
"It's an exciting challenge to have a job that integrates the engineering and art worlds," Dotson said. "It's quite a great experience to be in a place I love doing the work I love." 
Got a story idea or news to share? Share your news with Working@Duke.