Duke Kunshan University's Class of 2022 arrived on campus this week and by all accounts they were excited and slightly overwhelmed -- just like the first-year students arriving on college campuses around the world. But this is no ordinary group of new students; this is the first first-year class of undergraduates at Duke Kunshan and their arrival is a milestone for the university. 
Duke Kunshan -- a partnership of Duke University, Wuhan University and the city of Kunshan in Jiangsu Province -- has offered graduate-level degrees for the past four years. Today, university leaders and local officials welcomed the Class of 2022 in the university's first undergraduate convocation. 
"This convocation marks an important moment for Duke and Duke Kunshan: The realization of our goal of building a world-class university in China," said Duke President Vincent E. Price, who was unable to attend Tuesday's celebration but who filmed a welcome message for the students. "I am particularly proud of the richly diverse and academically accomplished students who will begin their studies at Duke Kunshan this year, the innovative and distinguished faculty, and the many people at Duke, Duke Kunshan and around the world who have made this visionary idea a reality."
"I am particularly proud of the richly diverse and academically accomplished students who will begin their studies at Duke Kunshan this year, the innovative and distinguished faculty, and the many people at Duke, Duke Kunshan and around the world who have made this visionary idea a reality."
-- Vincent Price
Tuesday's events began with an academic symposium in the morning about the importance of international education. Among those speaking were Ben Wildavsky, executive director of The College Board, and Wuhan University President Dou Xiankang. The afternoon's convocation was designed to be colorful, meaningful and fun, and included performances, speeches by officials, faculty and students, and the unveiling of the school's mascot.
Duke Provost Sally Kornbluth was among those from Durham who attended Tuesday's convocation.
"This day is the culmination of work by so many faculty and staff members, both at Duke and Duke Kunshan," Kornbluth said. "At the same time, it is just the beginning of the venture of providing a top-notch liberal arts education in a Chinese context. I couldn't be more excited to see this entering class from all over the world. We could not have wished for a more talented and diverse class as we launch our first year of the undergraduate program."
Also attending was Duke President emeritus Richard H. Brodhead, who was instrumental in the creation of Duke Kunshan.
"Duke Kunshan University has been created through a partnership that has spanned two cultures and 8000 miles," Brodhead said. "The partnership has worked because the contributors share an essential attribute, a commitment to plan for the long term.  … [E]ducation alone gives people the means to live up to their full potential, and so to bring maximum creativity and wisdom to the future world." 
Initial projections called for the university's first undergraduate class to be 225, but better-than-expected success in recruiting talented international students increased the class to 266: 175 students from the China mainland, 10 from Taiwan and 81 international students.
Reaching this milestone represents years of planning and collaboration both in China and Durham, officials said.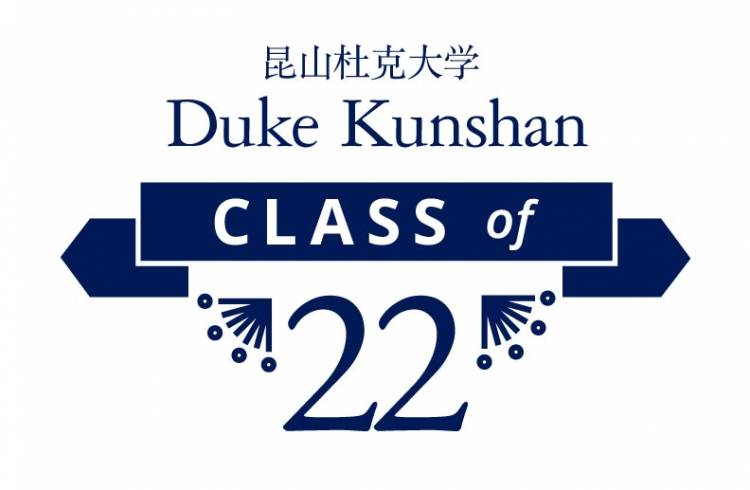 "The arrival of the inaugural class of undergraduate students is one of the most memorable events of Duke Kunshan since its establishment in 2013," said Liu Jingnan, Duke Kunshan's chancellor. "This comes at the end of a long journey of academic preparations by Duke Kunshan, Duke University, Wuhan University and the Kunshan government. 
"In the following four years, they will learn a new language, experience different cultures, and meet people that think very differently from themselves. They will also live and have experiences in the largest and fastest-growing country in the world, while becoming part of the passionate and highly connected Duke alumni network. Our students will grow into well-rounded global citizens with the knowledge and expertise to work across cultural boundaries."
All totaled, 27 countries are representedin the Class of 2022, including 39 students from the United States. The class was completed in July, following a matching process that placed Chinese students who took the Gaokao college entrance exam with universities in China.
"It is gratifying and also remarkable that our vision and hard work for an innovative, integrated and interdisciplinary liberal arts and sciences curriculum for the 21st century resonated so well with the world as demonstrated by the incredibly talented, international and diverse inaugural class of students," said Haiyan Gao, Duke Kunshan's vice chancellor for academic affairs and the Henry Newson Professor of Physics at Duke.
Teaching the undergraduates are 22 new faculty hired from an initial pool of 1,300 applicants from around the world. The faculty was directly involved in the creation of an interdisciplinary curriculum designed to address real-world issues from a blend of academic perspectives.
"Our stellar international faculty has been a major attraction for Duke Kunshan's superb global student body," said Noah Pickus, Duke's associate provost and dean of undergraduate curricular affairs and faculty development at Duke Kunshan. "Both groups are excited about where they come from and, even more, what they will build together. They see in each other the once-in-a-life-time chance to shape the future by imagining a new university in a new century."
Among the dignitaries also attending Tuesday's ceremony were Dou, the Wuhan University president, and Zhou Xudong, the acting mayor of Kunshan.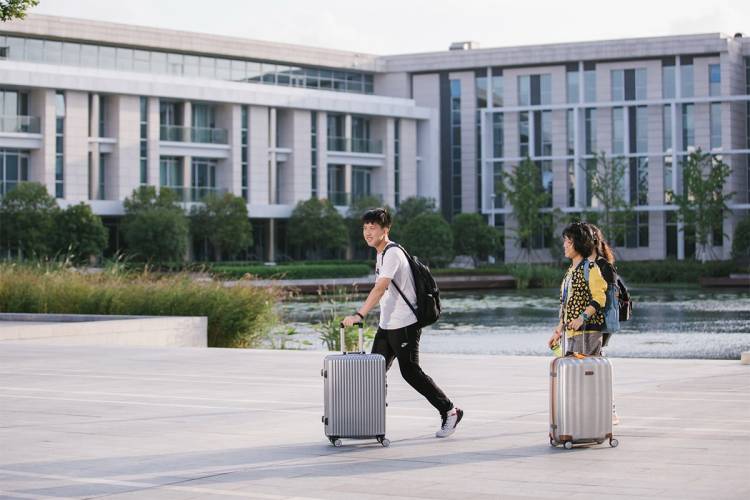 "As we usher in the undergraduate opening convocation today, it completes a key component for the founding of Duke Kunshan University," said Dou. "It marks that Duke Kunshan has advanced to a new high and embarked on a new journey. It is also a momentous milestone in Duke Kunshan's history."
Added Zhou, the acting mayor, "In the future, Kunshan will build a national first-class industrial science and technology innovation center with international influence in which Duke Kunshan University will play an important role as the core area."
Future plans call for more-than-doubling the size of the campus, increasing the class size to 500 students and employing 120 faculty.
"The possibility of having a major transformational impact on Chinese higher education remains ever present," said Denis Simon, Duke Kunshan's executive vice chancellor. "And as I have sensed from the very beginning, we truly have the potential to educate a new generation of young leaders who will have both global reach and global impact."