Phail Wynn Jr. Remembered As 'A Great Man Lost Way Too Soon'
Dignitaries, family remember former vice president of Office of Durham and Regional Affairs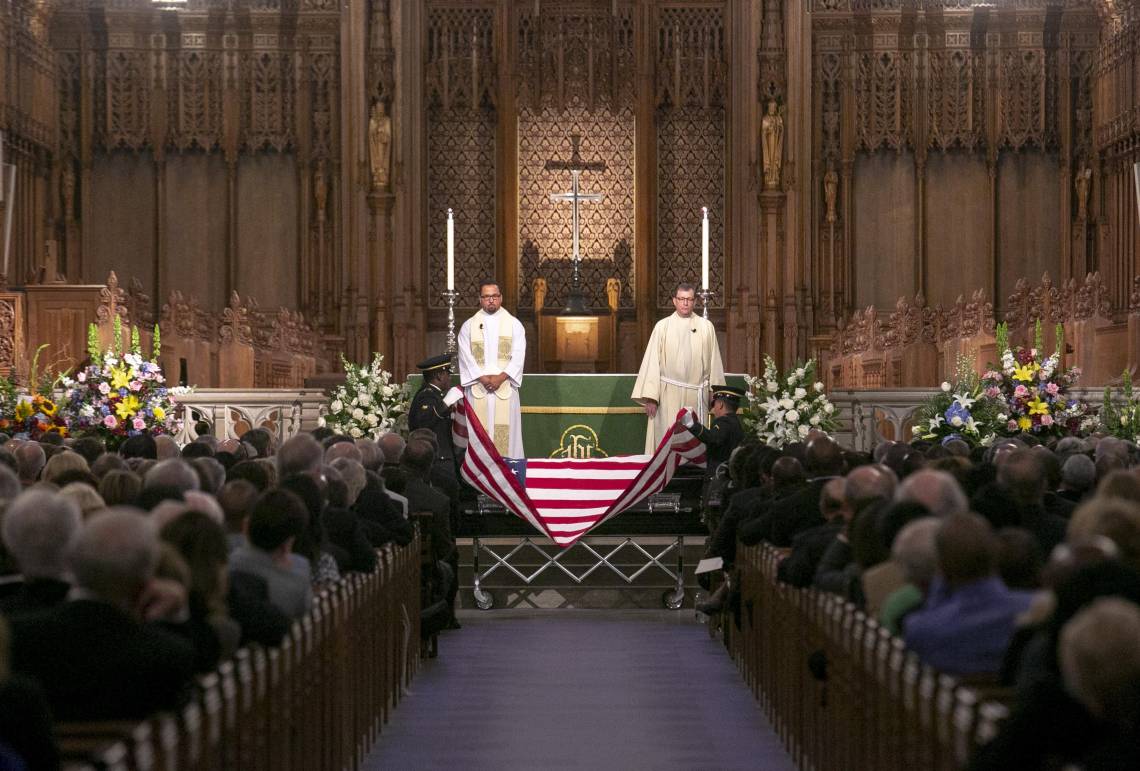 Phail Wynn Jr.'s gift for uniting people became apparent one night in Vietnam.
During his time as an Army platoon commander, Wynn, an African-American, commanded an all-white platoon. The soldiers were sitting around a campfire one night singing a Hank Williams song when, to their amazement, Wynn walked up and joined in the singing.
"Well, I'm from Oklahoma … I know all about this," Wynn told his stunned white comrades, recounted his son, Marine Master Gunnery Sgt. Rahsaan Wynn.
That story was one of the lighter moments Monday, when several hundred people filled Duke Chapel on a humid, overcast morning to remember Wynn, former vice president of Duke's Office of Durham and Regional Affairs, who died last week at age 70.
Wynn had just retired after 10 years at Duke and 27 years as president of Durham Technical Community College.
His impact on the Durham and Duke communities was evident in the makeup of those who came to pay their respects Monday, including a host of Duke leaders and trustees, U.S. Rep. G.K. Butterfield, a number of members of the North Carolina General Assembly, current and former Durham mayors Steve Schewel and William Bell and a number of local government, education and business officials.
"What a gift it was to share my life with Phail Wynn," said former Duke President Richard H. Brodhead, one of several speakers during the service.
Brodhead recounted how he asked Wynn to forgo retiring after his time at Durham Tech and to come to work at Duke, to help strengthen the university's relationship with Durham following the strains of the lacrosse scandal.
That job was to last five years, but Wynn agreed to stay another five years after he and Brodhead decided there was still much work to do. At the request of current Duke President Vincent E. Price, Wynn remained in his post until the end of the 2017-18 school year.
"This university is forever changed for the better because of Phail's service," Price said, calling Wynn "a great man lost way too soon."
"We see in this crowd the full arc of Phail's life and career. To know Phail was to feel a part of his wonderful, extended family."
Bell said he met Wynn before Wynn became president of Durham Tech in 1980, and called him "very intelligent, personable and a leader."
"I pray you'll hold tight to the many memories you have," Bell told the chapel crowd.
The service concluded with a solo version of "Taps" that reverberated throughout the chapel.
Wynn's contributions to improving life for Durham residents include launching programs that help public school students, provide home-buying assistance and promote hybrid bus service.
In January, he spoke to Duke Today about his accomplishments, his love of Harley-Davidson motorcycles and his plans for retirement.
"I think as I walk away, what I'm overall most proud of is reestablishing trust between Duke and all the various constituencies," Wynn said, adding that he did not have any disappointments in his career. "The big challenge was the more you do, the more you realize what needs to be done."
William Ingram, president of Durham Tech, listed many examples of how Wynn's leadership there helped improve people's lives: a person who earned a GED becomes the first person in the family to attend college; a laid-off tobacco industry worker's training leads to a new career as a mechanic; a woman becomes a nurse and helps deliver babies; homeowner programs stabilize fragile Durham neighborhood.
"We don't need to look very far," Ingram said, "to see the fruits of his life."
Wynn is survived by his wife, Peggy; his mother, Valree Fletcher Wynn; son, Rahsaan; brother Michael Wynn; and an aunt, Mary Wynn.