A Decade Later, Drought Lessons Endure
Duke's commitment to water conservation continues after 2007-08 historic drought
Filled with exotic and native species, Sarah P. Duke Gardens had been Duke's verdant connection to the Durham community for nearly 70 years. But when Bill LeFevre stepped into the role of executive director in October 2007, the gardens faced one of its most daunting challenges.
A severe drought had stretched across North Carolina over the summer, and by the fall of 2007, the city of Durham enacted mandatory water conservation measures in response to extreme drought conditions. So before LeFevre could get settled into his new position at Duke, he had to figure out how to simply keep the 55 acres of gardens alive.
"Drought affects everything," LeFevre said. "If you don't have rain, plants won't grow. So of all the challenges that we face, severe drought has to be on the top of the list."
LeFevre was far from alone as the drought of 2007 and 2008 forced Duke to reduce its consumption and rethink its use of water.
Duke's commitment to saving water pre-dated the drought. It had already invested more than $50 million into expanding its central chilled water, which consumes substantially less water than individual cooling systems for buildings on campus.
But Duke did even more during the drought.
For starters, in 2007, Duke University dedicated $5 million for water conservation projects. In one of the first initiatives to be funded, Duke gave away an initial batch of 5,000 "low water flow" showerheads to Duke faculty, staff and off-campus students.
"The drought really made people aware of how you can teeter on the edge pretty quickly. It was a learning moment for all of us."
-- Paula Mangiafico
From transitioning to low-flow toilets in campus buildings to cutting off automatic irrigation to plantings in Duke Gardens and across campus, hard choices about water use had to be made. Now, a decade later, the lessons learned during that period continue to shape Duke's approach to water conversation.
"That was an eye-opener for us to understand where we were using water, how we were using it and how we could cut back," said Steve Palumbo, director of Facility Operations for Duke Facilities Management. "It was a great learning experience."
The drought began in the spring of 2007, which was unusually dry. It was followed by a scorching summer with the second-hottest and second-driest August that North Carolina had seen since 1895.
"When you don't have rain and you have those high temperatures, it just magnifies it," said Rebecca Ward, an extension climatologist with the North Carolina Climate Office. "It sucks the moisture out of the ground and compounds that issue."
The Atlantic hurricane season, which often brings rain-dumping tropical systems, was dry as well. By early fall, the situation had become a crisis. In September, Durham – which later came within 39 days of running out of easily accessible water – enacted mandatory water restrictions, requiring users to cut their consumption by 30 percent.
Among other steps Duke took during the drought was to turn off all of automatic irrigation systems, and disposable plates and utensils were used in dining halls, so no water had to be used to wash dishes. Hand sanitizer was placed in many campus bathrooms as an alternative to using water to wash hands. And bed linens at Duke University Hospital were changed less frequently to cut down on the amount of laundry to wash.
"I think that was the first time since I'd been at Duke that we could see people's focus on it, and our education around it, made a difference," said Tavey Capps, Duke Sustainability director. "Those operational things were important and would be sustained, but the behavior change piece was really key."
At Sarah P. Duke Gardens, staff watered plants by hand using, in part, water from the gardens' main pond and underground cisterns that captured rainwater. And with restrictions on when the plants could be watered, staff members had to do it before dawn or after dusk.
"We had people coming in and hand-watering at night with flashlights," LeFevre said. "You do what you have to do."
Paula Mangiafico, a visual materials processing archivist with Rubenstein Library, was one of the Duke employees who embraced the need for conservation. Around the time of the drought, she installed low-flow showerheads and a rain barrel at her Durham home.
"It was important for us to pay attention to the drought and do what we could," said Mangiafico said. "The drought really made people aware of how you can teeter on the edge pretty quickly. It was a learning moment for all of us."
The drought persisted until the fall of 2008, when more familiar rainfall amounts brought groundwater back to normal levels. But Duke continued to take steps to decrease its water consumption.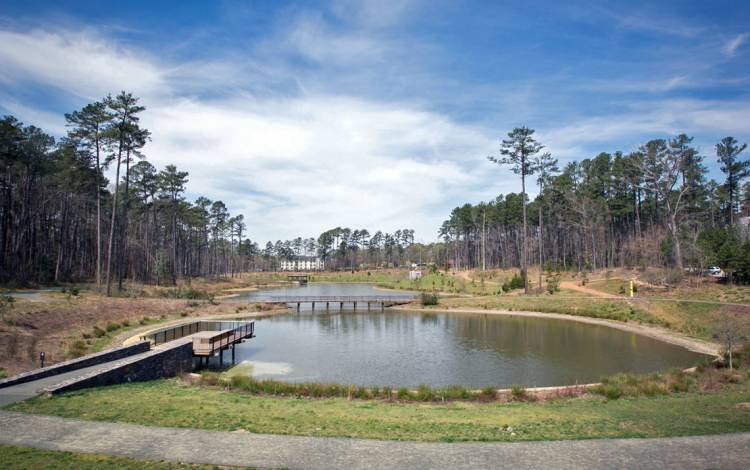 In the years since the drought, new underground cisterns were built near Williams Field on East Campus, in Duke Medicine Circle and elsewhere. When combined with water storage systems built before the drought, it allowed Duke to hold around 250,000 gallons of reclaimed water.
Piping was added to many campus buildings that captured and reused condensation from heating and cooling systems and more efficient plumbing fixtures were installed across campus.
The largest piece was the construction of the Duke Pond on West Campus that covers 12 acres and provides water for the nearby Chiller Plant No. 2, saving Duke around 100 million gallons of potable water each year.
Due to conservation and other strategic efforts, in 2017, Duke University used 28 percent less potable water than it did in 2006.
"Unfortunately, sometimes it takes a good crisis for people to think about the impact of their actions," Capps said. "I wish it didn't have to be like that, but it does make it really personal in that moment and people think their choice is going to have an impact."