No Car, No Problem. Create a New Commute
Meet one-on-one with a transportation expert at Duke to find an alternative commute
In her two months at Duke, Leiloni Brewer carpooled with a friend to and from work. It was convenient and saved her money, but Brewer wanted a back-up plan in case her friend canceled.
She set up a meeting with Duke's transportation demand management outreach coordinator for help figuring out commuting options.
Matt Cushing, the transportation demand management outreach coordinator for Duke Parking and Transportation Services, laid out the most efficient bus route for Brewer – GoDurham Route 20, which Brewer could ride from her home in Durham to her office in the Student Wellness Center on West Campus. She now rides the bus every day using a GoPass, which allows students and employees to take unlimited rides on public transit for $25 a year.
"It was so helpful to have someone walk me through my commute options," said Brewer, a clinical services representative for Duke Student Health. "It's really awesome to know that Duke employees have an expert in our back pocket to figure out the best and cheapest way to get to work."
Duke employees who want to start an alternative commuting plan can reach out to Cushing for help. In a meeting, through a phone a call or over email, Cushing can assist in finding the cheapest and most efficient way for you to ride the bus, bike, walk or carpool to and from campus.
"A lot of people who meet with me have been driving a long time and don't have experience figuring out other ways to get from Point A to Point B," he said. "It's a little easier to transition when there is somebody they can reach out to with questions and concerns."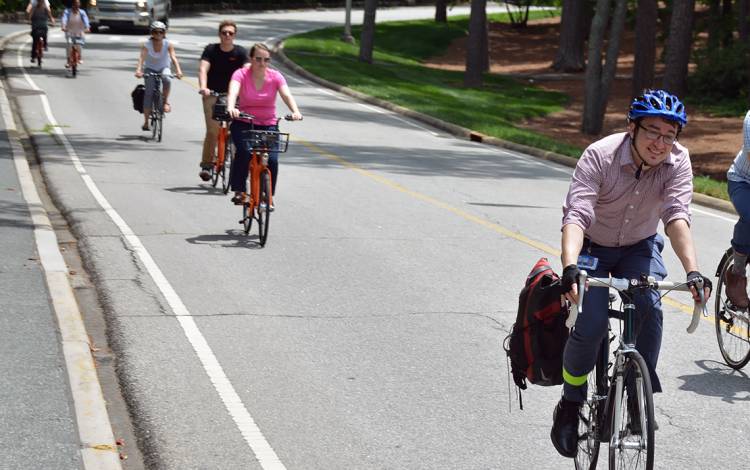 Cushing typically begins each meeting by finding out where a person lives and the reason they want to start an alternative commute, whether it is financial, environmental or something else. He also helps Duke community members who share a ride, take the bus, bike or walk to work register for Emergency Ride Home, a GoTriangle program that provides up to six free vouchers for a car rental or taxi rides per year.
Erik and Meg Helsley met with Cushing in the fall of 2017 when the couple decided to carpool to work from home in Apex to save money on parking. The Helsleys both work at Duke; Erik in Hock Plaza, Meg in the Duke Cancer Center.
Cushing helped them find the most efficient parking lot between their two offices – the Hock Plaza lot – and set them up with the Emergency Ride Home. With elementary school children miles away, Erik Helsley said he and his wife want to be prepared with a ride in case there's an emergency and one needed to immediately leave with the shared car.
"There are many options out there, but we needed help finding out which program would be best for us," said Erik, a Duke Health Technology Solutions project manager. "Matt developed a plan that will work for us."