Stocking the Duke Stores
Duke University Stores employees meet the tastes of customers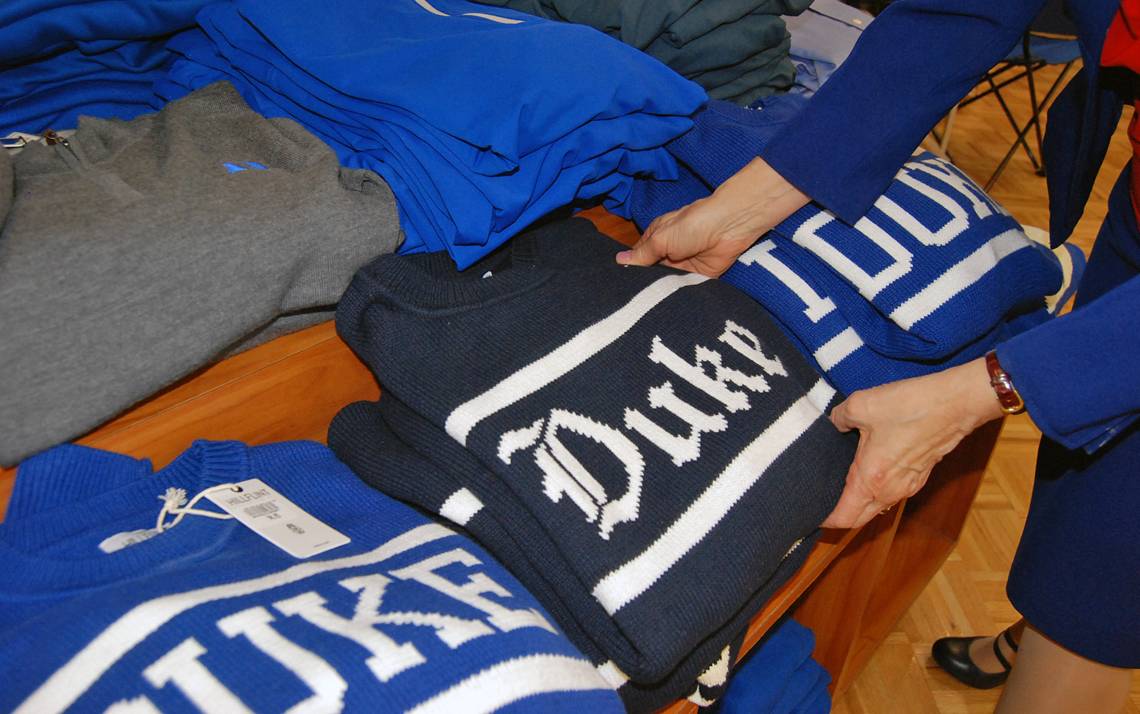 At a recent Duke men's basketball game, Darcy Ewalt found herself scanning the Cameron Indoor Stadium stands and noting the shirts on fans. As merchandise manager for Duke University Stores, she was delighted to see that so much of what fans were wearing looked familiar.
"Looking around, I thought 'Cool! I bought most of this stuff!'" Ewalt said.
If a Duke-themed gift or piece of apparel is for sale at the sprawling University Store in the Bryan Center, the Duke Team Store in the Scott Family Athletics Performance Center, the Duke University Stores website or anywhere else on campus, Ewalt and her colleagues likely picked it out.
Using customer input, sales data and their own instincts, it's the job of Ewalt, General Manager of Retail Operations Tom Craig, Stores Operations Manager Pat Walker and a handful of others to anticipate, and meet, the tastes of the Duke community and fans around the world.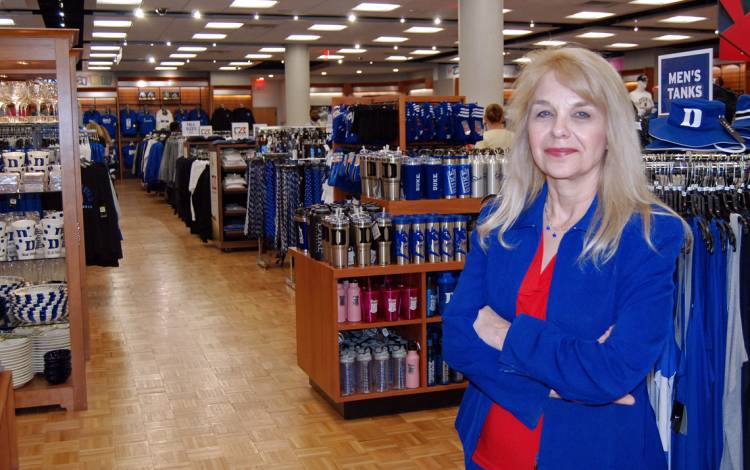 "When we see a pattern of people asking for something, we'll get it," said Craig, who's in his 35th year with the stores. "If you listen to the customer, they'll tell you want they want."
Duke University Stores, which is in its ninth decade of serving the Duke community, is a massive operation. It has historically ranked in the top 10 for largest independently operated college stores in the country.
The University Store, the flagship store on campus which draws around 650,000 shoppers annually, features approximately 40,000 items. Craig estimates that a third of those are eternally popular staples like royal blue T-shirts with "Duke" written in block letters across the chest or navy blue coffee mugs bearing the school shield. These are items simply too popular not to carry.
But the remainder of the items constantly evolve with new merchandise arriving each spring and fall.
The Duke University Stores team recently wrapped up most of its purchasing for items that will be sold this coming fall. In August, most purchasing will begin for items that will hit the stores in spring 2019.
The stores get apparel from around 50 different companies that periodically approach Duke with items they'd like to see for sale at the stores. Craig, Ewalt or Walker will look over the offerings, which usually feature a variety of colors and styles, and – with input from the Duke Trademark and Licensing Office –decide what to buy for the stores.
"A polo might come in 20 colors, of those colors, nine of them may work at Duke," Craig said. "Then we may pick three or four or five to put something on. We'll do charcoal, black, white, royal, navy. We may even do some pink. But lighter shades of blue, or red, we stay away from those."
On occasion, the Duke University Stores team will approach a vendor to see if it can make a certain item to fill customer requests.
For instance, a customer recently asked about walking canes adorned with Duke logos. The Duke University Stores team looked into it, found a vendor and is now selling them. The canes eventually sold well enough to necessitate a second order.After customers inquired about royal blue knit sweaters featuring simple stripes and block letters, Ewalt collaborated with the Duke Trademark and Licensing Office to find a company that made the garments that met Duke University Stores' standards. She did, and the retro-style sweaters have become popular enough for Duke to order other versions with gothic lettering.
Members of the team will also come up with their own ideas for items to be sold in the stores. Walker, who's worked at the stores for 45 years, had the idea of selling hand-painted holiday ornaments depicting campus scenes. Since they were first sold in 2014, the ornaments – which feature a different scene each year – have become hot sellers.
"It's all about making your customers happy," Ewalt said.