At Duke, Art is Everywhere
Tucked away galleries provide inspiration for art lovers
A decade ago, Danette Clark heard colleagues grumble about staid campus photos hung in the Allen Building's hallways.
Inspired by a visit to a Duke student art showcase, Clark helped change the scenery. Ever since, the hallways of the Allen Building's first floor have featured rotating exhibitions by Duke community members.
"Sometimes there's an underlying message and sometimes it's just beautiful," said Clark, administrative assistant for the Office of the Vice Provost for the Arts. "I think it inspires us to be more creative."
While the Nasher Museum and the Rubenstein Arts Center are hubs of artistic activity at Duke, smaller places scattered around the University and Health System also offer doses of art. Whether student-focused work or challenging documentary pieces by outside artists, there is plenty to be found across Duke, if you know where to look.
East Campus  •  Jameson Gallery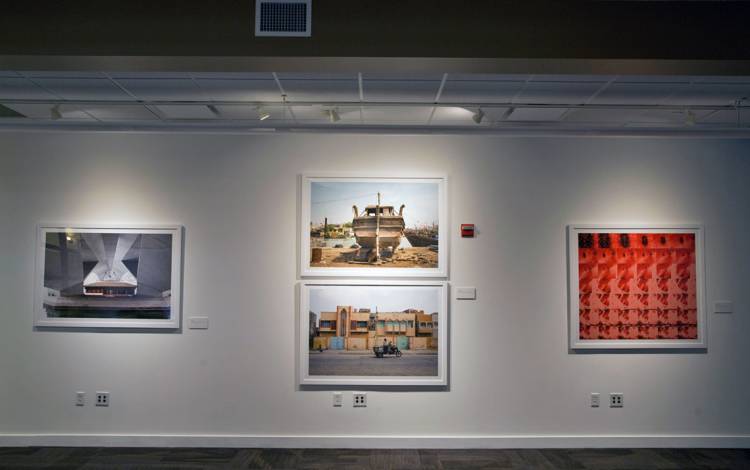 There's no clear criteria for what gets displayed at the Frederic Jameson Gallery. But that's by design. The gallery in the Friedl Building is where good ideas, regardless of their source, come to be displayed.
"The exhibits begin or continue the conversation," said Jameson Gallery Manager Tracy Carhart, who fields exhibition proposals.
In March and April, students in the Masters of Fine Arts in Experimental and Documentary Arts program show their thesis projects. The rest of the year, the space features exhibitions that relate to the work of faculty members or are curated by student groups.
Hours: Open 9 a.m.-5 p.m. Monday-Friday, unless reserved for an event.
West Campus  •  Campus Center Art Collection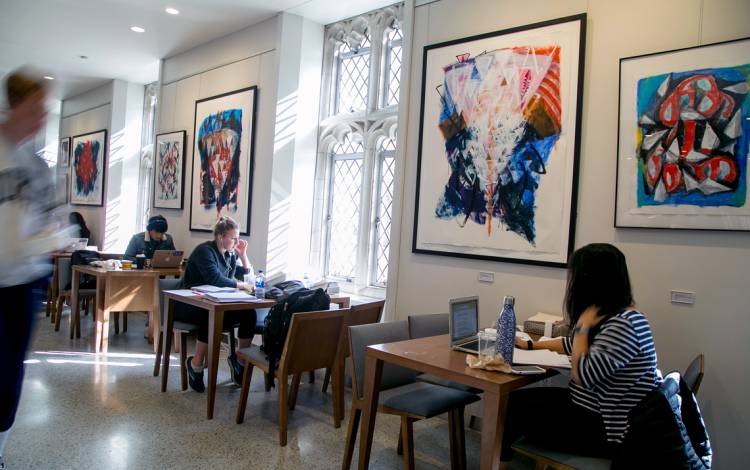 In 2016, when the renovated Brodhead Center opened, a handful of surrounding buildings comprising the newest section of West Campus had mostly fallen into place. Dubbed the "Campus Center," the area around the Brodhead Center, Bryan Center and Student Wellness Center would become the hub of Duke student life.
For Chris Roby, assistant vice president for Student Affairs, and Ali Shumar assistant director of University Center Activities and Events, the hub created an opportunity. They formed a committee to look into ways to showcase the collection of art in the buildings.
"We've had pieces of art in our buildings, but they were never really cataloged or given the focus and attention that we think they needed to have," Roby said. 
Now, the Campus Center Art Collection has a website with artist bios and maps of rotating and permanent exhibits in each building. From the student-run Brown and Reynolds Galleries in the Bryan Center to the pieces on walls of the Brodhead Center, art – in many cases either created or chosen by students – fills the buildings' open spaces. 
More information: studentaffairs.duke.edu/ucae/arts-performance
Central Campus  •  Center for Documentary Studies
With four galleries in the Center for Documentary Studies' Pettigrew Street facility, there are plenty of opportunities to tell stories. That also means there are plenty of chances to get visitors to rethink how stories can be told.
"I think a lot of times, when people come here, they expect to see still photos," said Courtney Reid-Eaton, the center's exhibitions director. "We've tried to mix that up. There's also audio. There's narrative writing."
The center, which attracts around 8,500 visitors annually, displays work from its students as well as outside artists, both established and emerging. The common thread is that the work addresses important – and often challenging – community issues.
More information: documentarystudies.duke.edu
Downtown Durham  •  Power Plant Gallery
In the shadow of the American Tobacco Campus Lucky Strike water tower, the Power Plant Gallery showcases experimental storytelling and offers visitors an intimate look at artists at work.
In association with the Center for Documentary Studies and Duke's Masters of Fine Arts in Experimental and Documentary Arts program, the Power Plant Gallery is part exhibit space, part storytelling laboratory. Established artists and students use an array of mediums – previous exhibits have included video, sound, sculpture – to spur conversation and reflection on, at times, uncomfortable topics. 
Each summer, the #PPGArtists public studio residency turns the gallery over to an artist, who engages with visitors during their creation process.
"The point is to think of the transformative power of the arts and think about how we might enter into conversations that are otherwise inaccessible through the arts," said Power Plant Gallery Director Caitlin Kelly.
More information: powerplantgallery.com
Health System  •  Arts & Health Galleries
The roughly 4,500 pieces in Arts & Health at Duke's permanent collection can be seen in reception areas, hallways and patient rooms throughout the sprawling Duke University Hospital complex.
But two rotating exhibit spaces showcasing work of professional artists likely catch the most eyes. 
With 54 feet of display cases, the exhibit space along the main concourse of Duke University Hospital, highlights work of established North Carolina artists. The smaller Morrison Exhibit Space in Duke Clinics – near Clinic 1D – showcases paintings or photographs from emerging artists.
"The focus was to provide patients with a nice atmosphere, but it's become a source of diversion and reflection for staff members, too," said Jennifer Collins-Mancour, Arts & Health visual arts coordinator.
Most of the art in the exhibits is for sale, with a portion of the proceeds going to fund the Arts & Health program, which provides art kits, activities, music for patients and downloadable self-guided tours of the permanent art collection.
More information: artsandhealth.duke.edu
See More Art at Duke
These campus venues also feature exhibit space worth checking out.
Duke University Chapel: chapel.duke.edu    
Duke Libraries: library.duke.edu
John Hope Franklin Center: jhfc.duke.edu