Blue Devil of the Week: Redesigning Works of Art
Nasher Museum of Art graphic designer Rachel Goodwin gives new life to art and recycled materials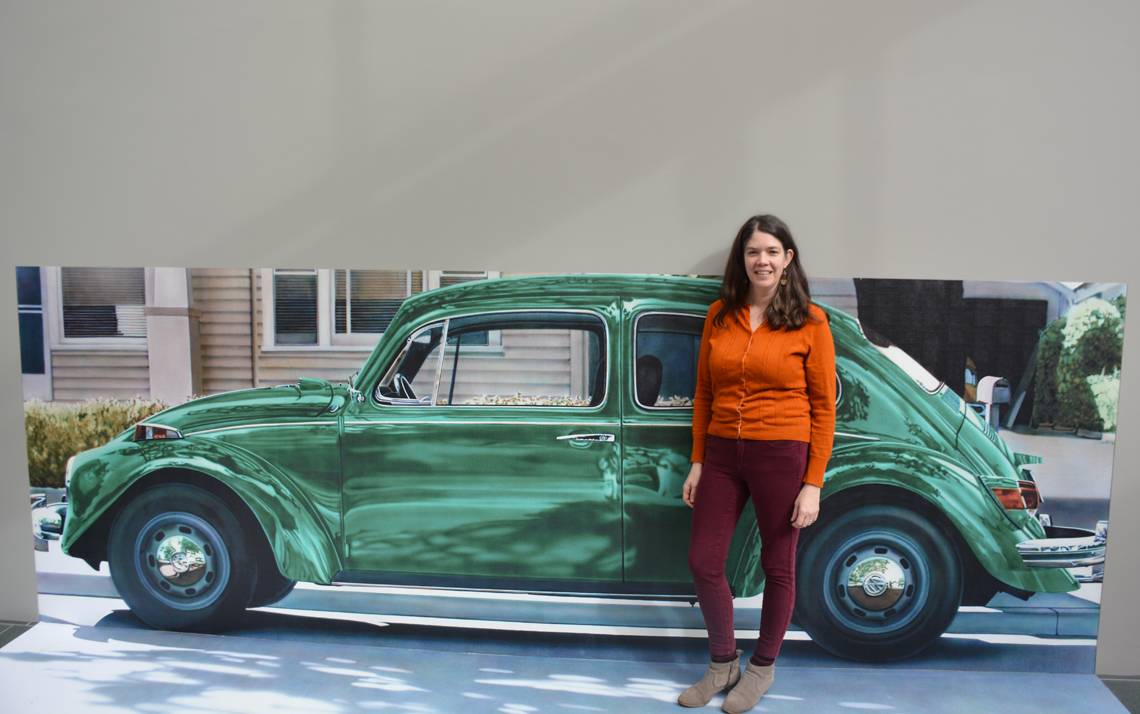 Name: Rachel Goodwin
Title: Graphic Designer and Web Content Manager, Nasher Museum of Art at Duke
Years at Duke: 6
What she does: Goodwin is responsible for all print materials and web content at the Nasher Museum of Art. The nature of her work means Goodwin often works about six weeks ahead of time.
Generally, each print project begins with Goodwin receiving a set of images for an upcoming exhibition that she can use in her work. If images aren't provided, the Nasher staff has to secure permission from the gallery, artist or arts society that owns the pieces.
Goodwin first has a conversation with the marketing director and curator for the exhibition to find out the main message to convey to Nasher's audience.
Once that's settled, Goodwin meets with the preparator team, which handles art instillation, to determine how the exhibit will set up. She then goes into the creative process. Goodwin starts every design by combining colors and materials of paper together.
"As a designer, it's important to me to feel what I am making in my hands before taking something to press," she said. "I'm using cardboard and cutting and gluing. That is always my favorite part."
Goodwin typically creates about 10 print pieces – banners, brochures, posters and cards – for a new exhibition. One of her favorite projects was making a brochure for a Nasher exhibition on Joan Miró, a surrealist painter and sculpture. She incorporated symbols Miro used in his artwork to create a membership brochure.
The brochure won first place for fundraising/membership materials at the 2015 American Alliance of Museum's publication design competition.
"When you can see the big banner hanging from our building on Anderson it makes me happy," Goodwin said. "Even if people are just driving by they're being exposed to great to art. To help make that happen is super exciting."
What she loves about Duke: Goodwin loves how the Nasher fosters relationships with Durham. Every month, the museum hosts Bilingual Story Time with Durham County Library in which someone reads a story in both Spanish and English. Often, the activity is held in the middle of a gallery.
"One of my favorite things about Duke is when it uses its resources for good in the Durham community," Goodwin said. "The way Duke is using the arts at the museum and throughout campus to connect with the community of Durham is inspirational."
A memorable day at work: In 2017, Goodwin traveled to her hometown of New Orleans to attend "Prospect 4," a citywide celebration of contemporary art. Goodwin accompanied the Nasher marketing team to film Durham artists who were displaying their work.
"New Orleans is a music town, so it was cool to see it transform into a visual arts town," Goodwin said. "It was a very full circle moment. The career I have now is helping me understand the city I grew up in."
Best advice ever received: Persevere through frustration.
"It's really easy to label something that's too hard and walk away," Goodwin said.
When Goodwin worked on the Miró exhibit, she spent the better part of a day trying to interpret symbols in the the artist's work.
"After getting over the initial difficulty with being overwhelmed by the variety of symbols and their context, I had a fabulous time trying to decipher what the art meant," Goodwin said.
First ever job: Goodwin worked as a graphic designer for an independent newspaper in Oakland, CA, called "Urbanview."
"It was a super exciting experience because the staff was made up of just seven women," she said. "We were changing what was happening in Oakland."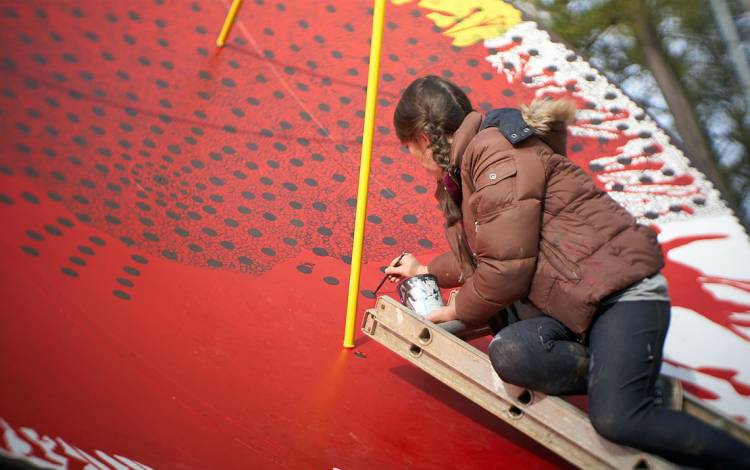 Something most people don't know about her: Goodwin is an artist and has a sculpture on display in the tower of the Brodhead Center as part of the Duke Campus Center Art Collection.
Called Balls & Beads, the 60-foot sculpture is made of recycle materials like bottles, plastic balls and wood. A family trip to New Orleans for Mardi Gras inspired Goodwin to create the piece. There, she noticed all of the discarded beads hanging from trees after the celebration.
She also painted a satellite dish next to Duke Arts Annex as part of Mural Durham's Satellite Park.
"One of my goals as an artist is to take leftovers and trash and recycling and repurpose it to give it a second life," Goodwin said.
Nominate a colleague to be a Blue Devil of the Week