Former Satellite Dishes Turned Into Colorful Enhancements for Gattis Street Community
Say goodbye to plain, archaic satellite dishes.  
Duke's defunct Satellite Park, nestled deep within the historic Burch Avenue Neighborhood in Durham, was once used by the university's Tel Com department in the 1990s. Today, instead of expensively tearing out the giant satellite dishes and banishing them to a landfill, a community mural project has turned the old technology into an outdoor masterpiece and public park. 
Thirty-five local artists applied for the chance to paint a satellite dish along Durham's Gattis Street and incorporate bright colors and nature motifs. Eight were chosen to tackle a massive mural. 
At Saturday's Satellite Park Festival, Duke students, employees and Burch Avenue neighbors walked around the transformed Satellite Park, celebrating together. They stared up at the completed satellite artwork, some pulling out their phones and taking photos.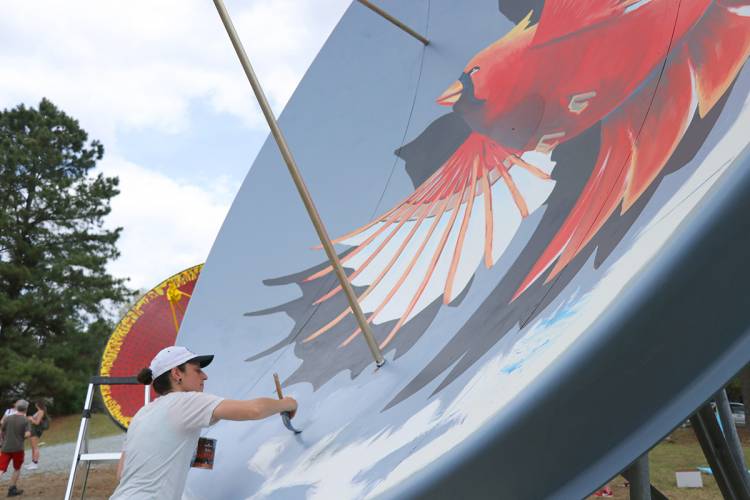 The Satellite Park mural project brought together Duke and Durham from the start. The Burch Avenue Neighborhood Association was pulled into conversations about how the community space, which includes the Satellite Park and adjacent Duke Arts Annex building, would continue to be visually transformed. The community space would also become more easily accessible to neighbors: Fencing was torn down, the field was leveled, and benches were installed. 
"(We wanted to) really make this a family affair, have lots of people from the community come, and really just have fun on a beautiful Saturday afternoon," said Lynne Bahrami, president of the Burch Avenue Neighborhood Association. "It is a Duke property, it's a Duke building, but really it is in our Burch Avenue neighborhood, and I think anything that happens in the neighborhood, we want to be a part of."
Inside the Duke Arts Annex, which is adjacent to the Satellite Park, festival goers drew on the annex walls, screen-printed a tote bag, colored Satellite Park posters and grabbed free Satellite Park stickers, received a personalized, typed poem from the Poetry Fox, and more. People walked around with chicken biscuits from a NOSH food truck and cradled sweet Locopops dripping in the springtime sun. A DJ spun pop hits as Nasher Teens, a Nasher Museum of Art collaborative for local teenagers, painted a colorful, geometric mural inside the Duke Arts Annex. 
The satellite painting and neighborhood festival was organized by Mural Durham, an ongoing Duke Arts movement that brings together Duke students and the community to celebrate creative expression. Every year, Mural Durham tackles a community arts project; Last year, Mural Durham began organizing scenic bike tours that take participants to painted mural locations across the city. This year, the group pinpointed the Satellite Park as its next collaboration. 
"More than 600 community members came to the first Mural Durham festival in 2016, where we commissioned local artists to paint the exterior of the Duke Arts Annex," said Amy Unell, the director of arts engagement and partnerships for Duke Arts. "The success of that event enabled us to actualize the dream of taking down the barbed wire fence and transforming the satellite dishes into canvases."
During the '90s, the satellites were constructed and used for their intended purpose. In 1991, the Duke Tel Com department installed the eight satellite dishes and a 160-foot television tower. They were used to receive and deliver broadcast educational programming for Duke Cable Television, a cable TV service at Duke. But due to the emergence of the internet, this campus cable service was discontinued in the late 1990s and rendered the satellites unusable Duke relics.  
The relics now reflect the stories and imagination of eight local artists that painstakingly painted them over two weeks. They used a motorized lift to position themselves in the bowl of the satellite dishes, some of which are 20 feet high, as well as ladders. Paintbrushes, rollers and paint cans cluttered the base of the dishes. 
"We've gotten a pretty diverse group of artists, in gender and age and race, and it's pretty cool to see that displayed through their artwork," said Masha Feingold, a Duke junior and president of the Duke Arts Annex Advisory Board. "Each piece is unique, but they work so harmoniously together."
The finished murals range from birds in a spaghetti nest to a tribute to a paralyzed local African-American artist.  
Rachel Goodwin, a Durham resident and Duke employee at the Nasher Museum of Art, was chosen as one of the eight artists. Her blood-red piece, "Sungazing," connects tiny circles to create a mysterious universe that encapsulates burning suns. 
The Wednesday afternoon before the festival, she balanced herself on top of a ladder and painted black swirls in a repetitive, circular motion on her satellite dish. Her fingers were already stained with yellow paint. As an artist, she said she likes working on large surfaces and with recycled objects, so a decommissioned satellite was the perfect canvas. 
"I thought, oh my gosh, this would be amazing to work on something that used to send out signals, and now it can send out signals again, but now visually," Goodwin said. "I feel really grateful to have been picked to do this, just knowing that it's going to be here for so long and that the neighbors are all going to enjoy it."
Read about all of the artists and their work here. Want to visit the Satellite Park? The public space is open from sunrise to sundown at 404 Gattis Street in Durham, in the Burch Avenue neighborhood. Check out the Duke Arts Annex calendar to learn about free DukeCreate arts workshops that are organized for Duke students, employees, Burch Avenue neighbors and the public. Also, monthly Duke Arts Annex events that will be open to the community will take place during the Fall 2018 semester.
The Satellite Park project and festival were supported by the Burch Avenue Neighborhood Association; City of Durham; Duke Office of Durham and Regional Affairs; the Duke-Durham Neighborhood Partnership; Duke Arts, Artstigators; VisArts; duArts; Duke Arts Annex Advisory Board; Duke Arts Festival; Duke Office of News & Communications; Duke Facilities Management; Duke Student Affairs; NOSH; Locopops; Happy + Hale; Durham Co-op Market; Big Spoon Roasters; HappymessART Studios, Classes and Supplies; and Joe Van Gogh