Senior Evan Nicole Bell Named Duke Chapel C. Eric Lincoln Fellow
Lincoln was a professor of religion and culture at Duke from 1976 to 1993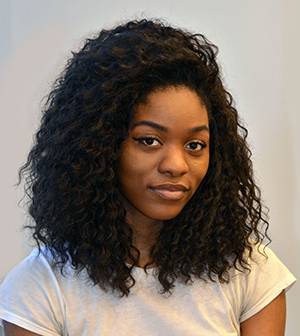 Duke senior Evan Nicole Bell has been selected as this year's C. Eric Lincoln Theology and Arts Fellow at Duke Chapel.
As part of the fellowship, Bell has created an exhibition titled "Faith in Color: A Photographic Exploration of Race, Religion, and America in Tribute to C. Eric Lincoln." Her work will be on display in Duke Chapel April 4 through May 1, with an opening reception at 7 p.m. Thursday, April 12.
Originally from Columbia, Maryland, and passionate about social justice and storytelling, Bell is pursuing a self-designed Program II major "Documenting Justice: The Role of Photographic Narratives in Activism." For her senior distinction project, Bell created a documentary photography exhibition of black Americans titled "black." Her work exhibited in the Bryan Center's Louise Jones Brown Gallery in January and February of this year.
Her new exhibition, "Faith in Color," explores the deep roots of religious influence in black communities. The photographs are paired with quotes from C. Eric Lincoln, a professor of religion and culture at Duke from 1976 to 1993. Lincoln was a scholar of black church and religious studies, as well as a Methodist minister who also wrote novels and poems.
"My faith motivates me to use my art to advocate for others, and I feel like C. Eric Lincoln was the same way," Bell said. "Lincoln understood the intersections of art, faith and activism, and that's definitely what I hope to do through my exhibit, too.
"One of my goals is to uplift underrepresented narratives, to show people in a different light," she said. "We 'other' people so much, but when you look at someone in a photograph you're able to think, 'Wait, I do that, too. Yes, we practice different faiths and religions, but we're also all human beings who are trying to find our purpose and be good to one another.'" 
Bell is being advised by the Rev. Joshua Lazard, the chapel's C. Eric Lincoln Minister for Student Engagement, a position established in 2014 to support students and the wider Duke community in working at the intersection of faith and the arts.
"Evan has a keen eye and she shows potential to be a photographer without peer in the future," Lazard said. "Her work is in line with the zeitgeist of the country right now. The honor is ours to have the privilege to host her collection."