How to Be a Smart Bike Commuter
Wear the right clothing, yield to pedestrians and register as a Duke bike commuter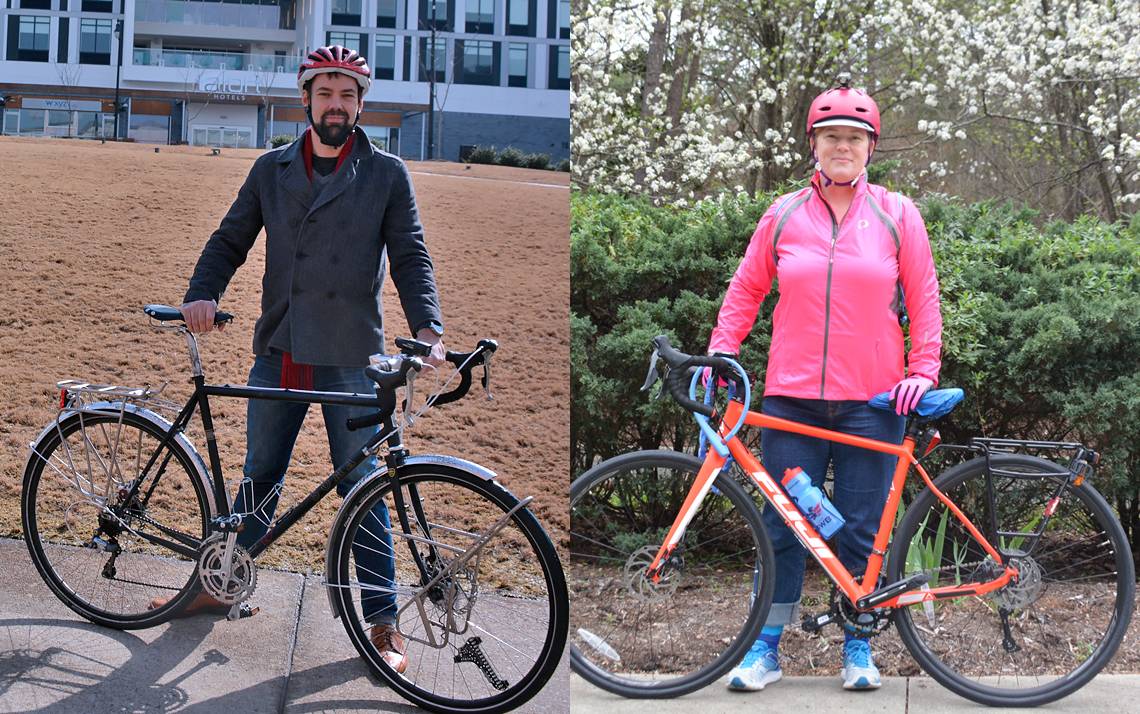 Jeremy Thornhill can get a little competitive with his colleagues at Duke's Office of Information Technology.
When he travels to West Campus for a meeting from the American Tobacco Campus, Thornhill often sees if he can get to the destination faster on bike than his coworkers in a car.
"It ends up being much more efficient for me to ride my bike," said Thornhill, an IT analyst who rides his bike 1.5 miles to work from his home in Durham. "It's the fastest way to get to work and around campus."
Cycling to work or taking a leisurely ride? With the first day of spring on Tuesday, here are five tips for being a smart bike commuter.
Wear the right gear and clothing
First things first: Wear a helmet and make sure it fits right.
In North Carolina, it is illegal for any person under age 16 to not wear a helmet.
Matt Cushing, transportation demand management outreach coordinator for Duke Parking and Transportation, suggests the two-finger rule when checking to see if your helmet fit your head. You should only be able to place two fingers under the chinstrap and no more than two fingers horizontally between your eyebrows and helmet.
"It should be snug, but you should be able to move your mouth," Cushing said.
Eric Hester, crime prevention specialist for Duke University Police, recommends wearing fluorescent colored clothing.
"Sometimes lights on the bike aren't enough if you're in a dark area," he said. "Wearing bright colors adds an extra element of visibility."
Follow the same rules that apply to cars
The rules of the road still apply when you're on a bike.
Continue to obey all traffic laws such as stopping at red lights and stop signs, always ride in the same direction as traffic and never text and bike.
If the lane isn't wide enough for a bike and a car to travel safely side by side, Thornhill will position himself to allow enough room so a car doesn't pass him in close space.
"If you behave like a car, that is drive in the middle of the lane, and adhere to traffic stops, you become predictable and people know how to behave around you," he said.
That extends to using your hands to signal before you turn.
"It's acknowledging there are rules of the road and they benefit everyone," Cushing said. "Failing to signal puts yourself and the vehicles around you in danger."
Avoid the door zone
Last summer, Eleanor Mullens pedaled 360 miles in eight days on the Erie Canal Trail in New York. She figured if she could do that, she could bike from Chapel Hill to her job at Duke Law School.
While most days Mullens uses a mix of bus and bike commuting, she will sometimes travel all 12 miles on bike. She's learned to be just as cognizant of parked cars as moving ones.
"When you open a door, your vehicle gains three to five feet in width in an instant," said Mullens, a law library intern. "Knowing that not everybody looks for cyclists before opening the door, I save myself the potential injury by staying far from parked cars."
Sign the "I Yield to Blue Devils" pledge
Duke Police asks community members to commit to "I Yield to Blue Devils," a safety campaign in which Duke community members sign a pledge to obey traffic laws and help keep campus roads and crosswalks safe for pedestrians, motorists and bicyclists.
Hester says cyclists can do their part by ensuring they give pedestrians the right-of-way when crossing the street and to not ride bikes on sidewalks.
"It's a safe and courteous way to make sure we're looking out for one another," Hester said.
Register as a bike commuter
Mullens has been a registered bike commuter at Duke since she began cycling to work nine months ago.
Registered bike commuters are eligible for two free daily parking passes per month, have access to showers across campus and receive discounts at local businesses such as Bull City Burger and Brewery in Durham.
When the weather stayed below freezing for more than a week in January, Mullens relied on her two free parking passes so she could drive to work.
"I used all my parking passes up when the weather turned nasty," she said. "Registering as a bike commuter gives you piece of mind."
Do you practice an alternative commute? Let us know.