How Counseling Helped an Employee Cope with Traumatic News Events
Duke Personal Assistance Service marks milestone of helping 30,000 employees and family members with short-term concerns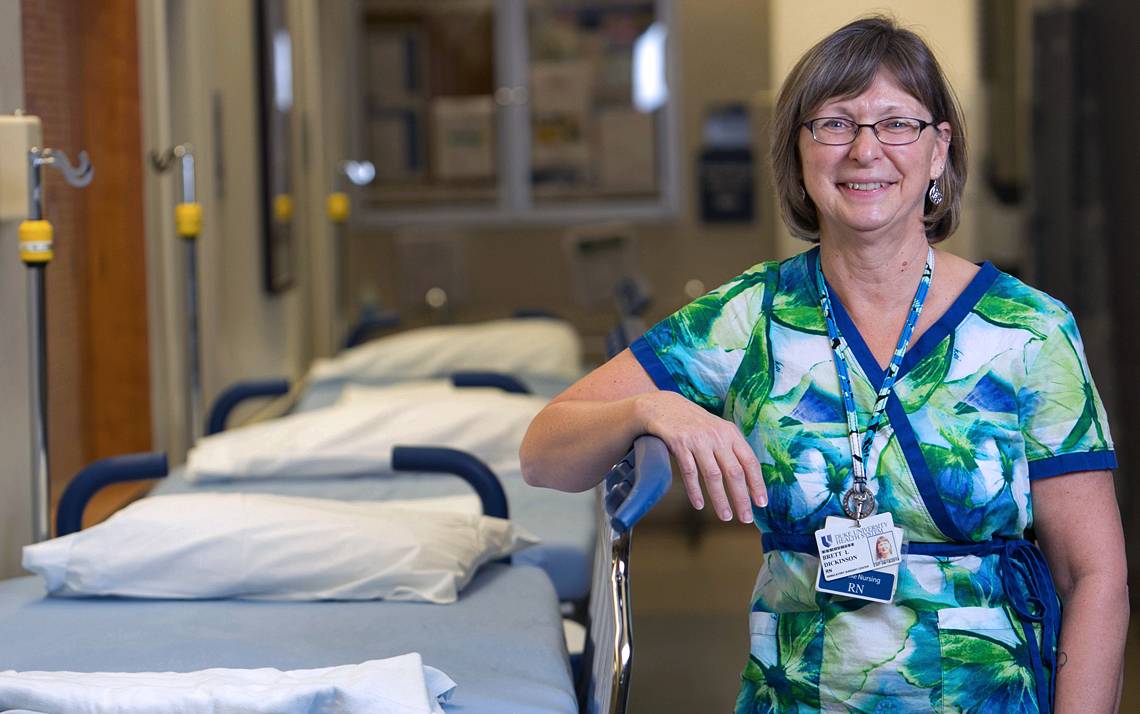 Brett Dickinson had fallen into an unhealthy habit. She fell asleep listening to cable news, and she watched it when she woke up at 5 a.m. On her work commute, she listened to public radio.
The news took a toll.
A nurse in Duke's Ambulatory Surgery Center, Dickinson felt growing concern and sadness about current events such as violence, politics and natural disasters. But she had trouble tuning it all out.
"I felt sucked in by all of these events that were totally out of my control," Dickinson said.
After feeling heart palpations and persistent anxiety, she called Duke's Personal Assistance Service (PAS) and made an appointment. PAS provides University and Health System employees and their immediate family members up to eight confidential counseling sessions at no charge.
"I couldn't figure out why I felt like I was in constant crisis mode," Dickinson said. "In my first appointment, the counselor asked if I was watching the news a lot. All of the sudden, a light switch flicked on in my head. I never connected the two."
Counselors at PAS help with a variety of concerns, including financial stress, physical and emotional health, alcohol and drug concerns, work issues and family and relationship issues. If clients need additional help after eight visits, PAS can connect them with a community resource.
PAS, which has been a part of Duke since 1984, marked its 30,000th client last December. Over the years, PAS has experienced an increase in new clients, which interim director Terry Nicotra attributes to more employees seeking a holistic approach to health, as encouraged by the Healthy Duke initiative.
In the past fiscal year, PAS provided 3,801 in-person sessions with Duke employees and immediate family members – a third of which represents new clients.
"Mental health is a big part of one's life," Nicotra said. "I think people are recognizing that to maintain a healthy emotional life, it's really helpful to talk to a counselor and try to sort out things that are troubling them."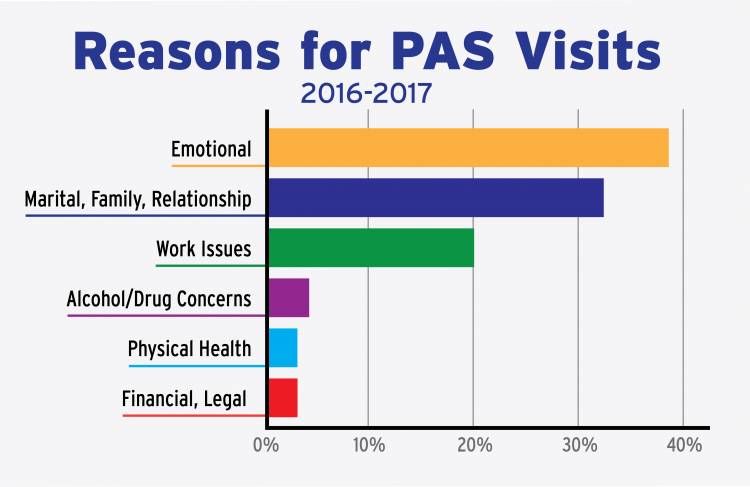 Most clients who visited PAS in 2016-17 reported that their concerns interfered with work productivity to some degree, Nicotra explained. But, Nicotra added, most employees reported in surveys that their work productivity improved after visiting a PAS counselor.
Dickinson, the nurse in Duke's Ambulatory Surgery Center, mirrors the nearly 40 percent of PAS clients who sought help for emotional concerns in 2016-17.
"All of the anxiety and anxiety provoking events happening in the world – politics, weather, shootings – means people need a place to go and talk about what their experiencing," Nicotra said. "They need help processing things outside their control."
Dickinson visited with a counselor six times to enhance her emotional well-being. She learned of a mobile app called "Calm," which helps her meditate for 15 minutes every morning before work. In her counseling sessions, Dickinson also realized she had been volunteering to take on more than she could fit into a day.
"I was basically told that I can't take care of other people until I take care of myself," Dickinson said. "I now recognize when I'm starting to feel anxious, and I have the tools to turn it off."
To find more balance, she and her husband took a trip to Carolina Beach in October with their two dogs to read and relax. The weekend forecast called for constant rain, but as they arrived, the clouds disappeared.
"I took that as a sign that I was doing something in the right direction," Dickinson said.