Duke at Night
How employees keep the university and health system campus running 24/7
On Jeff Best's rare daytime campus visits, the 27-year Duke University Police veteran jokes that everything feels off.
It's too loud, too bright, too busy.
"My first indicator that I'm here at the wrong time is that I can't find a parking space near headquarters," Best said.
Best works the night shift, meaning his idea of Duke's campus is the one he patrols from 6 p.m. to 6 a.m.
While Best's version of Duke is quiet, it's far from still. Every night across the University and Health System, employees do jobs that keep Duke running. Last year, an average of 10,300 of Duke's employees worked the night shift each month.
Over the course of one recent night, Working@Duke shadowed some of these staff members whose work unfolds in the darkness of night.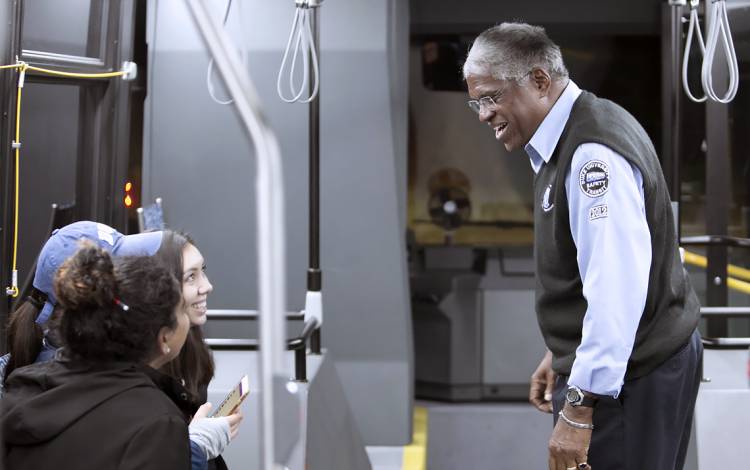 Snaking down Campus Drive as midnight approaches, the C1 East-West bus seems like the only sign of life in an otherwise empty campus.
A Duke bus driver for 13 years, William Hester has been behind the wheel on both day and night shifts. He enjoys the energy of the day time, when the C1 bus ferries students between East and West campuses, but he understands the allure of the night shift, when the flow of passengers dwindles.
"You cherish the moments when it's quiet," Hester says. "You enjoy that time."
As the bus moves toward West Campus, headlights shine on desolate roadway. On either side there are pitch black woods or darkened buildings. There's little traffic going at this hour. Once the bus reaches the Duke University Chapel stop, the loneliness is broken. Outside, students seen only in silhouette walk hurriedly under a dim amber glow of Abele Quad's streetlights.
With the bus idling, Hester steps off.
"Anyone want a free ride to East Campus?" he asks.
A naturally sociable person, Hester savors the chance to engage with the passengers he sees at this hour.
"Alright!" Hester says as a student walks into the blueish light of the bus. "Jump on. Let's go."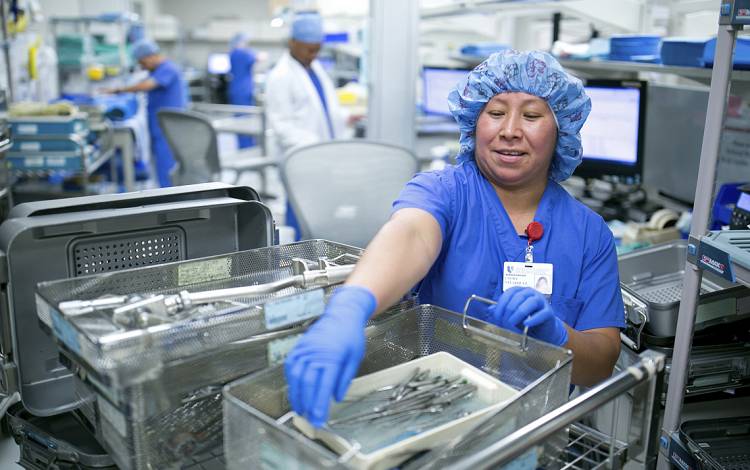 Around 1 a.m., Louis Walton, a technician in the sterile processing unit in the belly of Duke Medicine Pavilion, studies printouts taped to metal carts arranged against a wall. He's making sure every item on the sheet of paper is somewhere in the cart.
"Gauze, large blanket, suction tubes, a plastic cover for a scope, catheter kits in case they need to drain something," Walton says, going through a cart. "It's everything they could think of."
As the work of saving lives goes on at Duke Health, the work of providing the necessary sterile tools never ceases. This unit is where utensils come to be washed, organized, sterilized and readied to be used again.
Tonight, the utensils will end up in the hands of technician Laura Velazquez. Closely studying a screen filled with numbers and lists, she packs washed tools into metal shoebox-sized containers organized by procedure. The containers then get "cooked," or run through massive steam sterilizers. Once cool, Walton loads items into carts based on the numbers used to describe each type of procedure.
A deep abdominal injury is 211. Head trauma, 319. Puncture wounds, 240.
"If they pull a 240, it's more than likely that they're going to need another one because there are probably two people involved," Walton says.
When needed, the carts are loaded onto an elevator and whisked up one floor to the operating rooms, where each number is a life in need of saving.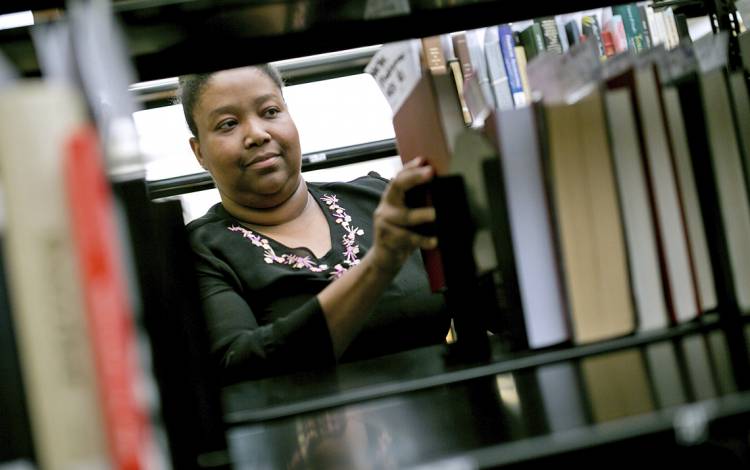 From her perch at Perkins Library's main service desk, Annette Tillery sees five students studying quietly. For 2 a.m., this, she says, is somewhat lively.
"There's probably a test," says Tillery, a senior library assistant.
She figures the turnout has something to do with Organic Chemistry. That textbook, kept on the shelves behind her, has been requested often tonight.
During her 8 p.m. to 4 a.m. shift, Tillery ensures patrons who use the library – open 24 hours most days during the academic year – have what they need, whether it be functioning printers, help finding a book or directions to the restroom.
While quiet, the library is far from deserted as students breeze in and out.
During final exams, Tillery says, the scene will be different. That's when the overnight population of the library swells.
"It gets pretty interesting," she says.
She's seen students break the exam season tension with rap battles or hide-and-go-seek.
"Oh gosh," Tillery says when asked for the strangest thing she's seen during that time. "I would have to say the 18 holes of golf."
During finals in 2012, a student turned the library into his own miniature golf course.
"He had his caddie, his entourage, somebody holding the flag," Tillery said. "He wasn't really disturbing anybody. Even his entourage, they just did a nice, quiet clap. Everybody was sitting back just laughing at them. No one complained."
The noise never stops at the West Campus Steam Plant, where a tangle of tanks, pipes and boilers creates the steam that heats campus buildings and water systems.
With compressors whining, valves hissing and the constant low roar of natural gas-fed fires raging in the boilers, standing inside the former coal power plant feels like being in the churning belly of a red-brick monster.
Utility operator Josh Speas watches it all from an office just off the plant's floor.
Speas and the rest of the Facilities Management Department employees who care for the systems that produce and distribute steam and chilled water, alternate working day and night shifts every four months.
While there isn't much difference in the duties performed during the shifts, the overnight work features plenty of solitude.
At 3 a.m., with the plant's towering windows looking out onto darkness, Speas watches computer screens showing how the plant is functioning. The diagrams all glow green and readings that pop up are all where they need to be.
"For the most part, everything runs well," Speas said.
In another corner of campus, there's a control room with more diagnostics. Should one of the technicians see something amiss, they'll alert Speas. But tonight, the phone isn't ringing. Amid the noise, heat and contained fury, this is a quiet night.
Driving slowly through a parking lot off Towerview Drive sometime after 4 a.m., the headlights on Jeff Best's police cruiser shine on cars that have been still for hours.
The sidewalks are empty and windows of the nearby dorms are dark.
Best scans the parking lot, looking for glowing dome lights. He studies the fence around a construction site. He shines a light where the parking lot transitions into woods. He sees nothing but trees and underbrush.
For nearly a decade, Best has worked overnight. On most nights, he's one of about 10 officers who join security guards to keep watch over campus.
His shift begins with students going to and from evening events. That's also when he's at his busiest, checking on alerts for propped doors or responding to calls about minor emergencies. After midnight things slow down. This time of night – with dawn still a few hours away – campus is at its quietest.
"This is what it should look like at this time of the night," Best says.
It's dark when Duke Dining Executive Chef Mark Turner pulls his white SUV into the parking lot behind
East Campus Union. As he enters the kitchen in the Marketplace, it's clear that the day has already begun. Breakfast service is fast approaching.
Food Service Manager Valerie Williams and staff member Renee Jones prep dining areas, while Gloria Daniels, who helps run the kitchen during the day, lights burners and fills hulking pots with water for grits and oatmeal.
"Gloria is the heart and soul of our kitchen in the morning," Turner says while unlocking the walk-in coolers.
The kitchen will feed around 750 diners between continental breakfast, which begins in an hour, and the full breakfast service at 7:30 a.m. There's little time to waste.
Trays of bacon go into ovens while a pot of sausage gravy bubbles on the stove. Every few minutes, a new face appears in the kitchen, ready to tackle a different job.
Shortly before 6:30 a.m., the first cups of coffee are brewed.
As the dark sky over East Campus goes from purple to dim blue, the first student emerges and walks into the Marketplace.
Another day at Duke begins while, for many, the work is done.