Duke Musicians Are Heading to the Grammys This Weekend
Chapel organist Christopher Jacobson, producer Patrick "9th Wonder" Douthit earn nominations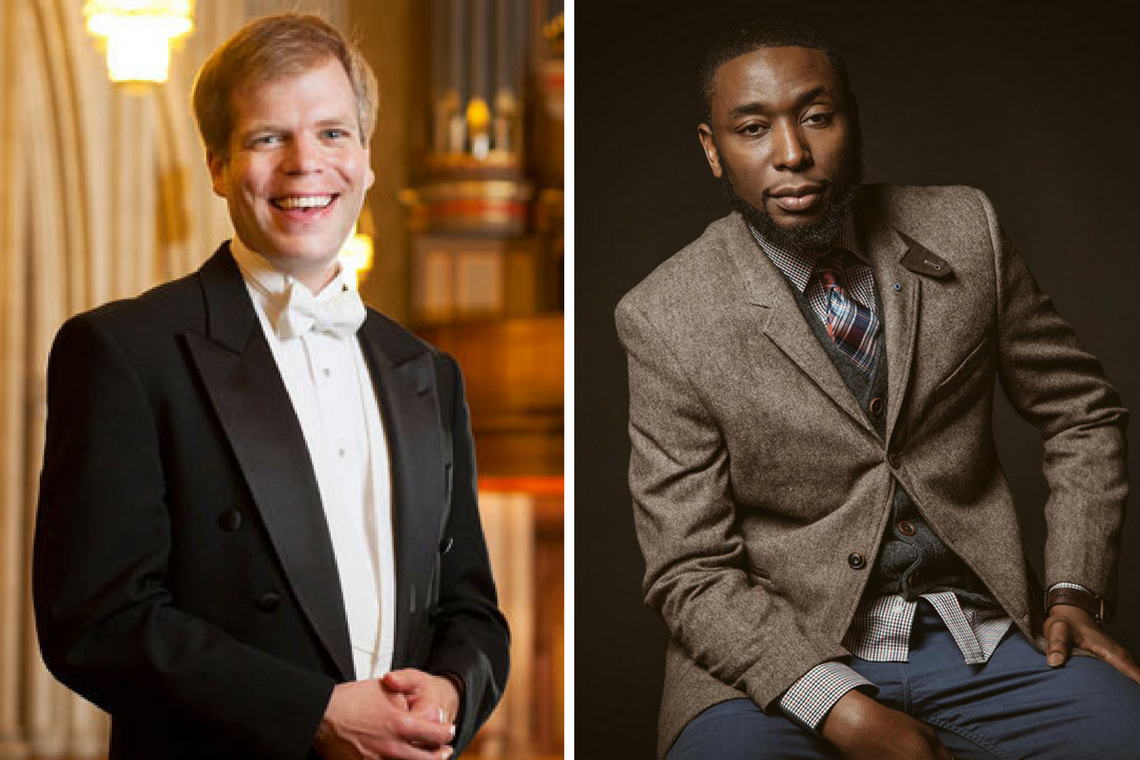 The list of honors for Duke faculty and staff are numerous, but this year, two Duke musicians are up for awards from an unusual source: The Grammys.
Patrick Douthit, known professionally as 9th Wonder, and Christopher Jacobson received recording nominations this past month and will vie for a trophy during the Grammy ceremony on Jan. 28.
Behind Duke Chapel organist Jacobson's recording lies a remarkable story of music that was nearly lost during the Holocaust – and was rediscovered some 60 years later.
The album "Tyberg: Masses," sung by the South Dakota Chorale, is nominated for Best Choral Performance. It is the result of a collaboration that includes Jacobson and Brian Schmidt, the former assistant conductor of music at Duke Chapel, who is now an associate professor of choral music at Baylor University and the artistic director of the South Dakota Chorale.
The two began working together on the project while both were on the music staff at Duke Chapel. The result is the first-ever recording of masses written by Viennese composer Marcel Tyberg.
In 1943, Tyberg was a young Catholic composer. At that time Tyberg feared that his life was in danger, and so he gathered his friends one evening for a performance of his two masses for choir and organ. At the end of the performance, he turned over copies of all his compositions to friends for safekeeping. Two days later, he was arrested by the Gestapo and sent to Auschwitz, where he died.
His music, however, survived. Some 60 years later, it was rediscovered in a basement in Buffalo, New York, and in the last decade, some of the music has been performed for the first time since World War II.
Schmidt and Jacobson learned of Tyberg and his compositions and became fascinated with both the story and the music.
"It's the story behind it and the beauty of Tyberg's music that inspired both of us to want to engage in it," Jacobson said. "We put our heads together about how to bring this music to life because it had been lost, essentially, since 1945."
Jacobson quickly fell in love with Tyberg's music, including the "incredibly rich, artistic and colorful possibilities within that organ writing."
The Tyberg Masses were presented at Duke Chapel in October 2016 as part of Duke Performances – among the few performances the works have thus far received.
The recording is also nominated for Best Engineered Album, Classical and Best Surround Sound Album.
Douthit is a lecturing fellow in the Department of African & African American Studies and has taught numerous courses at Duke on music and culture. As 9th Wonder, he was honored for his producer role on Kendrick Lamar's best-selling "Damn," nominated for "Album of the Year." Wonder produced that album's final track, "Duckworth."
He had previously been nominated for his work on a 2015 album by Lamar.
It's been a busy period for Douthit. He released his own album "Zion II" last week, which caught the rap community by surprise but also generated significant excitement. And North Carolina native Rapsody's album "Laila's Wisdom," recorded for Douthit's record label Jamla, also received a Grammy nomination for best rap album. Douthit produced many of the songs on the album.
This past October, Douthit presented Duke with several Maschines, a production tool used in hip-hop sampling. The Maschines will be available for students to use in the new Rubenstein Art Center, where Douthit will teach his hip-hop production class.
They are not the first Duke employees to be feted by The Recording Academy. Eric Oberstein, associate director of Duke Performances, has won two Grammys in jazz for producing recordings by Arturo O'Farrill and the Afro Latin Jazz Orchestra.