Duke's Eric Oberstein Wins Second Straight Grammy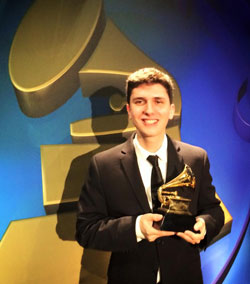 Eric Oberstein, the associate director of Duke Performances, won a Grammy Award for the second year in a row Monday night for his work as producer for Arturo O'Farrill and the Afro Latin Jazz Orchestra.
Oberstein produced O'Farrill's 2015 album "Cuba: The Conversation Continues," which included the song "The Afro Latin Jazz Suite, winner of the award for best instrumental composition Grammy. (See video of the presentation here.)
The album continues a long connection between American Jazz and Afro-Cuban music, a link that dates back to Dizzy Gillespie and others. But it also reflects an important political moment in changing relations between the two countries.
"I'm Cuban-American, so it was humbling and surreal to have the opportunity to record in Cuba and be in Havana when the restoration of diplomatic relations between our two countries was announced in December 2014, just 48 hours before we went into the studio with a team of Cubans and Americans working together, side by side," Oberstein told David Menconi of the News & Observer.
"Cuba: The Conversation Continues" was also nominated in the Best Large Jazz Ensemble category, which was won by the Maria Schneider Orchestra.
Last year, Oberstein, O'Farrill and the Afro Latin Jazz Orchestra took home the Grammy for Best Latin Jazz Album for "The Offense of the Drum," which Oberstein also produced.
Oberstein, who graduated from Duke in 2007, also had previously won a Latin Grammy Award as producer for Arturo O'Farrill's "Final Night at Birdland."
For more information, read the News & Observer story. For more on Oberstein's personal story, read this story on Duke Today.