From Your Farm to Your Fork
Growing your own food – a fun step toward sustainability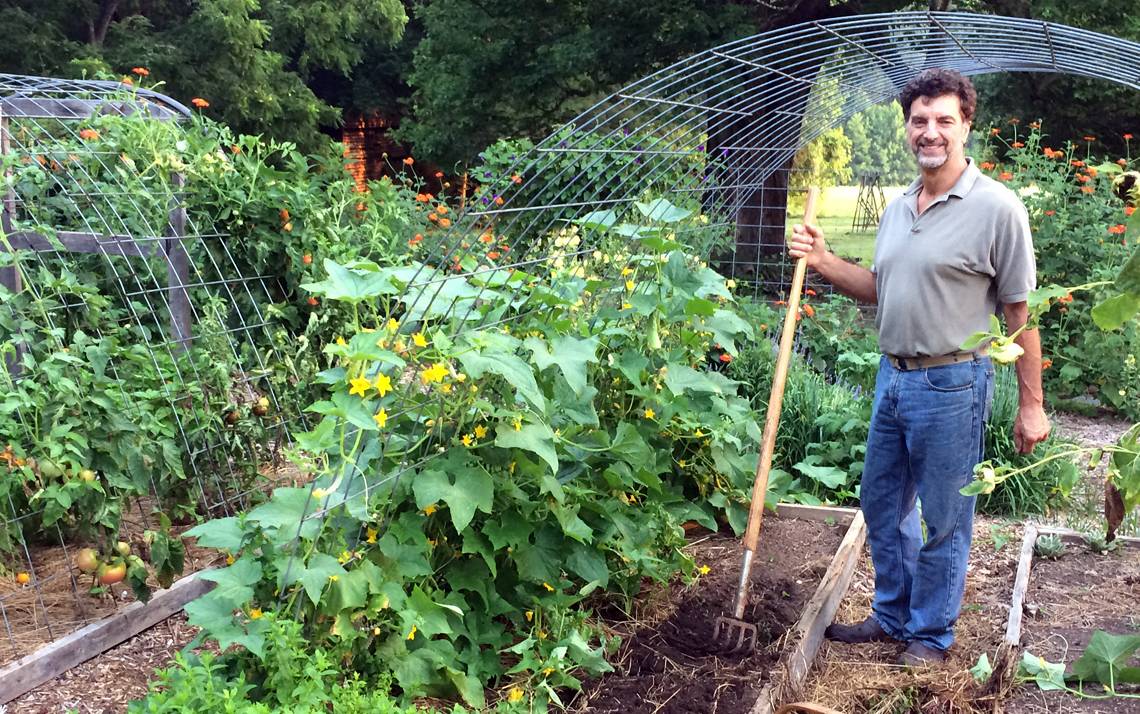 Myron Taschuk didn't plan on turning his Orange County home garden into his own supermarket produce section.
But after what started as four raised beds of greens expanded to eight, and his skill grew with each passing season, his diet's distance from farm to fork is now measured in feet.
"We haven't bought produce in maybe a year except for garlic and onions," said Taschuk, a Duke Facilities Management Department project manager. "Once you get the garden in motion it takes on a life of its own."
Between the seasonal crops such as melons, winter squash and sweet potatoes pulled from his garden and eggs from his nine chickens, Taschuk's diet has lessened his environmental footprint. Unlike produce from a supermarket, his produce isn't transported by truck or grown with disruptive large-scale farming techniques.
"A big part of living a sustainable life is considering how much impact you have on the world around you," said Lucas Howerter, Duke Campus Farm production manager. "One way all of us have a big impact is through the food we eat."
Get started growing some of your own food with these tips:
Just do it
If you don't have experience, don't be dissuaded from giving gardening a shot.
"Just get started," Taschuk said. "Even if you're planting in five gallon buckets, there's just a lot of joy that comes out of producing your own food."
If your efforts don't pan out, try again.
"There are a lot of forces at play in the garden or farm, so not getting discouraged is very important," Howerter said. "You have another chance next year."
Compost, compost, compost
The secret to Taschuk's garden is the soil he enriches with compost, fertilizer made from decomposed organic material such as kitchen scraps or yard waste. "I compost like crazy," said Taschuk, who has three compost bins on his property. "I always tell people, no matter where you are, you're going to have to compost."
Compost can be created in special store-bought containers, homemade bins of wire and wood or leaf piles left to decompose. Mixing compost into a garden can replace synthetic fertilizers
or store-bought soil.
"That's one way to lessen the amount of waste you put into the world and potentially turn it into something beneficial," Howerter said.
If you're interested in chickens…
Taschuk recommends buying chicks in the spring, so you won't have to help them survive a winter chill.
During peak egg-laying season, expect about one egg per hen per day. With rich flavor and more vibrant color, farm eggs are a step up from supermarket ones.
By housing hens in a movable pen, they can forage ­― and fertilize ― in different parts of a yard. Look online for ways to buy or build a pen. While a secure coop is crucial to keep away predators, bad things still might happen.
"Foxes get their share now and then," Taschuk said.