A Few Diet Tips for Holiday Party Season
Duke health and fitness experts discuss obesity, diet technology and navigating the holiday party buffet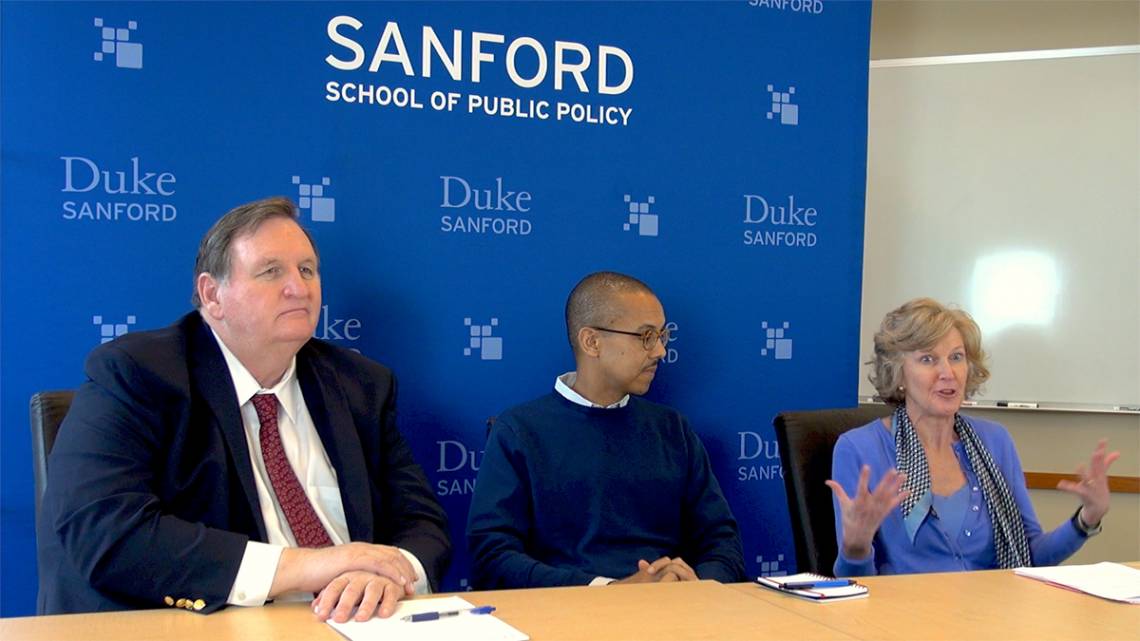 DURHAM -- If you're among the legions heading into holiday party season with a sense of waistline-related dread, Elisabetta Politi has this advice: Eat a hard-boiled egg.
High in protein and low in carbs, the egg will keep you full for hours as you navigate the smorgasbord of cocktail weenies, cheese plates and those cute, tiny little quiches.
"It curbs your appetite and makes you less vulnerable to all the goodies you find at the holiday table," said Politi, nutrition director at the Duke Diet and Fitness Center.
A dietician, Politi joined two other Duke experts Thursday to talk with media about diet, obesity and staying in shape over the holidays.
Politi counsels her clients to adjust their mindsets a bit during the holidays, an acknowledgement that they may not be able to stick to a strict diet all the time – and that's okay.
"It's important to enjoy the holidays," she said.
Politi's helpful diet tips also include:
-- Eat a solid breakfast, like oatmeal with fruit or an omelet with spinach or another vegetable.
-- Be mindful of what you eat. She suggests envisioning each taste of food before eating it.
-- When eating sweets, consider doing so in three bites – in order to maximize quality over quantity. The first bite will taste the best and the second will still be pretty good, she said. By the third bite, Politi said, you'll realize it's not tasting better. This works better than scarfing down an entire peanut blossom in one massive bite.
The skinny on diet and fitness apps
The popularity of smartphone apps aimed at counting calories and improving your fitness doesn't actually correlate to significant changes to people's health, said Gary Bennett, a professor of psychology and neuroscience and director of the Duke Obesity Prevention Program.
The first generation of these diet apps have helped people count calories and hold themselves accountable for what they eat, Bennett said. But the technology hasn't yet shown a long-term ability to improve real disease states like diabetes. To get there, apps need to provide more robust scientific data and teach users how to change their diet and exercise, he said.
"There's a difference between collecting data and changing behavior," Bennett said. "What they haven't really done is teach you how to change your behavior."
That's why Bennett urges people to consider their favorite diet app as just one tool in a larger diet and fitness toolbox – one that should also include advice from a doctor, dietician, psychologist or other trained professional.
Don't fall for the hype
There are plenty of social and cultural factors at play for those engaging in a battle of the bulge, said Kelly Brownell, dean of Duke's Sanford School of Public Policy and director of the university's new World Food Policy Center.
Portions get bigger, unhealthy food gets cheaper and marketing constantly urges us to over-indulge, said Brownell, also a professor of psychology and neuroscience.
"When I was a boy, nobody ate in the car," he said. "Now, if you're a car maker and that cup holder isn't big enough, you lose market share."
And yet, Brownell notes a creeping course correction in the food industry – like the growing number of 'farm-to-table' restaurants that advertise their use of local ingredients. And the soda machines that went from rare to ubiquitous in public schools also seem to be waning in number, Brownell said.
These changes come as governments, both local and national, consider more regulations on food – like mandating visible calorie counts on restaurant foods and the implementation (to varying levels of success) of extra taxes on sodas.
"We wouldn't want to drive a car that is fundamentally unsafe, and the same is true for water and air," Brownell said. "The question is, where does food fall on that spectrum? It's a very legitimate debate on the role of government in our lives."