Fighting Back for Health
Employees make life changes after facing challenges; Open Enrollment begins Oct. 23
One dollar doesn't go far today, but it can still buy a 12-ounce soda from many area vending machines or a less popular song from iTunes.
It's also how much the monthly premium will increase for individual coverage for the Duke Basic medical plan next year. For Duke Select, the most popular health insurance plan among faculty and staff, the increase will be just $2 per month for individual coverage.
In addition, there will be no changes in co-pays or deductibles for any of Duke's medical, vision or dental plans, and the premiums for vision and dental insurance will remain unchanged in 2018.
"The stability of Duke's plans reflects a stark contrast to what is happening with health insurance around us," said Kyle Cavanaugh, vice president for Administration. "We are seeing rather significant changes in the health insurance market with other employers and the health care exchanges."
Cavanaugh said the rates for coverage in the health care exchanges reflect double-digit premium increases, and many employers are moving to high-deductible plans, which shift
more of the financial burden to employees.
Duke will add new features across all medical plans in 2018, including increasing the number of covered physical therapy visits and coverage for breast pumps and lactation consultants for new mothers. Employees can review and update their medical, dental and vision coverage, as well as enroll in reimbursement accounts during Open Enrollment from October 23 to November 3.
The coverage and affordability of the plans are central to Duke being honored by the Chronicle of Higher Education as a "2017 Great College to Work For" for compensation and benefits.
Amy Brennan, circulation manager at Ford Library at the Fuqua School of Business, doesn't need convincing when it comes to the value of Duke's plans. During a brief period in her 20s, she went without health insurance while in between jobs.
"It was a short time, but a scary time," Brennan said.
In 2006, not long after she was hired at Duke, Brennan was hiking on Grandfather Mountain with her husband when she slipped on wet rocks and fell, spraining her right ankle and damaging tendons in her left knee.
Brennan's rotten luck continued when, while back at work on crutches, she fell, leaving her with a herniated disc. But from the urgent care in the mountains, to the specialists back home and the physical therapy that helped her recover, Brennan paid no more than copays.
"I've seen other people who were in accidents with huge medical bills, but Duke's insurance saved us," Brennan said.
"We were very lucky."
Cavanaugh said a reason Duke's plans remain more affordable than other employers is the active role faculty and staff take to improve their health and manage chronic conditions. Here are three Duke employees who made changes to take control of
their health and wellness.
Mark Snead: Don't Miss Special Moments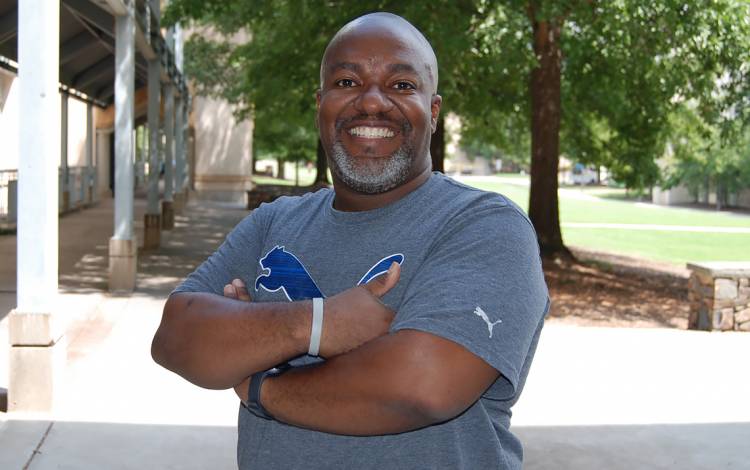 Mark Snead knew he wasn't taking care of himself. But last December, lying on a bed at Duke University Hospital, he finally found the motivation to change.
He had been at work when he felt lightheaded. His left side went numb. He struggled to tell a co-worker to call 911, his mouth unable to form the words.
Snead was having a Transient Ischemic Attack, a mini-stroke.
In the emergency room, he thought of his twin 9-year old daughters and the moments in their lives he might miss.
Later, doctors told 47-year-old Snead that he was diabetic and had hypertension, high blood pressure and high cholesterol.
"I don't plan to outlive you," his father told him at the time. "You've got to do better."
Since then, he has.
After a radical reshaping of his diet, Snead, a comparative medicine specialist, is 38 pounds lighter, no longer diabetic and off blood pressure and cholesterol medications.
He watches his sodium and sugar intake, and his girlfriend, Feona Evans, sends him to work each day with meals of lean protein and vegetables. Formerly a heavy soda drinker, he no longer touches it.
"I want to be around a little longer," Snead said. "I want to see grandkids. I want to see graduations and proms. I want to be around for that stuff."
Hallie Grubaugh: Get in 10,000 Daily Steps
Hallie Grubaugh earned her nickname.
The rapid pace she keeps while walking the halls of Duke University Hospital got her dubbed "squirrel."
"I change directions very quickly," said Grubaugh, a CT scan technologist. "I'll be going one direction and then think of something and quickly change direction, kind of like a squirrel. Most people can't keep up with me."
While she says she's always walked fast, now she does it for a purpose.
Roughly a decade ago, Grubaugh was diagnosed with Osteoporosis, a condition defined by thinning bones.
"That bothered me," said Grubaugh, 60. "I'm active. I thought I was healthy. Why don't I have strong bones?"
In addition to medication, Grubaugh fought the problem with exercise. She's begun a circuit-training group with friends from her neighborhood and recently took up hot yoga.
She also makes it a point to record as many steps as possible with the help of a Fitbit on her wrist. She'll park at the far end of parking lots and volunteer to run errands if it means more steps. Her minimum is 10,000 steps per day, but she often doubles that.
With her bone density scans showing improvement, those steps are leading her in the right direction.
Sylvia Harris: Keep Singing and Dancing

For a short period in 1991, Sylvia Harris lived in a car with her two children. What sustained them and offered hope was a song. Not a specific song that played on the radio, but one that lived inside her.
"A lot of times the kids were restless because we were sleeping in a car," she said. "I'm riding around in the middle of the night, and I'm singing. I would get them singing and teach them songs."
Harris had been a victim of domestic violence and found herself homeless after a trial that put her now ex-husband in prison. During those dark days, she found comfort in singing.
"I didn't have anyone to go through that ordeal with me," said Harris, a staff assistant in Biomedical Engineering. "It was the music. It was a song in my heart."
Song has always lifted Harris up and served as a means of inspiring others. But recently, her weight at 250 pounds made it difficult for her to do what she loved.
"Singing is who I am, and I cannot do that if I can't breathe," she said, "I can't do that if I can't walk up two flights of stairs at my house without almost having to pass out."
After several failed efforts, Harris finally found a unique approach that worked for her.
"I started dancing," she said. "I can't dance. I couldn't even two-step. One afternoon, I put some tapes on in my house and just started dancing. I looked crazy, but I can look crazy in my own house. With the dancing came the energy, and then I started watching what I'm eating."
During the past few months, Harris has lost 31 pounds and has the energy and stamina to sing again. Her goal is to get to 180 pounds.
"I'm not weak and sluggish all the time," Harris said. "Now, I'm ready to go out into the world and give what I have as far as singing is concerned, because now I can do it."