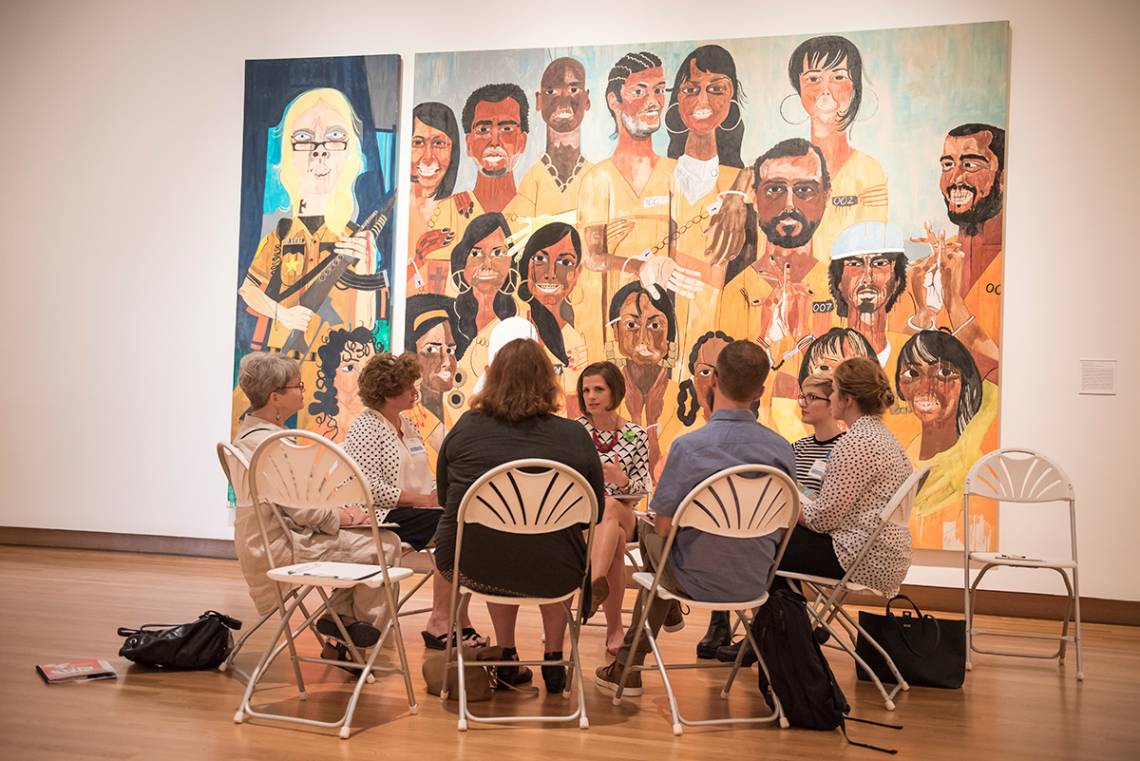 When Jessica Ruhle's grandfather began showing signs of dementia, her grandmother took on the role of primary care partner. Over time, Ruhle saw that her grandparents could no longer go to the concerts, plays, dance halls and art museums they had loved together for decades. She watched their world shrink as they shuttled between home and doctor's offices.
This experience is not limited to Ruhle's family. More than five million Americans live with Alzheimer's disease, and that number is expected to triple by the year 2050.
Learn More
Duke's Nasher Museum of Art is doing something about those numbers. Ruhle, who is the museum's director of education and public programs, created Reflections three years ago. It is still the only program among Triangle museums for visitors with Alzheimer's and their care partners.
"Art is a powerful tool for people with dementia because enjoying art does not require remembering or calling up past knowledge," Ruhle said. "Visitors simply relate to the art they see. A tour is a safe and nonjudgmental place for forgotten words, extended pauses, repeated thoughts. It's unrushed, full of encouragement. The care partners and visitors with memory loss can relax and enjoy their time together."
Family members report that a loved one who is uncommunicative and withdrawn at home becomes talkative on a Reflections tour. (See video above).
"Many of our tours include playful, exploratory experiences of making art," Ruhle said. "But like art, music can connect people with dementia to their deepest memories. Scientific research reports that music is an effective tool for working with people with memory loss."
At the Nasher, music is part of many Reflections tours. Local musicians perform in the galleries and connect their songs directly to the theme of a tour, as well as the art on view. On these days, music draws other visitors – and museum staff –into the gallery to dance or sing along.
Reflections is also of interest to the School of Medicine. First and third year medical students have served as gallery guides giving the Reflections tours.  And Ruhle has presented at grand rounds in both the geriatric and neurology departments.
In early 2018, Reflections is helping to bring two visiting scholars – Jose Luis Contreras-Vidal, director of the University of Houston Brain Center, and artist Dario Robleto – who will speak at Duke Hospital about their collaborations using mobile EEG machines with museum visitors at the Menil Collection in Houston. Robleto will also give an artist talk at the Nasher about his artistic exploration of the brain and historical brain recordings.
Recently, a quiet visitor joined a Reflections tour. Jay, who was accompanied by his caregiver wife, may not have known it was his birthday. Classical musicians were ready to play in the gallery, and the tour guide let them in on Jay's secret. The cello and violin launched into the happy birthday song. Suddenly, Jay came to life. He stood up and bowed to the group. He was beaming as he tapped his feet to the music and clapped.
"Most importantly, the joy on these tours is palpable," Ruhle said. "The museum staff and visitors build real relationships. The Nasher is offering a normalizing experience and a safe community at a time when people feel overlooked or diminished by their diagnosis."