A Crash Course on Argentine Politics and Upcoming Elections
Students discuss issues at first Global Political Perspectives event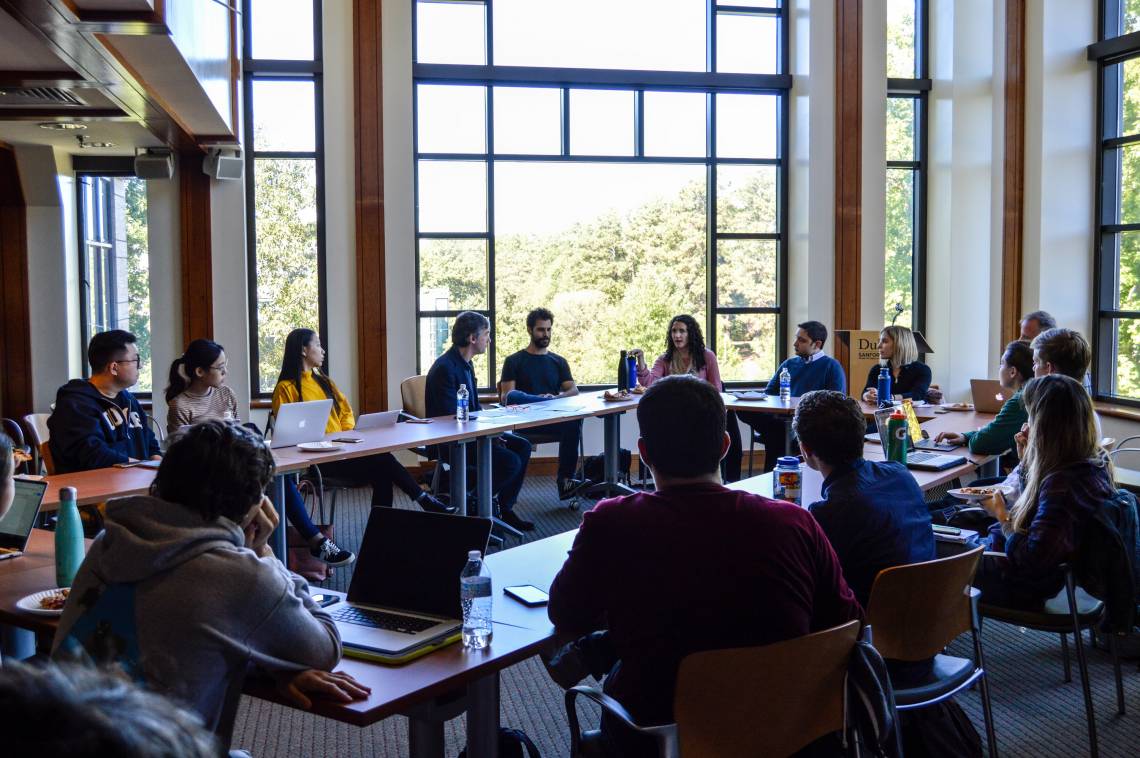 DURHAM, N.C. -- Significant mistrust of politicians, concentrated presidential power, clear divisions among political parties and compulsory voting for all 18-to-70-year-olds are among dozens of issues raised Thursday by student panelists during a lunch-and-learn about Argentina's politics and upcoming elections.
More than 40 Duke students gathered for the discussion at the Sanford School of Public Policy. (Click here to watch video of the discussion.)
Giovanni Zanalda, director of Duke's Center for International & Global Studies, led the discussion. He was joined by Ken Maffitt, academic program coordinator for Duke's Center for Latin American and Caribbean Studies, and four Duke graduate students: Stephanie Stefanski, Candela Marini, Lucas Chaya del Pino and Joe Cao.
Stefanski has lived and studied extensively in Argentina, while the other three are native Argentinians. 
Collectively, the panelists offered students and other audience members wide-ranging perspectives on the personal, local, regional and international implications of Argentinian politics and elections.
Maffitt talked about what makes Argentina unique in Latin America and in the world, from its military coups from the 1930s to the 1980s, to the repeated challenges to the "political class" during the past 100 years.
Today there is a prevailing sense among some Argentinians that political stability is good for business. They vigilantly keep up with politics daily so that, if necessary, they can anticipate dramatic cultural and economic shifts similar to ones the country has witnessed in recent decades, according to the panel.
The first in what will be many Global Political Perspectives events in the coming years, this hour-long discussion was conceived by POLIS: Duke's Center for Political Leadership, Innovation, and Service; International House; and the Center for International & Global Studies; and was cosponsored by the Duke Sanford Latin American and Caribbean Group.
"At a time when our American political system is such a concern in our country, it's important to look beyond our borders to understand and appreciate how other nations grapple with their politics," POLIS Director Fritz Mayer said after the event.
International House Director Lisa Giragosian agreed.
"When international and domestic students are comparing notes about their unique cultural experiences, the world becomes a little smaller, and our sense of shared humanity becomes that much stronger," she said.