Reese Testifies Before Congress on Challenging Issues of Race and Diversity Facing Higher Education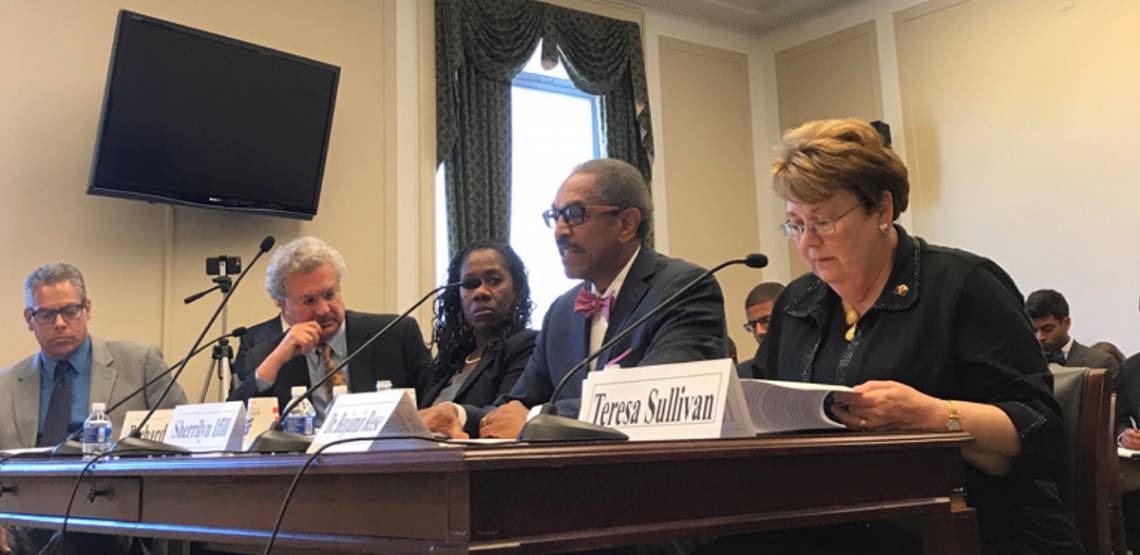 Duke's Vice President ofor Institutional Equity Benjamin Reese spoke to lawmakers on Sept. 8 about how the university handles issues of free speech and hate crimes.
Following the recent events in Charlotteville, Va., congressmen on the House of Representatives' Education and the Workforce and Judiciary committees heard testimony from Reese, University of Virginia President Teresa Sullivan, the NAACP's Sherrilyn Ifill, and Southern Poverty Law Center Executive Director Richard Cohen.
Reese discussed the policy mechanisms universities can employ when investigating potential hate crimes.
"When a student violates a standing Duke policy, if that violation has a significant element related to race, gender, sexual orientation violence, the punishment can be accelerated," Reese said. "In no way are we trying to curtail free-speech, but if someone defaces a building, there is something special, in a negative way if that defacement has an element of racism, sexism, homophobia."
In his read testimony, Reese said university officials have worked with students to address concerns about bias, hate crimes, sexual misconduct and other issues. He noted that the membership of the university's Hate and Bias Task Force included students who spent several weeks living in a "tent city" right in front of our main administration building.
"We have learned that some of the loudest voices of protest often bring with them insights and perspectives missing in our usual discourse and decision-making processes," said Reese, who also made note of his own protest efforts as a college student in New York in 1965.
Reese also spoke about the challenges of promoting free speech and ensuring public safety when controversial speakers come to campus.
"I would like to think that our work in deliberately engaging students across the spectrum of perspectives, political persuasions, races and cultures has contributed to our relatively successful experience with 'controversial speakers,' although I recognize that this could change any minute," Reese said.
"We're a university that strongly supports free speech and open dialogue. Our Student Affairs department at Duke works closely with student groups sponsoring guest speakers to discuss potential audience size, best location, ID requirements (if necessary) and security. We've been tested a few times and all has gone well, but we recognize that there are likely many challenges right around the corner. Balancing the safety of our students, and our fervent support of the First Amendment, we've prepared as best we can."