Young Scholars Summer Research Institute Highlights Local Student Research on Inequality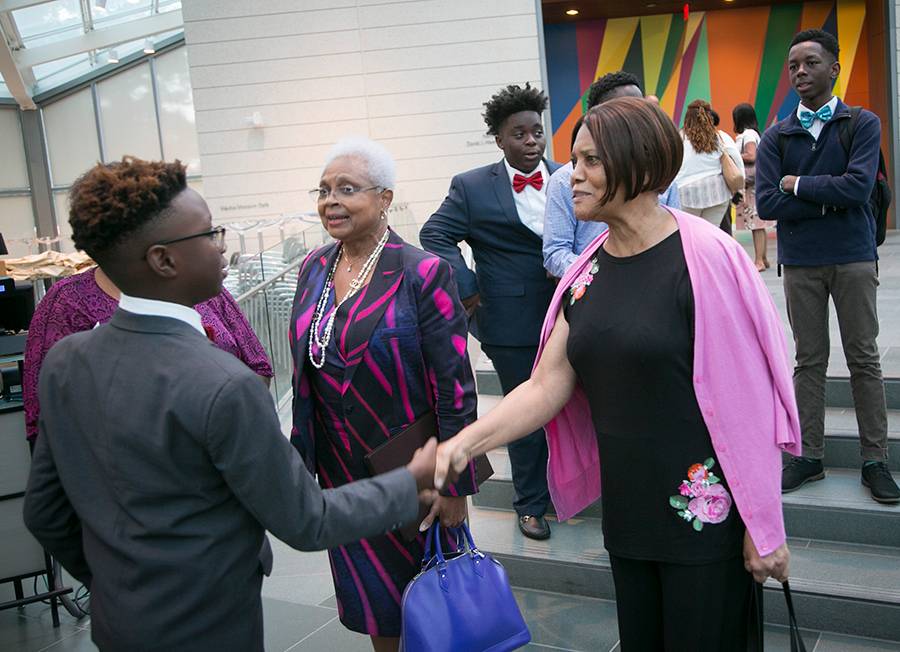 Student participants in the Samuel DuBois Cook Center on Social Equity Young Scholars Summer Research Institute presented research projects before more than 200 parents, Duke faculty and staff and teachers and administrators from Durham Public Schools, at the program's capstone conference July 31 at the Nasher Museum of Art.
The presentations culminated the Young Scholars Summer Research Institute, a three-week instructional program sponsored by the Samuel DuBois Cook Center on Social Equity at Duke in partnership with the Durham Public School System (DPS) for students in grades 8-11.
In keeping with the Cook Center's central mission as a community of scholars engaged in the study of the causes and consequences of inequality, the institute develops students' writing and research skills and identifies and recruits the next generation of scholars concerned with the causes and consequences of inequality and the assessment and redesign of remedies for inequality and its adverse effects. Students explore the economic, political, social and cultural dimensions of inequality during the institute under the direction of middle and high school Durham Public School System teachers, university professors and Cook Center researchers.
William A. Darity Jr., founding director of the Samuel DuBois Cook Center on Social Equity and Samuel DuBois Cook Professor of Public Policy, African and African American Studies, and Economics at Duke, paid tribute to the Samuel DuBois Cook Center on Social Equity's three-year collaboration with Durham Public Schools in his welcoming address.
"The summer institute is designed to provide young scholars with the opportunity to investigate a wide range of issues involving inequality and social inequity with an eye towards trying to think about ways in which we can change those conditions," Darity said.
A advocate of higher education, Billye S. Aaron of the Hank Aaron Chasing the Dream Foundation delivered the program's keynote address.
"From the time we are born, to the time that we die, we are learning," Aaron said. "We are learning lessons that will carry us throughout our lifetime. Learning is a constant… and that is why the Young Scholars are here today."
Institute participants completed research projects based on their cumulative years of participation in the program. First-year students delivered oral presentations, while second-year students constructed poster presentations of their findings. Third-year students produced individual research papers representative of their research project across three years of involvement with the program. Topics of student investigation included mental health treatment in the black community, the racial wealth gap, the border-to-prison pipeline, food desserts, and various facets of health disparities among other intersectional research projects.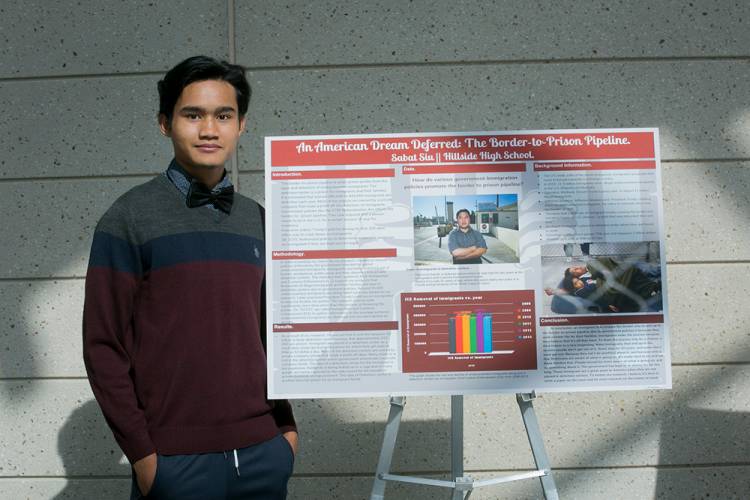 Students present their research in a poster session at the capstone event.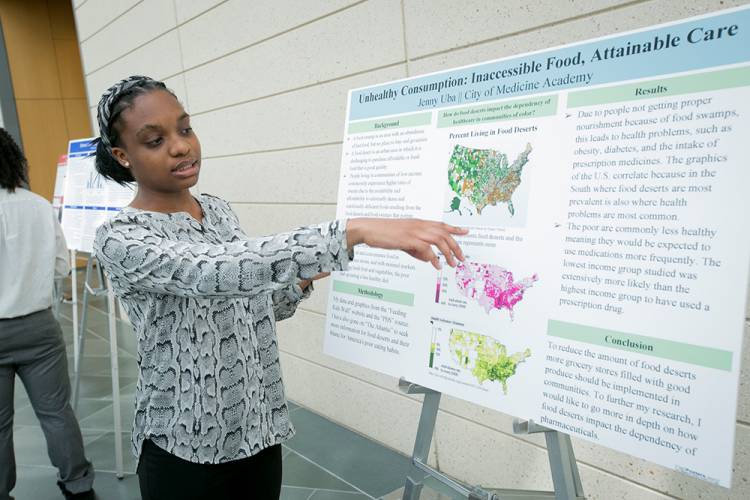 Esteemed guests included Sylvia F. Cook, wife for more than 50 years to the late Samuel DuBois Cook, a distinguished political scientist, for whom the Samuel DuBois Cook Center on Social Equity is named. Cook's son, Samuel DuBois Cook Jr., delivered closing remarks at the capstone. His two children, Alexandra Renee Cook and Samuel DuBois Cook III, were also in attendance.
Aaron, in her keynote address, framed the Young Scholars Summer Research Institute as a contribution to the ongoing legacy of her friend Samuel DuBois Cook.
"One might say that race and racism are the most pervasive issues facing our country today," Aaron said. "These issues have long impeded our progress as a nation.
"I am of the opinion that the answer may indeed lie in the Young Scholars Summer Research Institute. Why? Because you are our future."
The third-year student graduation ceremony closed the event's formal program. DPS Executive Director for Equity Affairs Daniel Kelvin Bullock provided closing remarks on behalf of the district. Bullock underscored his work with community members, families, students, and educators to address equity issues present within DPS, particular efforts to modify existing practices to engender and ensure better educational outcomes for students of color.
"The Young Scholars Summer Research Institute is a prime example of the type of educational opportunity that we want for all of our students." Bullock said. "An experience that is real, an experience that is relevant, and an experience that is geared towards cultivating engaged citizens that will move our society to higher levels never before seen."