Duke Flags Lowered: Samuel DuBois Cook, Duke's First African-American Faculty Member, Dies
Samuel DuBois Cook, the first African-American faculty member at Duke University whose career of scholarship and activism inspired numerous scholars and students of all backgrounds, died Tuesday. He was 88.
Through more than 60 years in higher education, Cook had a distinguished record as a political scientist, scholar, educator, author, teacher, administrator, civil and human rights activist and public servant.
"Samuel DuBois Cook was a devoted member of the Duke community who had a special place in Duke's history," said Duke President Richard H. Brodhead.  "A scholar of political science who was intimately involved with the leadership of the civil rights movement, he was the bearer of the vision of the beloved community and, throughout his life, worked for a society based on inclusion, reconciliation, and mutual respect for all. We extend our deepest condolences to his wife and family and express our gratitude for all he did for Duke."
A native of Griffin, Ga., he received a bachelor's degree from Morehouse College and master's and Ph.D. degrees from The Ohio State University. He taught at Southern University, Atlanta University, the University of Illinois, UCLA and Duke University, where in 1966, he became the first African-American to hold a regular and/or tenured faculty appointment at a predominantly white Southern college or university.
During his time on the Duke faculty, Cook's scholarship helped the political science department gain prominence in the study of race, ethnicity and social equity. But his influence extended well beyond his scholarship. As a mentor, he reached out to faculty, students and staff of all races and ethnicities.  Those connections lasted even after he left Duke to become president of Dillard University in 1974.
"These are the occasions when words simply don't do justice.  Sam's humility, commitment to racial justice and his deep faith in the 'Beloved Community,' where all people are respected and treated fairly, will always serve as a model and guidepost for so many of us," said Benjamin Reese, vice president in the Office for Institutional Equity. "For the last decade, every morning I've been greeted by the photo in my office of Dr. Cook and Dr. John Hope Franklin, together … sharing a smile and warm greeting.  Sam and [wife] Sylvia will always be a part of my life."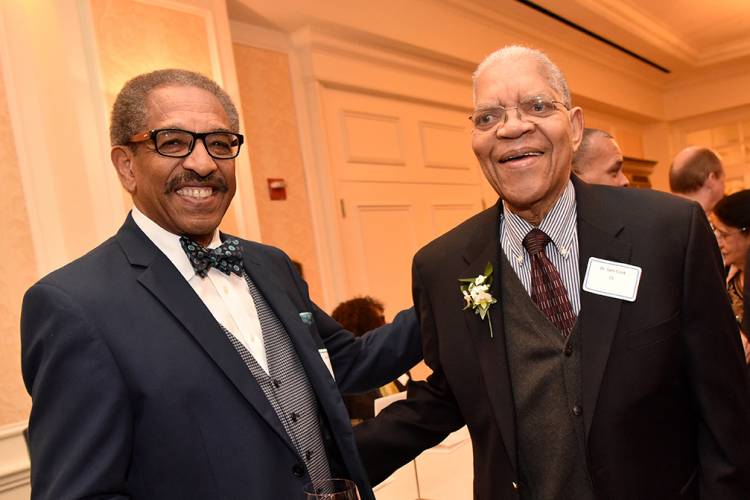 Cook was on the Duke faculty at a challenging time on campus and in the country. In 1969, when students in the Afro-American Society occupied the Allen Building to push for improved conditions for black students and staff, Cook, along with other faculty, played a key role in mediating the situation. Another mediator was faculty member Craufurd Goodwin, who died this past April.
"Dr. Cook was a lion—brave and able to withstand so much adversity and still able to have faith in his fellow human beings in doing what was right and just," said Jacqueline Looney, senior associate dean at The Graduate School. "I just feel like I'm standing on his shoulders and those of others who have made it possible for us to be successful.  And it's not just people of color: Both Dr. Cook and John Hope Franklin mentored people of all backgrounds.  We are the beneficiaries of so much goodness."
After joining Dillard University, Cook maintained a strong connection with Duke and the people here. "The ties were never broken. Sam loved his beloved Duke," Looney said.
In 1981, he was named a member of the Duke Board of Trustees and later became a trustee emeritus. In 1997, Duke established the Samuel DuBois Cook Society, which continued Cook's work affirming and celebrating the efforts of African Americans at Duke and to better relations between people of all backgrounds.
In 2006, Duke created a new postdoctoral fellowship in his honor in its Center for the Study of Race, Ethnicity and Gender in the Social Sciences. Duke also established the Samuel Dubois Cook Center on Social Equity, which in turn continued Cook's scholarly research on the social problems associated with inequality and divisions by race and ethnicity. 
"I'm very saddened by this news," said William "Sandy" Darity, who is the Samuel DuBois Cook Professor of Public Policy, African and African American Studies and Economics and director of the Samuel DuBois Cook Center on Social Equity. "Dr. Cook was one of the towering figures of Duke's scholarly history.  This is obviously a deep loss to his family but also to this institution. Personally, I'm very honored that he was willing to lend his name to the research center and to my professorship."
Cook served 22½ years as Dillard University president. While at Dillard, he established a National Center for Black-Jewish Relations, the only one of its kind.
His academic and service awards were many. President Jimmy Carter appointed Cook to the prestigious National Council on the Humanities and President Bill Clinton appointed him to the historic United States Holocaust Memorial Council.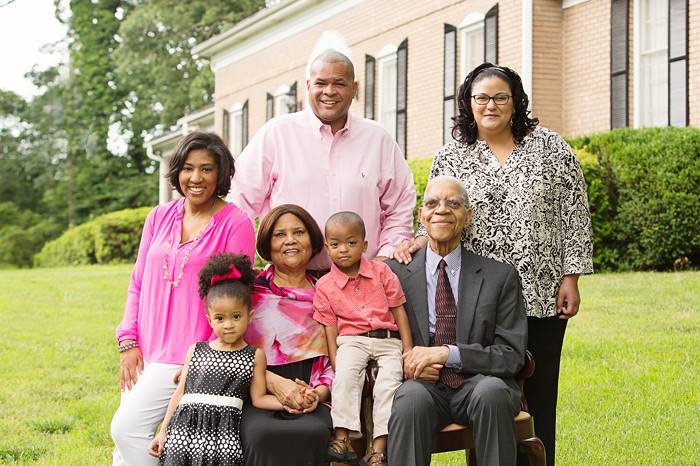 A member of Phi Beta Kappa Honor Society, Cook was a Korean War veteran and a former ordained deacon at White Rock Baptist Church in Durham, N.C. He holds honorary degrees from Morehouse College, The Ohio State University, Dillard University, Illinois College, Duke University, the University of New Orleans and Chicago Theological Seminary.
Cook is the author or editor of numerous scholarly publications, including "Black-Jewish Relations: Dillard University National Conference Papers, 1989-1997." His most recent publication is "Benjamin E. Mays: His Life, Contributions, and Legacy," written about the inspirational and pioneering former president of Morehouse College.
Cook was the first black president of the Southern Political Science Association and also served as the vice-president of the American Political Science Association. He was also president of the Association for the Study of African American Life and History Inc., and chair of the Presidents of the United Negro College Fund.
Cook and his wife, Sylvia F. Cook, were married for more than 50 years. Cook is survived by his wife; children Samuel DuBois Cook Jr. and Karen J. Cook; and grandchildren Alexandra Renee Cook and Samuel DuBois Cook III.
A funeral service will be held at 11 a.m. Tuesday, June 6, at Morehouse College in Atlanta.