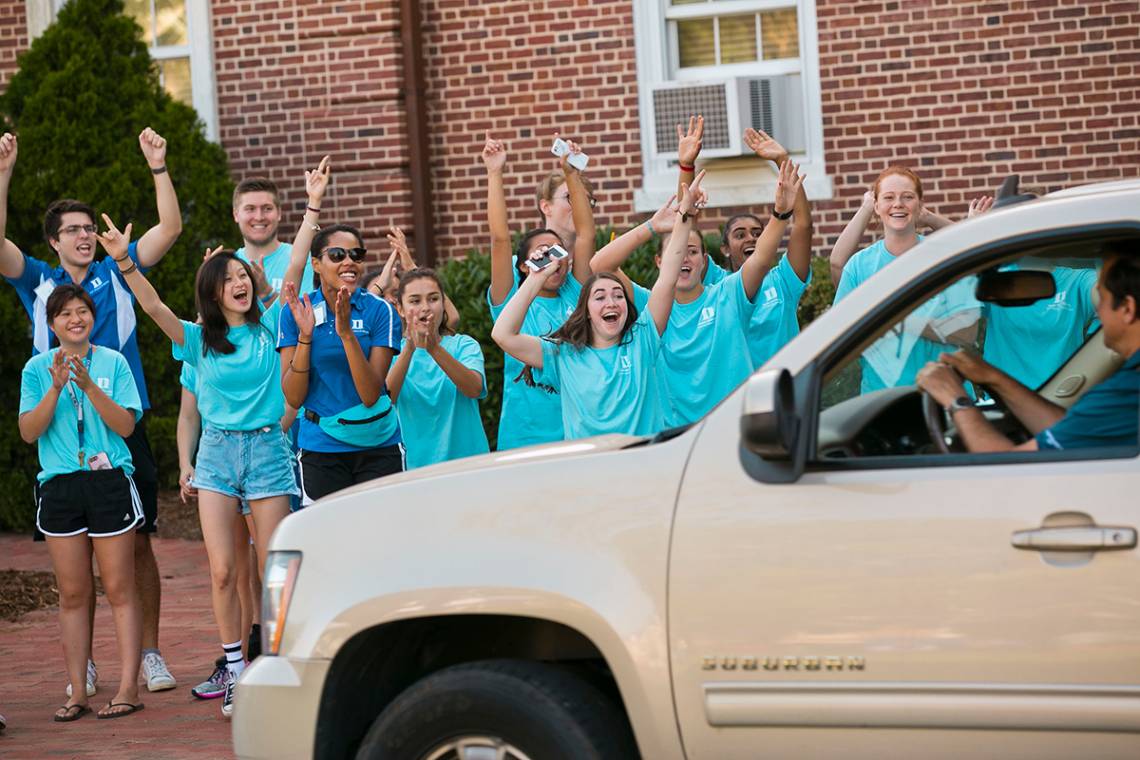 Dorothy Alexis, a rising junior from Miami, remembers clearly her first day at Duke in 2015.
A first-generation college student, Alexis had no idea what to expect when she and her family drove up to East Campus. Once they arrived, they were met by dozens of energetic upperclassmen ready to welcome them and take care of the heavy lifting of moving her belongings into the residence hall.
That welcome meant a lot to Alexis, which is why she returned to campus early the past two years to give back by helping a new class of first-years move in.
"Move-in day really helped set the tone for my time here at Duke," Alexis said. "It's the best time of the year for everyone. We do this with a lot of energy, and it's genuine."
First-year move-in day came off Tuesday with aplomb. It started with dozens of First-Year Advisory Counselors (FACs) racing out to Wilson and Giles residence halls, tossing their arms in the air and singing the words to Smash Mouth's "All-Star."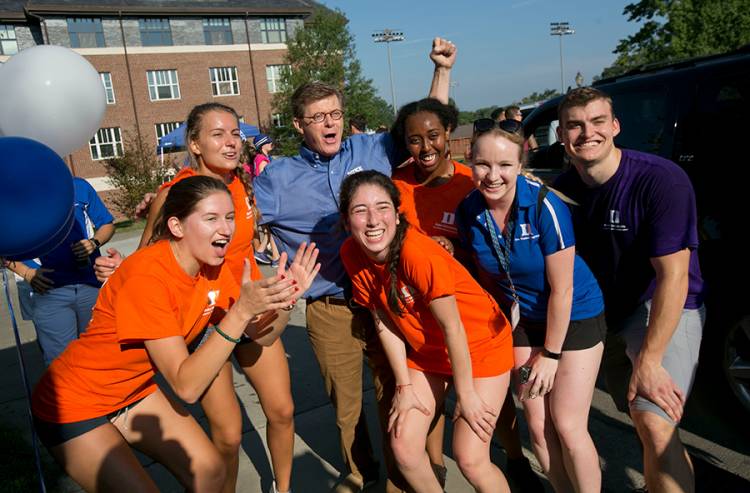 The energy kept up even as the sun started beating down and temperatures rose. For long-time Duke hands, it's still an amazing sight.
"The first time I went through this I was really quite overwhelmed by the FACs' energy," said chemistry professor Christopher Roy, a faculty-in-residence on East Campus. "But now I wake up and say, 'Let's do this.'"
The process was efficient as usual. Cars drove up, Student Affairs staff slapped on stickers with room numbers and handed out information for Duke parents. The cars then proceeded to the front of the residence hall, where the FACs descended and quickly unloaded mattress pads, lamps, hampers, refrigerators, luggage and more.
For parents and new students, the help was welcomed. Some, like Forrest Long of Robbinsville, N.C., had experienced unexpectedly long drives on Monday, having got caught up in post-solar eclipse traffic jams.
For Yilu Lu of Suzhou, China, it was a great way to start a transition to a new country. Lu arrived a few days ago to participate in international student orientation and to watch the eclipse in Duke Gardens.
"So far, I've really enjoyed it," Lu said. "I like the city and the environment here. It looks like a nice place to live and study. I've met my roommate on Facebook, and I've found there's a strong Chinese community here."
Incoming freshman Matthew Cone of Knoxville, Tenn., spent part of the weekend helping his cousin move in at another university back in Tennessee, a process that took five hours. After that long experience and an 8 1/2-hour drive through eclipse traffic, the Cones were grateful to see their car emptied in minutes.
"It's impressive," said Debbie Cone, Matthew Cone's mother. "I love the efficiency. This was done in five minutes."
"You can feel the energy," Matthew Cone added. "I'm so excited to be here."
New Duke President Vince Price helped out with the energy, joining Dean of Undergraduate Education Steve Nowicki in greeting students and their parents. One mother was carrying a pie when she saw Price. "Oh my gosh," she said, before putting the pie down and running over to shake his hand.
Trinity College Dean Valerie Ashby and Vice President for Student Affairs Larry Moneta also greeted students and parents as they drove up. For Moneta, it was his 17th move-in at Duke. Overall it was his 44th. "I've never missed an opening before," he said.
While many arrived in SUVs and minivans, Connor Hazen and his father drove from Telluride, Colo., in a refurbished 1987 VW Vanagon, complete with homemade curtains in the back windows. His father said he had no doubts the old vehicle was up for such a long ride.
"Connor redid the engine, so we know it was good," he said. "Then he wrote about it in his college application essay."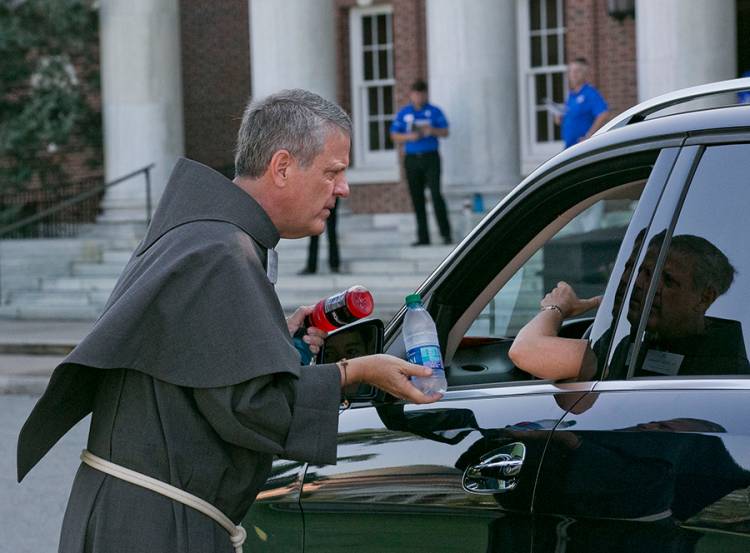 University staff from a number of units had been preparing for this day for months. After the students stopped off at their residence halls, they walked inside the East Campus Union where they picked up welcome packets, received their Duke Card, put money in their Flex account, met with Duke Alumni and got their computers online and secure with the help of staff from the Office of Information Technology.
Outside on the East Campus quad new students stocked up on Duke clothing and paraphernalia under a Duke Stores tent. Duke Stores workers were out on campus by 5:15 a.m. said Tom Craig, general manager for retail operations. "Last year, our biggest day for sales was on move-in day," Craig said.
Read more about the Class of 2021 here.
Alison Jones and Keith Lawrence also reported on this story.