Blue Devil of the Week: A Familiar Face On The Line
For more than three decades, Shirley Suitt has kept Duke's students fed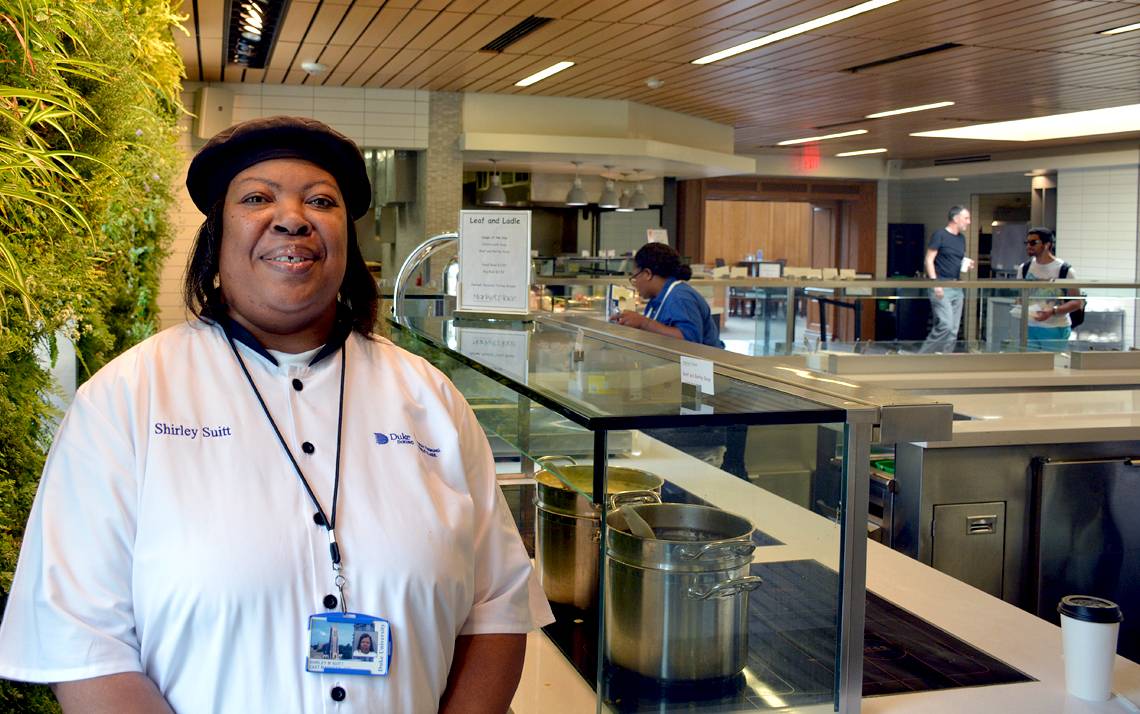 Shirley Suitt
Position: Food service worker
Years at Duke: 34
What she does at Duke: Suitt fields orders from hungry students, cooking short-order items in the open kitchen at the Marketplace on East Campus. A fixture during the breakfast service, she's often one of the first people students encounter in the morning.
"I make the omelets in the morning," Suitt said. "I see a lot of kids. I like interacting with the students. They're really nice."
What I love about Duke: "It's a beautiful place," Suitt said. "I love the campus. I love the Bryan Center and the Chapel."
Suitt's love of West Campus came from the fact that, up until a year ago, she worked at the Bryan Center and Penn Pavilion. Now on East Campus, she said she's come to appreciate Duke's original campus, with its lawns and old buildings.
"It's nice, it has a lot of history," she said.
A memorable day at work: "There are quite a few," Suitt said.
The one that resonates the most was her first day in the 1980s. Back then, the dining facility at the Bryan Center was a smaller, simpler place. But it was still daunting for Suitt, who spent her first day busing tables and getting a feel for her new surroundings.
"I was nervous," Suitt said.
A special object in my workspace: Pans. When mealtime comes, the kitchen can become a hive of activity. Working in the middle of it, Suitt said all she needs are some good pans.
She said the best pans for omelets are small ones with long handles. If she has those and a spatula, a serious breakfast rush won't faze her.
"We can make about six omelets at a time," Suitt said. "We have a big line, so we keep it moving."
First ever job: "It was actually at Duke," said Suitt, who started at the Bryan Center at 18.
Suitt said that she was fortunate, in those early days, to work alongside a group of people who enjoyed a good laugh.
"It was a lot of fun," Suitt said. "I met a lot of people."
Best advice received: "My mom just told me that hard work always pays off," she said. "So I do my job to the best of my ability."
Something most people don't know about her: Suitt said that, when she's not at work, she loves going to the movies. She's a fan of all kinds, but love stories are her favorite, which she admits, won't come as a newsflash to colleagues.
"After 34 years, they know me," Suitt said with a laugh.
Nominate a colleague to be the next Blue Devil of the Week.