Make Your Office a Shade Greener
Duke offers resources to help employees take steps toward a sustainable workplace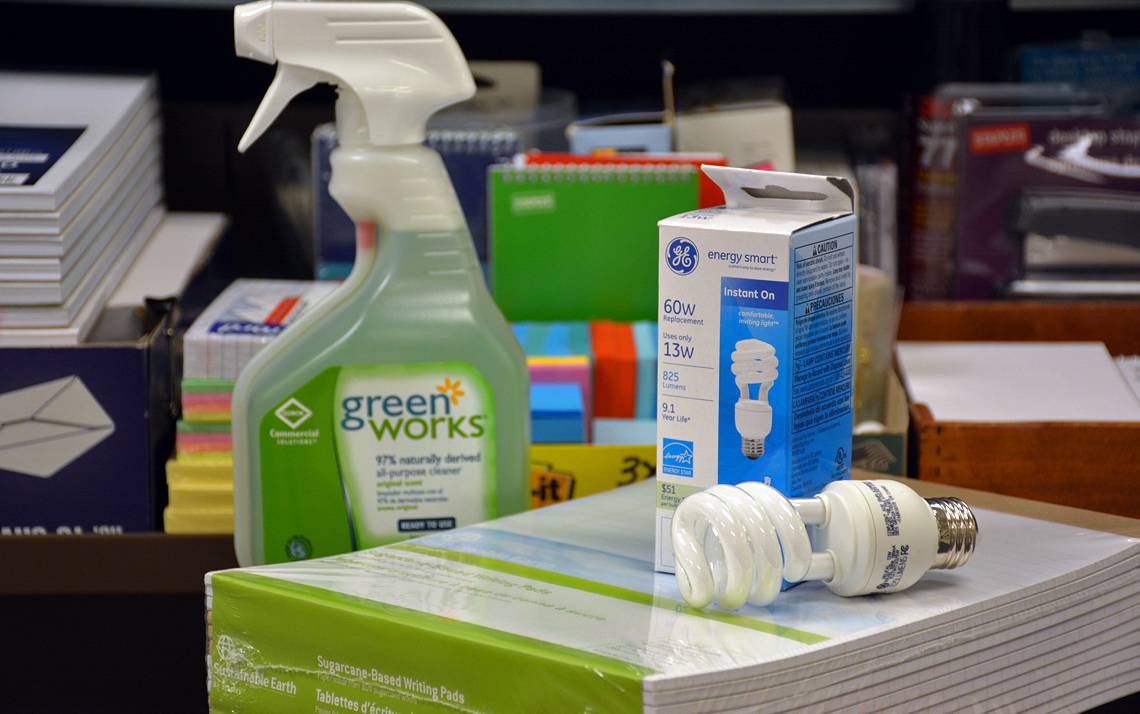 When it comes to making your office more sustainable, it doesn't always have to involve major steps.
At a recent "Working Sustainably" workshop, hosted by Sustainable Duke, Tani Colbert-Sangree illustrated that point with an example many can relate to.
He pointed out that, in many offices, disposable cups are stacked next to a coffee machine while reusable mugs are stashed away in a cabinet. Colbert-Sangree suggested that reversing the locations – making reusable mugs more accessible – might help make an office just a shade greener.
"Sometimes you just have to make the sustainable choice the easier choice," said Colbert-Sangree, program coordinator with Duke Carbon Offsets Initiative.
Here are three easy ways to help make your office a more sustainable one.
Explore recycling options
Workshop attendee Timothy Fields, an operations coordinator with Duke Medicine Global, wants to recycle. But the placement of bins in his office makes it inconvenient. There's a bin solely for paper, but the nearest recycling bin for everything else is in a breakroom.
"Yet every cubicle has a trash can," Fields said.
There's a way to remedy this.
Duke Facilities Management, which handles recycling for the university, offers a mini-bin program that provides individual offices and cubicles with smaller, adjoining recycling and trash bins that can be emptied into larger, centrally located bins elsewhere in the building.
For more information, call 919-660-1448.
If your office isn't able to take part in the mini-bin program, contact Sustainable Duke to explore other options.
Plug into energy-saving opportunities
Lauren Babineau didn't have to walk far to get to the sustainability workshop in Perkins Library. But being outside in the hot sun for a little longer would likely be fine for the staff assistant in Romance Studies. Due to air conditioning, her workspace in the Languages Building is in the midst of a perpetual cold snap.
"I basically have a blanket in my office," Babineau said.
Aside from the chill, Babineau worries about the energy cost.
For employees who are concerned about energy efficiency, there are resources available.
For an immediate problem – like a leaking faucet or artic air conditioning – Duke University employees can contact Duke Facilities Management through its customer service line at 919-684-2122 or request assistance online.
"If there are problems in a building, folks should definitely report them," said Casey Collins, energy manager with Duke Facilities Management. "… If we know how many, and where, people are being affected, it helps us narrow down the problem."
A more thorough energy efficiency check for campus areas can be requested on a departmental level.
"We are certainly available to discuss energy-saving opportunities, water-saving opportunities in buildings and we will help where we can," Collins said.
Service requests for medical buildings (except Levine Science Research Center) can be reported to (919) 684-3232 or click here.
Get your office certified
If your office is ready to make the biggest step toward reducing its environmental footprint, it can shoot for Duke Green Workplace Certification. The process involves attending a sustainability workshop and completing at least 40 of the 58 items on a checklist supplied by Sustainable Duke.
There are 76 workplaces – covering 2,543 employees – that have completed the Duke Green Workplace Certification requirements.
The Duke Forest office became certified in 2016.
"I just wanted to get more acquainted with how we could be more efficient," said Duke Forest administrative assistant Beverly Burgess, who helped initiate the office's certification process.
As part of the certification, the staff found ways to print less, recycle more and become more energy efficient in the way it uses computers and lights.
Events now feature recycled plastic cups and 42 percent of subscribers to the Duke Forest newsletter now take it by email.
"It's just making yourself do it," Burgess said. "There are extra steps you have to take, but when you think about it, those extra steps save a lot."