Landscape Design Focuses on Natural, Sustainable Plants
Plantings around Science Drive Garage will grow into a dense successional woodland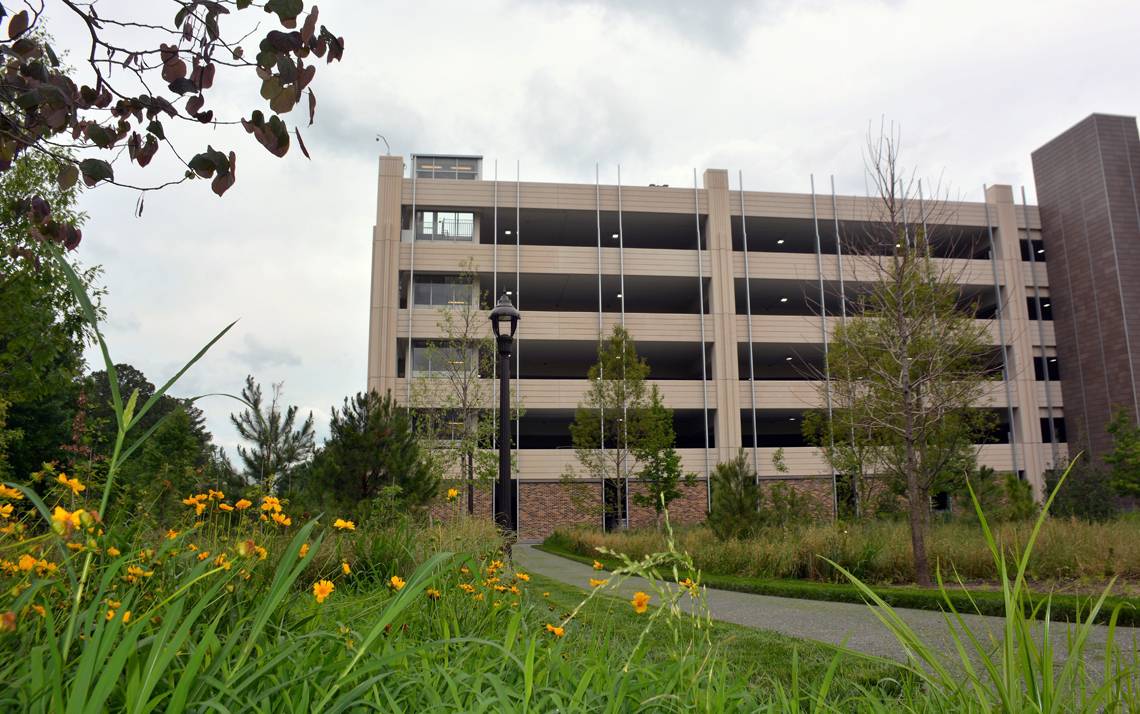 At seven levels, the new Science Drive Garage spans about 824,000 total square feet at the corner of Cameron Boulevard and Science Drive.

From the walkways, the scale of the building looms large with nearly 2,400 parking spaces.

With an aim toward sustainability and establishing natural vegetation around the garage, Duke deliberately created a landscape that focuses less on a manicured appearance. Instead, the landscape recreates the plant community of Duke Forest, which lines Cameron Boulevard across from garage.

Over time, the now young plantings around the garage will grow to become a dense successional woodland, reducing the visual impact of the large garage.

"It's not the most beautiful right now, but there's a thought-process behind this," said Mark Hough, Duke's university landscape architect. "This mix of native grasses, trees, shrubs and perennials will mature and evolve into a native woodland, and reinforce the idea that Duke is a university in the forest."

The vegetation around the garage features understory trees like the Eastern Redbud, which attracts pollinators and has pink blooms. In addition, 16 different types of canopy trees have been planted, including the Longleaf Pine, Loblolly Pine and White Oak. There are also tree saplings, grasses, bulbs and deciduous shrubs.

Care was taken to provide swaths of woodland shrubs and perennials to give structure to the naturalized area so there is less of a seam between the manicured and naturalized, according to designers. And every species of tree, shrub, perennial and grass was selected for aesthetic value and suitability to thrive in various conditions across the site.

Hough said the type of landscape design around Science Drive Garage is one that community members can expect to find in other campus areas as new buildings come on line. Landscapes will be designed with sustainability in mind and may not feature open lawns in an effort to preserve land, water and energy, he said.
"It's not the best use of resources – human and natural – to be maintaining sod everywhere," Hough said.