Worth the Ride
Duke's Bicyclist Appreciation Breakfast highlights Duke's growing bike culture
For the cyclists who pedaled to the Bryan Center Plaza on Friday morning, the ride was worth it.
Duke's annual Bicyclist Appreciation Breakfast offered bike commuters – and those interested in commuting by bike – free gear and repairs, as well as coffee, pastries and fruit.
The breakfast, which was sponsored by Duke Parking and Transportation and Sustainable Duke, was part of National Bike to Work Day. It was also a way to celebrate the more than 3,000 bike commuters in the Duke community.
"It's very nice to see that Duke values bike commuters," said Luke Eastman, who recently earned his masters in environmental management. "It's an important initiative because traffic can get pretty crazy and it's hard to park on campus. I found that biking is the fastest way to get to where I need to, so I'm glad that Duke is supporting us bikers."
There are about 3,000 bike commuters in the Duke community, and a steady stream of cyclists passed through Friday's event.
"I think it helps contribute to a culture where bicyclists are welcome," said Alison Carpenter, transit planner for Parking and Transportation. "… It's a great opportunity for new cyclists and tried-and-true cyclists to mingle and share information and knowledge."

The busiest person at the breakfast was David Loschiavo, the owner of Durham Cycles, which sells, rents and repairs bikes on Ninth Street.
"A lot of gear adjustments, a lot of brake adjustments, a lot of low tires," Loschiavo said when asked what kind of work was getting done.
As soon as he'd hand a bike back to another grateful cyclist, another bike would be ready for him to look at.
"These bikes are well-ridden," Loschiavo said. "Which is great. That's what we want to see."
"This is me," said Ellen Byars, directing Loschiavo to the purple bike she's customized with fenders and a basket.
On Friday, Byars visited the breakfast to grab coffee, some stickers, a key chain and a travel mug. And her bike, which she's nicknamed "Purple Rain," needed a tune-up and a repair to a loose fender stay.
Byars, a utilization manager at Duke University Hospital, uses the bike to get to and from work from her home in the Watts-Hillandale neighborhood. She's had the bike for almost a year.
"It's held up pretty well," Byars said. "It's gotten one tune-up. I've tried to be good and put air in my tires every week or two. – It probably needs some air today. And I've had the brakes replaced once."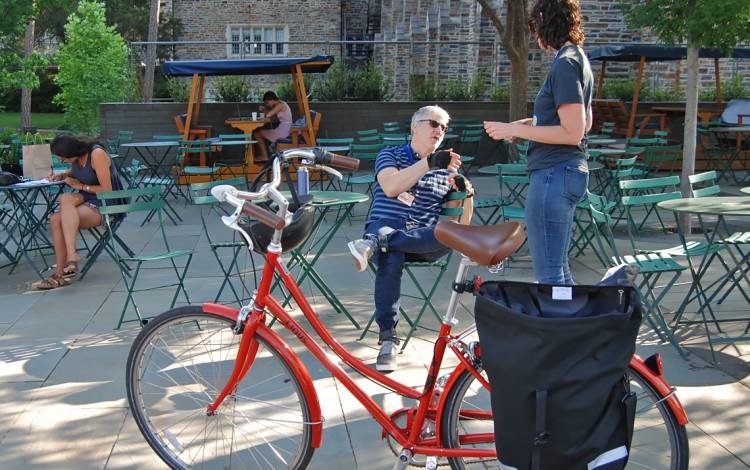 When asked if there's a full-blown bicycle commuter culture at Duke, library staffers Jeff Kosokoff and Molly Bragg were on the fence. Both live in Old West Durham and commute on their bikes. Kosokoff has a rugged bike covered in stickers while Bragg has a graceful, orange three-speed.
While they said bike commuters are still a small minority, there is a spirit of camaraderie.
"Certainly those of us in the library who ride bikes know each other," Kosokoff said. "I remember one day, I had a flat and I was emailing everybody to see who has a pump. … They were like 'I think there are some tools over here, some tools over there and a pump behind (the Allen building).'"
Holding a free bike light, map and bagel, Bragg said events like Friday's breakfast should help inch that culture forward.
"It's just nice to see other bicycle commuters on campus," Bragg said.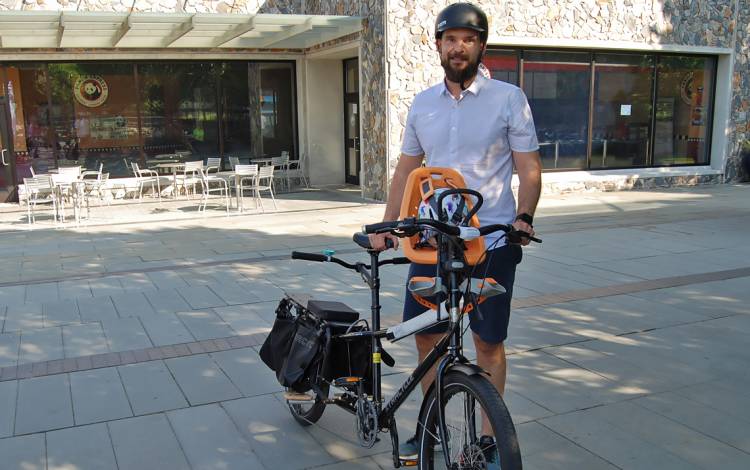 Perhaps the most eye-catching bike at the breakfast belonged to David Bradway, a biomedical engineering research scientist.
Made by XtraCycle, his longtail bike had thick tires, a cargo storage system and, most notably, a baby seat perched on the handlebars for his 14-month old daughter Amelia.
"I'm hoping to start taking my daughter to daycare," Bradway said. "I live in Old West Durham, daycare is by the Nasher, I work right here in Hudson Hall. It's all one big triangle."
Bradway admits that his daughter isn't quite ready for the commute, but with a small white helmet of her own, he said she's working her way up to it.
"She didn't like the helmet going on initially, but once she was buckled into the seat and we were moving, she was looking around and really enjoyed it," Bradway said.
Learn more about bicycling at Duke here.