PUBLISHED
Nick Johnson: An Education in Health Care and Diversity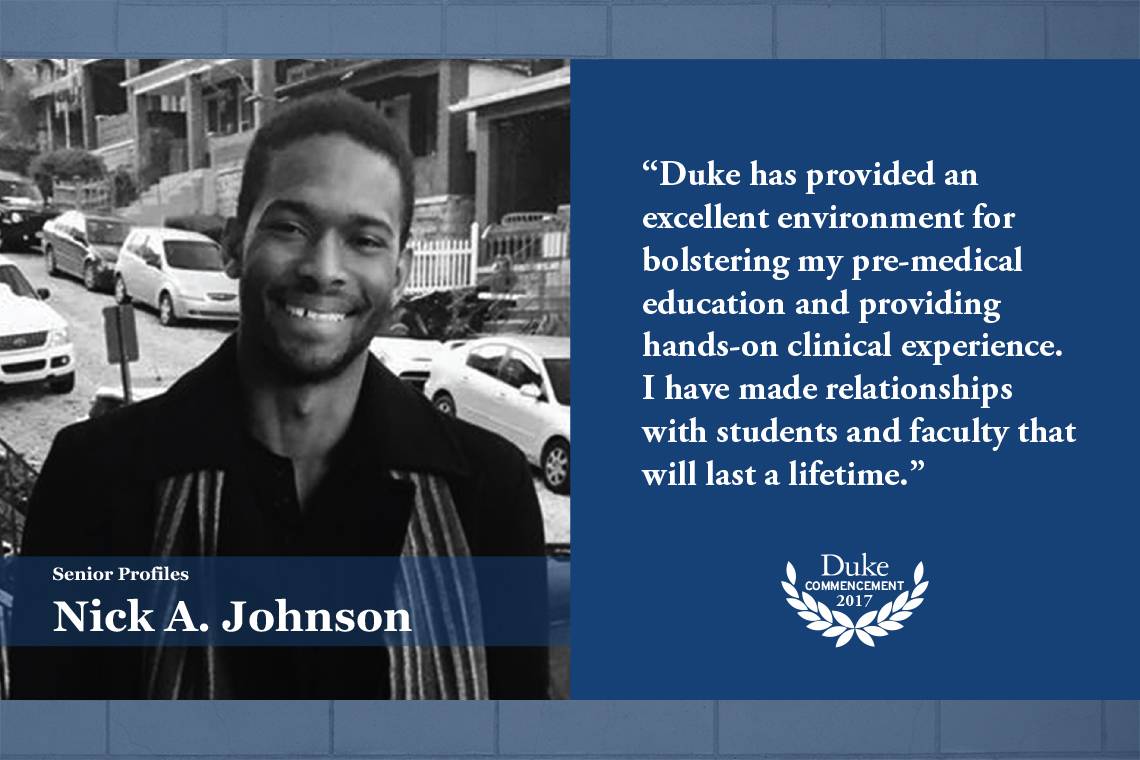 Nick A. Johnson
Hometown: Houston, TX
Major: Masters in Biomedical Sciences
Clubs/organizations: MBS Diversity Committee
What Duke has meant to you: "Duke has provided an excellent environment for bolstering my pre-medical education and providing hands-on clinical experience. I have made relationships with students and faculty that will last a lifetime."
From a science standpoint, Nick Johnson has always been interested in the intersection between brain and behavior and began thinking about a career in psychiatry when he was in high school. As Nick focused on earning his masters in biomedical sciences at Duke, he realized that medicine encompasses everything he is passionate about: research, teaching, clinical practice and even social justice.
Commencement Homepage
After noticing there was not a specific committee dedicated to diversity issues connected to health care, Nick and a group of students designed the Masters in Biomedical Sciences Diversity Committee. The committee seeks to increase awareness and foster discussions about important societal issues like race, gender diversity and mental health.
Through his program at Duke, Nick also had the opportunity to partake in EMT clinical shifts and physician shadowing.
"These (opportunities) were a remarkable clinical experience. I rotated in three different emergency medicine settings: Duke ED, Duke Urgent Care and Persons County EMS ride-alongs. I experienced some life-changing moments, learned a lot of clinically relevant medicine and even witnessed my first life being saved," Nick said.
After graduating, Nick plans to apply to medical schools to pursue neurology and psychiatry.
"I want to be a doctor who listens well and provides quality care to his patients," Nick said.
He will also spend a gap year doing research at Duke University Hospital focused on patient perceptions of a new primary care-behavioral health integration model at the Duke Outpatient Clinic.