PUBLISHED
Henry Washington: On 'Constructing the New Black Man'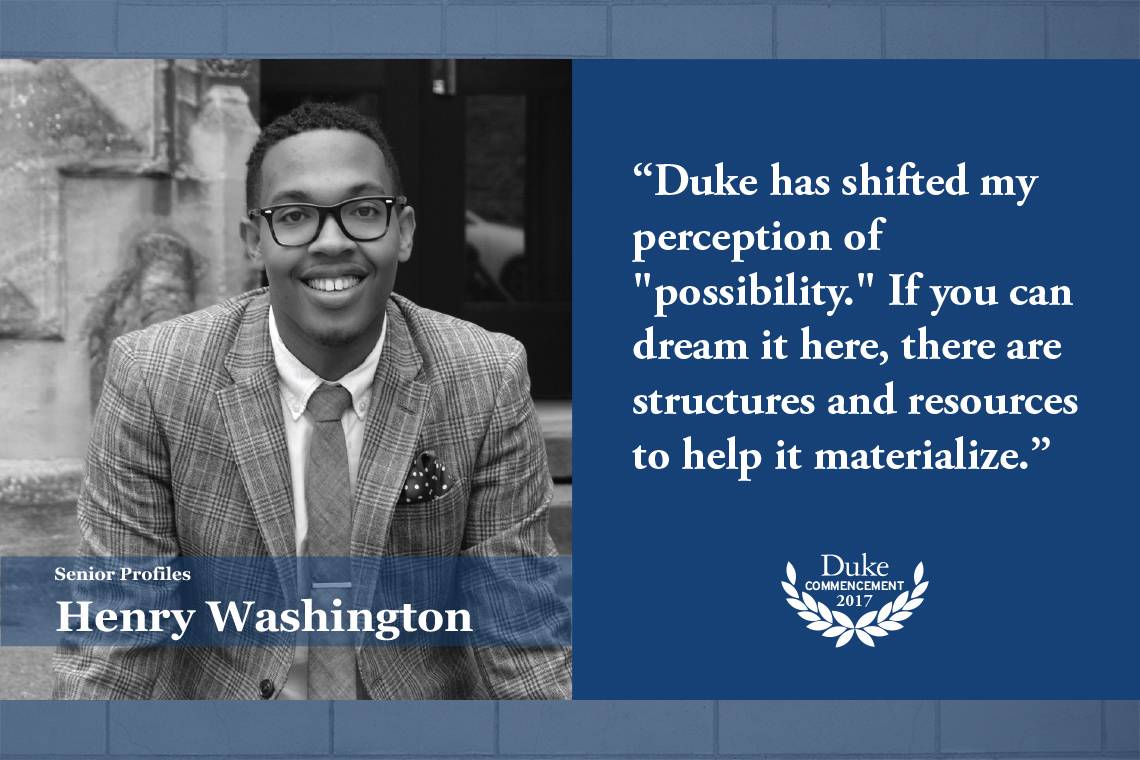 Henry Washington
Hometown: Aliceville, AL
Double Major: English, African and African American Studies
Minor: Political Science
Clubs/Organizations: Black Student Alliance (Vice President 2014-15, President 2015-16), Mellon Mays Undergraduate Research Fellowship Program, Dukes & Duchesses, United in Praise.
Any other activities you participated in: Diversity & Inclusion Taskforce, Student Representative; Student Experience Working Group, Kenan Institute for Ethics (Student Leader, Project Change); President's Council on Black Affairs; True Blue Orientation Program; Trinity Board of Visitors-Member, Ex-Officio; Political Science Department, Undergraduate Research Assistant; Mary Lou Williams Center for Black Culture Staff, Julian Abele Intern; Taught onehouse course: "Constructing the New Black Man"
Post-graduation plans: I will join the English Department at Stanford University as a Ph.D. student this fall. I'd like to eventually become a scholar of African-American literature and culture.
Favorite Duke memory or what Duke has meant to you: Duke has shifted my perception of "possibility." If you can dream it here, there are structures and resources to help it materialize. Perhaps my favorite experiences have been the trips I got to take abroad -- four in all, to Oxford (UK), Shanghai (China), Cape Town (South Africa), and Alicante (Spain). When I got to Duke as a first-year student, I did not even have a passport.
Henry is a Mellon Mays undergraduate research fellow, and his research explores black masculinity in 20th century African-American literature.
Commencement Homepage
As a scholar and activist, Henry used his interest and knowledge in African and African American Studies to further others' understanding as well. Henry helped develop programming that emphasized black history and the urgency of racial progress while also creating a sense of black community among his peers, as a leader with the Black Student Alliance. He taught the first house course sponsored by African and African American Studies titled "Constructing the New Black Man."
A singer and member of the United in Praise Gospel Choir, Henry has been involved in a variety of other student groups, including the Excellence, Diversity & Inclusion Task Force. Henry was a vocalist in "Just Listen," an initiative focused on using performance art to engage Durham community members, current and future policymakers and the general public with narratives from within the Durham community.
Henry was a member of the prestigious Dukes and Duchesses, and was honored by Duke's Samuel Dubois Cook Society this year for his social activism and leadership.