For 20th Anniversary, Cook Society Celebrates Seven for Service & Activism
Brodhead and six others honored for activism and community leadership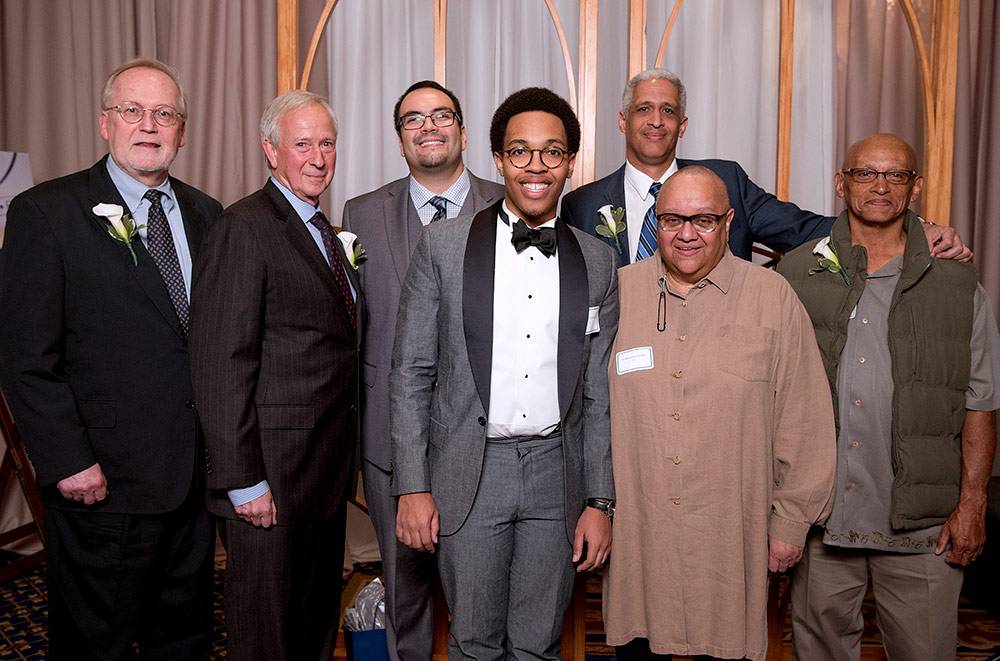 Five decades after Samuel Dubois Cook became the first African-American faculty member at Duke, the society named after him honored President Richard H. Brodhead and six others for their activism and community leadership at the society's annual dinner Tuesday night.
The Samuel Dubois Cook Society was founded in 1997 to honor Cook as well as community members who follow his example of social activism and leadership. The society celebrates and affirms the presence of African American students, faculty, and staff at Duke.
For the society's 20th anniversary, it gave a Distinguished Service Award to Brodhead, who is in his 13th and final year as university president. Presented by Benjamin Reese, vice president for institutional equity, the award cites Brodhead for "enriching undergraduate education and expanding Duke's financial aid endowment," among many other achievements.
"Closer to home, Brodhead is a champion of the relationship between Duke University and the City of Durham," the citation read. "Since his arrival at Duke, he has been a generous supporter of the Samuel DuBois Cook Society, and has actively promoted Dr. Cook's ideal of the beloved community."
A new award honoring Duke faculty was named after the late Raymond Gavins, the pioneering African-American historian who during his long faculty tenure at Duke was a valued mentor to numerous students and faculty members alike.
The first winners of the Raymond Gavins Distinguished Faculty Award were David Malone, professor of the practice in the Program in Education, and Wahneema Lubiano, associate professor in the Department of African and African American Studies.
Malone was cited for his leadership in the Cook Society, in service-learning at Duke and his contributions to the Durham Public School system and other community institutions.
"David represents the best of a faculty member in scholarship, teaching, and service," said Trinity College Dean Valerie Ashby, who nominated him. "His scholarship informs his teaching, his teaching is meaningfully related to his scholarship, and his service is connected to the intellectual issues he is most passionate about."
Lubiano combines a strong research record in black American literature, cultural studies, literary theory and feminist studies with a commitment to teaching and mentorship of student activists. Her graduate classes draw students from around the Triangle. "There is no other faculty member who I know of at Duke who embodies the spirit of Professor Raymond Gavins more fully than Wahneema Lubiano," said one student.
Other award winners are:
Edward Gomes, senior associate dean for Trinity College of Arts and Sciences Office of Technology Services. Gomes oversees information technology planning and services for more than 70 departments and units at Duke, but through his efforts Duke has also been able to bring stronger information technology to thousands of Durham public school students. He helped implement a program donating surplus Duke computers to Durham public schools and non-profit organizations. His other community activities include serving as chair of the board of directors for the African-American Dance Ensemble, and leadership roles with the St. Joseph's Historical Foundation/Hayti Heritage Center and the Bull Durham Blues Festival.
Leonidas Nelson has been a Duke housekeeper for 31 years, and his job has brought him great connections to hundreds of students and even celebrities. He's been responsible for the care of Duke athletic facilities, including Cameron Indoor Stadium, and for events such as the Duke Children's Classic. He currently works in Perkins Library.
"Leon has a wonderful personality and a great sense of humor, and goes 'above and beyond,' wrote housekeeping supervisor Maggie Nelson. "He does a fantastic job taking care of The Link. He is my go-to person for anything related to The Perkins Library."
Juan Ramirez Jr., who recently completed his Ph.D. in electrical and computer engineering at Duke, tool a long road to his doctorate. The youngest of five children in Romita, Mexico, Ramirez's parents instilled in him a love of education. At Duke, he tried to give back that support by building strong support networks and serving as a mentor to other students, particularly underrepresented minority students in the STEM disciplines. He frequently assisted the Graduate School with their recruiting efforts.
Henry L. Washington, an undergraduate senior majoring in English and African and African American Studies, has as a leader in the Black Student Alliance, helped develop programming that emphasized black history and the urgency of racial progress as well as creating a sense of black community among his peers. He taught the first house course ever sponsored by the African American Studies department as a senior last semester, called "Constructing the New Black Man." Washington has also been involved in a variety of other student groups, including the Excellence, Diversity & Inclusion Taskforce, the Trinity Board of Visitors, the United in Praise Gospel Choir, the Just Listen ensemble and the Mary Lou Williams Center for Black Culture.
For more information about Cook, visit the "HistoryMakers" oral history site and the Cook Society website.