Duke Rewards Bike Commuters
Celebrate National Bike Month in May with perks, including an appreciation breakfast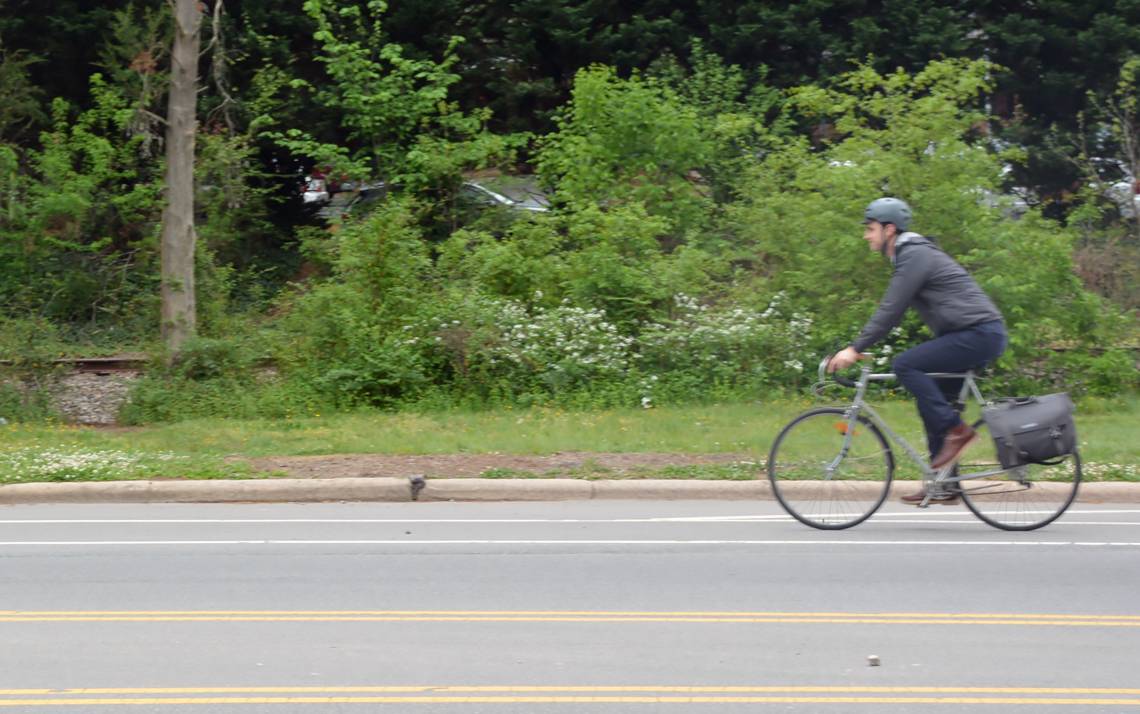 Connor Drake has a car, a 1996 Jeep Cherokee, the color of which he describes as "a very 90s white."
The Jeep once belonged to his grandparents but Drake now enjoys poking around under the hood, seeing what it'll take to keep the engine running.
The thing is, he doesn't drive it much.
"I probably don't need it," said Drake, research program leader at Duke's Center for Research on Personalized Health Care.
That's because Drake, one of nearly 3,000 bike commuters in the Duke community, makes the 15-minute trek from his Trinity Park home to Hock Plaza each day on a silver Schwinn Le Tour that he picked up a few years ago at a flea market in Raleigh.
May is National Bike Month and Duke is doing its part by celebrating bike commuters – such as Drake – and those who are thinking of becoming one. On "National Bike to Work Day" on May 19, Duke Parking and Transportation Services and Sustainable Duke will sponsor a Bicyclist Appreciation Breakfast at the Bryan Center Plaza. Cyclists can get free bike lights and information about incentives offered to bike commuters at the Duke Farmers Market on May 12 and May 26.
"It's about giving people who are on the fence about cycling, who like the idea but who maybe aren't so comfortable with the idea, a chance to see that there are resources available here to help them get involved," Matthew Cushing, transportation demand management outreach coordinator with Parking and Transportation Services said about the events.
Survey data from the 2015-16 academic year shows that 10 percent of Duke students and four percent of Duke employees in the university and health system commute by bike. The number of employees who bike to work has doubled since 2004.
Currently, 1,053 bike commuters have registered with Duke Parking and Transportation Services to take advantage of benefits that include access to showers and a program that yields discounts at area businesses.
Full-time bike commuters have access to free daily parking passes twice a month, and commuters are eligible for the Emergency Ride Home program.
"I think if people knew that they could fall back on that a couple times, in case there's bad weather or something comes up, it would bring a lot more people on board," Drake said.
Drake, who is also a graduate student at the University of North Carolina's Gillings School of Global Public Health, is passionate about the need for people to become less dependent on cars. He said commuting by bike is something that, especially with the help of public transportation, is easier than many think.
It's easy enough that Drake has little trouble keeping his Jeep parked and his silver Schwinn zipping around Durham's streets.
"It's kind of a clunker, honestly," Drake said of his bike. "… I've kind of been modifying it to my needs over time."
He's outfitted it with a light, small fenders to keep road grime off of him and a rack that he can clip his bag to.
"I still want to tweak it," Drake said. "Eventually, I may even invest in repainting the frame or doing some more cosmetic stuff to it, but it's comfortable. I really like it. … It's definitely got character."
National Bike Month Events at Duke
May 12, 26
Bike Month at Duke Farmers' Market
11 a.m.-2 p.m., Duke University Medical Center Greenspace
Visit the Unpark Yourself table to learn more about the benefits of registering as a bike commuter, pick up bike lights and get information on North Carolina cycling laws.
May 19
Duke Bicyclist Appreciation Breakfast
8-10 a.m., Bryan Center Plaza
Duke students and employees can enjoy a free breakfast, coffee and cycling swag. Durham Cycles will offer free bike inspections and minor on-the-spot adjustments.