Duke in Pics: Views of a Quiet Campus
Life still hums at Duke, just at a different pace
As summer session begins at Duke, the quiet on campus can seem as thick as a muggy May day. Silence settles across lush, green campus spaces that just weeks ago bustled with activity.
Since Duke's commencement on May 14, gone are many of the quick crowds that filtered along the paths and through the libraries, classrooms, and eateries.
But upon closer inspection this week, life still hums at Duke, just at a different, quieter pace. After all, Duke employees are working and summer session arrived Wednesday.
Here are some views across Duke's campus.
Cousins Tiana Horn and Bryanna Harrington seem relaxed as they stretch out in Duke blue hammocks near Craven Quad this week, but they are busy at work on their year-old startup company Flower Child Remedies, which sells natural hair care products.
Horn, in the background, is a Duke student and Durham resident who's finishing her bachelor's degree in public policy this summer. She uses campus like an office, shipping product at the Duke Store (that's what the pair were doing this day), and she uses Duke's Innovation Co-Lab 3-D printers to make hair picks.
"It's kind of relaxing and pretty chill to do work and stuff. It's less hectic," said Harrington, who runs the company with Horn.
A student common area near Craven Quad on West Campus sits deserted during midday hours this week. Duke closes many residence halls during summer session, keeping some open for campers and summer session. During the first summer session 300 undergraduate students are being housed in Edens and Keohane quads, said MJ Williams, director of Housing Assignments and Planning.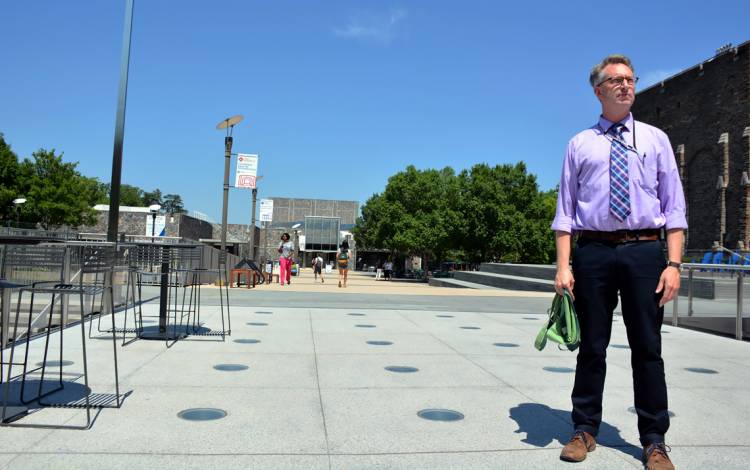 Dr. Steve Taylor, assistant professor of infectious diseases, visits the Bryan Center. Taylor teaches an online class about infectious disease and concentrates much of his time on research. He connects campus quiet to hot weather, since the campus falls quiet during the year's hotter months. "If campus is empty, it's probably also burning hot," he said.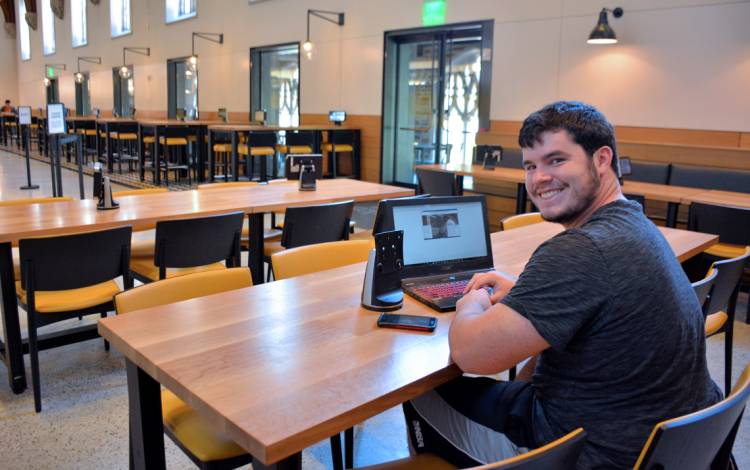 Rising sophomore Alex Gourley had a Ginger + Soy table and pretty much the vendor's whole space just to himself in the Richard H. Brodhead Center for Campus Life, formerly called the West Union, as he worked on his laptop. "You can go places and study and get work done and it's quiet," said Gourley, a chemistry major from Morrisville, N.C. Gourley will take Organic Chemistry II during the second summer session. A center on Duke's football team (#64), he visited campus to lift weights with the football team.
For Raquel Harris, summer months are among the busiest of the year. The housekeeper specialist cleaned Blackwell residence hall on East Campus with a team of about 35 other housekeepers this week. She cleans about seven rooms a day as residence halls are given deep cleans after students move out. "We have to make them look brand new," said Harris, who's been with housekeeping a year.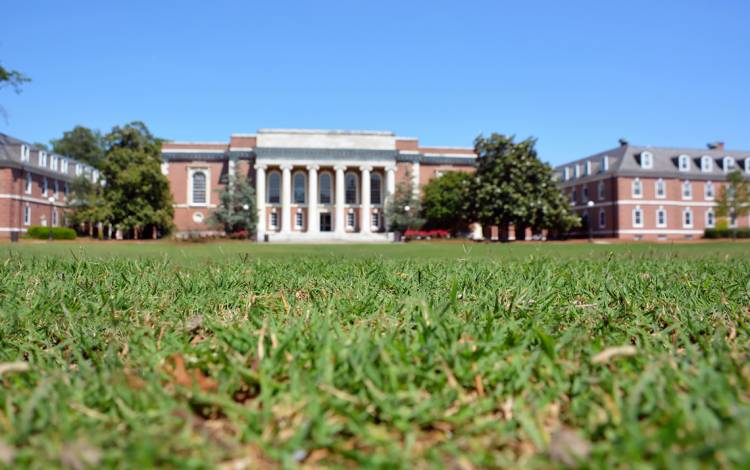 An empty view of East Campus near Lilly Library. Kelley Lawton, head of Lilly Library on East Campus, said that during the summer, Lilly stays busy. "Just a different kind of busy," she said. During summer sessions, the library sees more graduate students, as well as children from many summer camps Duke hosts.
Rick Frisella loves the summer because that's when his crew from Baker Roofing Company gets to work. This week the crew accomplished a feat that would be impossible during the hustle and bustle of the academic year. They used a large cherry picker to hoist workers on the roof of a campus building to install copper lightning rods on the chimney. "It would be near impossible during the school year because this is a main access for students," he said.