I&E Certificate Students to Share Experiences Friday
I&E Certificate E-Portfolio Fair open to Duke community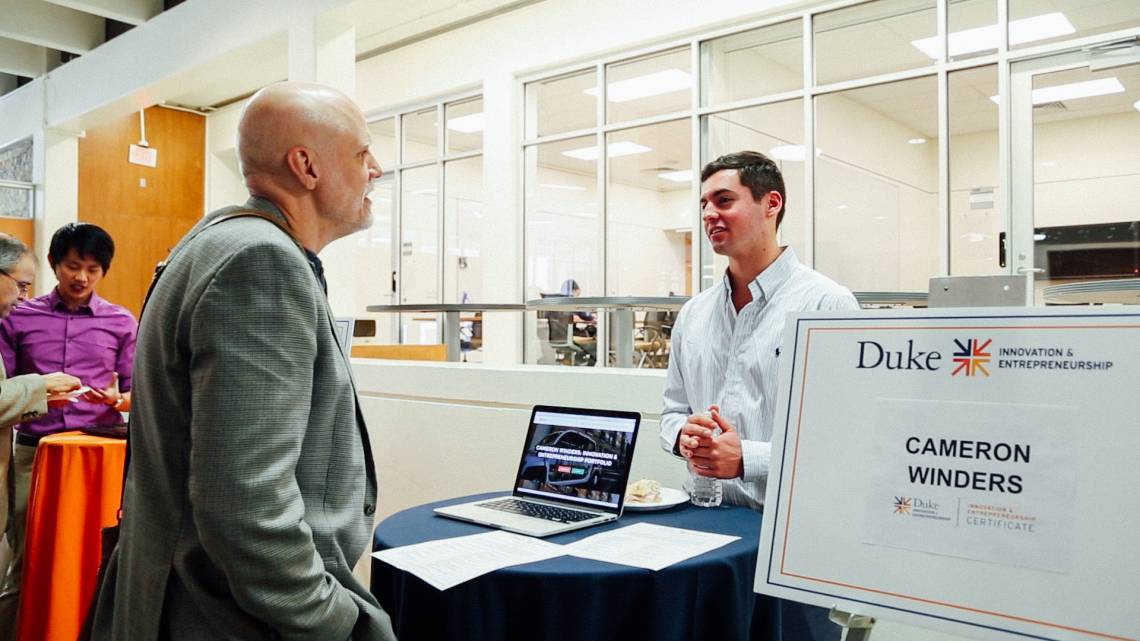 After taking four courses and participating in two immersive experiences, 29 students who have completed the Innovation & Entrepreneurship Certificate are ready to share their achievements with the Duke community.
The students will share their e-portfolios at a research symposium-style fair from 1-3 p.m. Friday, April 14, in the lobby of Gross Hall. Students interested in pursuing the I&E Certificate or learning more about the program are encouraged to attend. Students who visit at least 10 student booths will be entered into a raffle for an Amazon gift card.
Faculty and staff are also invited.
"The I&E Certificate E-Portfolio Fair is truly the culmination of our students' hard work through their time at Duke," said Emilie Dye, Duke I&E's senior program coordinator for education. "They have spent the past few years taking classes, participating in co-curricular experiences, and building relationships – and this is the chance for them to showcase the synthesis of these things."
Computer science major Matt Alston '17 is one of the students who will present at the fair.
During his involvement with Duke I&E, Alston has participated in Duke in Silicon Valley, interned for a small education tech startup there and worked for Goldman Sachs in New York.
After graduation, he's heading back to Silicon Valley to work as an associate product manager for Uber.
"The e-portfolio actually became one of my most valuable assets in recruiting for jobs," he said. "It gives you a 20-page resume that you can then show to companies, which sets you apart from other candidates."
Anna Miyajima '17 came to Duke intending to study social sciences. She changed her major to computer science after realizing that quantitative subjects came more intuitively to her.
Miyajima heard about the I&E Certificate during her sophomore year. After a fall semester abroad during her junior year, she decided to take an I&E class to gauge her interest. Since then, she hasn't looked back.
"I realized the skills I learn here can be applied to any role I took in a larger company but will also help me start my own venture," she said.
The I&E classes, Miyajima said, gave her perspective and helped her realize that she could focus on the part of tech that interested her most.
"My interest in tech stems from the breadth of possible applications and the amount of potential it has to do good and change people's behaviors," she said.
Miyajima is headed to work at Google as a software engineer after graduation next month, but sees herself starting her own venture in the next five years. Her ultimate goal is to have a role in product management or venture capital.
"Sharing their e-portfolios with fellow classmates, faculty, staff, and friends provides the opportunity for the students to say thank you those who have played a part in their success over the past four years," Dye said. "These students demonstrate why innovation & entrepreneurship matter – both during a student's tenure at Duke, and as part of their pathway beyond graduation."