Duke Conversations: Where Faculty and Students Meet Over Dinner
With food on the plate, the conversation moves to immigration, globalization or pets
From making the most of the college experience to global issues to favorite household pets, no topic is off the table at a Duke Conversations dinner. The student-led organization called Duke Conversations connects students and faculty members outside classroom. They meet for discussions over dinner at faculty members' homes.
"You get to engage with the highest level of faculty that Duke has in a very intimate setting," said sophomore Noah Eckberg, Duke Conversations co-president. "You also aren't constrained by what you're going to talk about. So that means that if you are interested in talking about animals with an economics professor, you're never going to get to do that in a class but you might get to do that at a Duke Conversations dinner."
During an April dinner at economics Professor Connel Fullenkamp's home, students munched on lasagna and pasta as they discussed social institutions and their effect on larger society.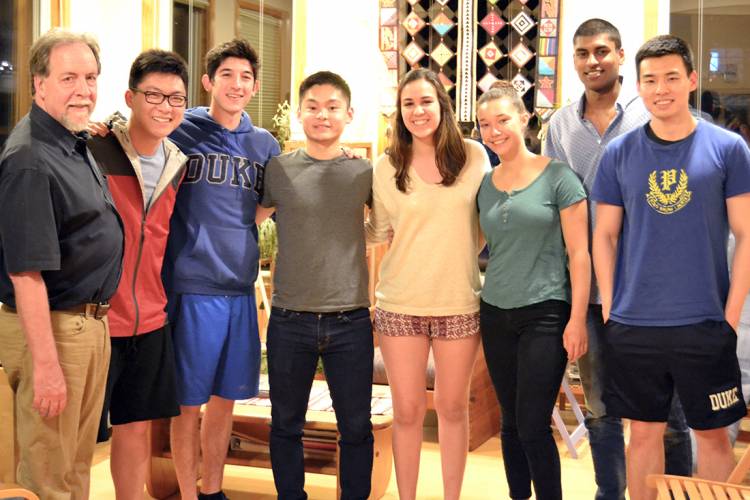 "It's great fun to really get deep into something that's important and challenging and where people can take the time actually to think about stuff," Fullenkamp said.
Student participants relish engaging with faculty on a more personal level.
"It personalizes your academic experience. You get to see where these professors live, which just kind of takes you away from the Duke bubble a little, puts in context that these are real people with real lives," said sophomore Caroline Wang, Duke Conversations co-president.
To learn more about Duke Conversations, click here.
Below: Over dinner, students talked with historian Reeve Huston about importance and power of vulnerability, both in politics and in the Duke experience.