Public Voices Concerns About Plans for CHP Plant on Campus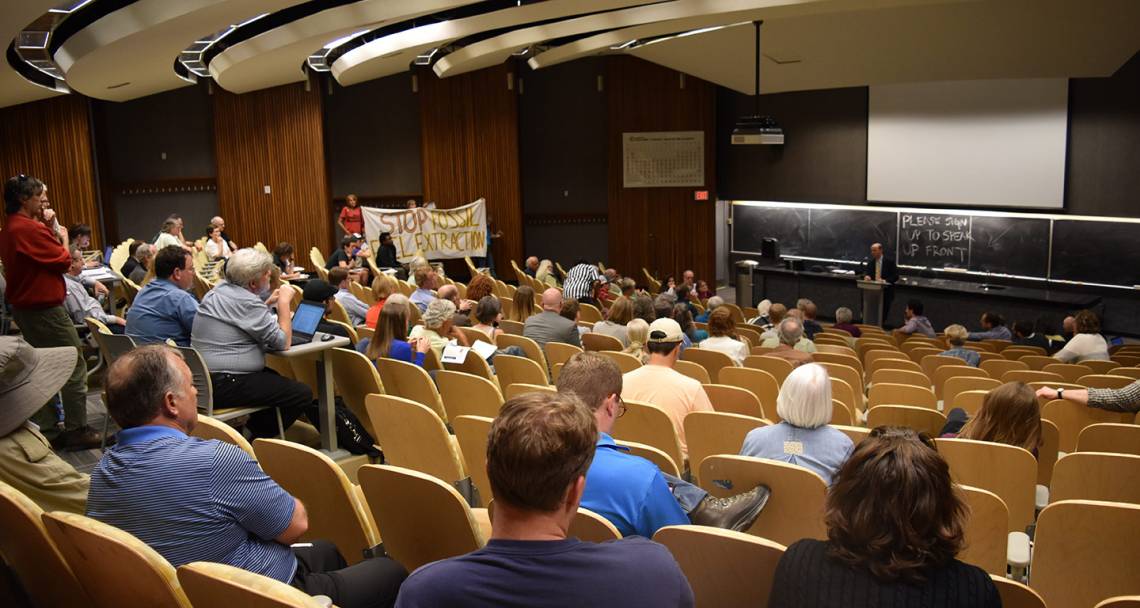 Supporters and opponents of a proposed Combined Heat and Power (CHP) plant on Duke's campus both presented passionate opinions at an open forum Monday night, sponsored by Duke's Campus Sustainability Committee.
Forum moderator and committee co-chair Tim Profeta, director of the Nicholas Institute for Environmental Policy Solutions, opened by thanking participants for taking part in this process. A previous open forum on the same topic in October was attended largely by Duke students and faculty, while last night's forum saw a large turnout from community members, many of whom carried signs in opposition to the plant.
The committee is charged with making recommendations on the plant, including whether to proceed with or reconsider the plant proposal.
The proposed facility will be a 21-megawatt CHP natural gas plant, located on Duke's West Campus. It will generate electricity for North Carolina's grid, and Duke University and Duke Medical Center would purchase thermal energy produced by the plant. It will cost $55 million, occupy one acre of land, and be owned by Duke Energy.
Speakers raised concerns about a lack of transparency surrounding the CHP project as well as the emissions from the plant. Several asked for continued debate among experts before the university makes a decision on the project. Jim Warren, director of the non-profit NC WARN, and others urged the university to show leadership in the effort to move away from fossil fuel-based energy.
Jason Elliott, assistant director for Sustainable Duke, said each speaker had the time to express his or her opinion on the plant. "The open forum allowed stakeholders the chance to have their voice heard by the higher level administrators who will be taking into consideration the issues raised last night," Elliott said.
Greg Heaton, a student in the Renewable Energy Technology program at Durham Technical Community College, spoke about the real need to transition away from coal-fired power plants using a proven and efficient technology such as CHP. "One-hundred percent renewable energy on campus is not something possible without huge changes to the physical, legal, economic, and institutional framework of energy production sale and use in North Carolina," Heaton said.
The proposal was introduced in last May, and since then the CHP subcommittee, consisting of students, faculty and staff, has evaluated various aspects of the proposal, including economic and environmental impacts, on-campus energy security and reliability, and potential alternatives, including fuel alternatives.
The subcommittee will take public comments into consideration as it prepares its recommendations for the Campus Sustainability Committee, scheduled for April in time to be considered with the Board of Trustees at its May meeting. Anyone who could not attend the meeting may submit comments at bit.ly/chpcomments.