Policing at Duke Focuses on Community
Addition of new officers boosts one-on-one interactions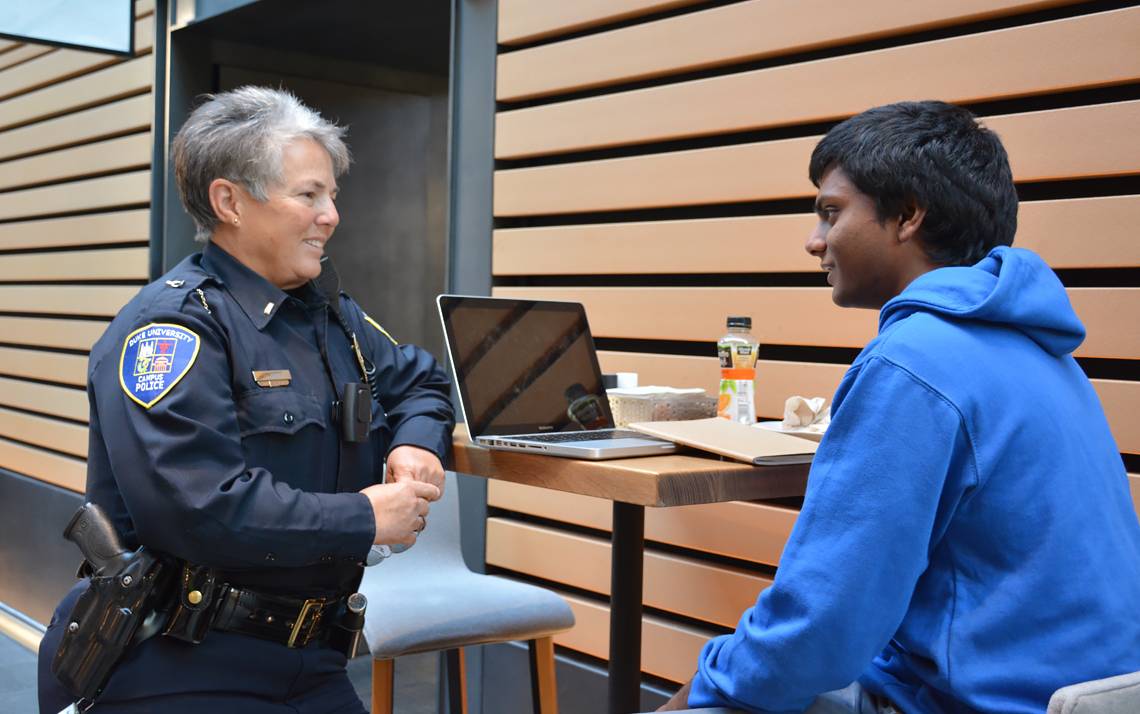 Each workday, Lt. Cindi Wood puts on a uniform, an identifiable marker of her role as a Duke University Police Department officer.
The uniform also acts as an icebreaker as she crisscrosses Duke's East and West campuses on foot, stopping to chat with faculty, staff, students and visitors. Her walking path is a two-way street: the talks provide her a chance to share how she and her colleagues work to make Duke safer.
"Interacting with people makes us feel like more than a police officer," said Wood, who's worked at Duke for seven years. "It allows us the chance to be a supporter, mentor and friend."
During an average day, Wood logs 15,000 steps on patrol. On a visit to West Campus this fall, her path took her from outside Duke University Chapel through the West Union, where she stopped to talk to first-year student Ashwin Mahendra, hearing about his initial impression of college life and what it's like being at a Duke football game. Inside Perkins Library, Wood met senior Monica Vercillo and shared with her the importance of not leaving valuables unattended.
These interactions are more commonplace for the police department, which hired eight additional sworn officers this past fall. With 15,000 students and nearly 37,000 faculty and staff across the university and health system, Duke is the size of a small city. By adding new staff, Duke sees an opportunity to strengthen relationships with more people and enhance safety across campus.
"The best way to build trust and community is through interactions with the people we serve," said John Dailey, chief of police. "It's really important for us that our staff isn't simply responding to calls, but out interacting, understanding the concerns of the community."
Hiring officers is a lengthy process, taking about a year from application to an officer patrolling campus. Over the year, potential hires go through background checks, psychological evaluations, state-mandated training, as well as a separate process established by Duke to have a third-party organization test emotional intelligence through written and interactive tests.
"It's really important to us that we hire people who are empathetic, show social responsibility and are interested in serving something larger than themselves," Dailey said. "Those are pivotal skills to be successful as a police officer on a college campus."
Dailey said that at Duke, 50 percent of sworn officers identify as a minority and 30 percent are female, both above national averages for local police departments tracked by the Bureau of Justice Statistics and FBI.
"Our work is about service to others," Dailey said. "Hiring a range of people who want to make an impact makes us a better department."