I&E Program Names Fourth Student Cohort of Melissa & Doug Entrepreneurs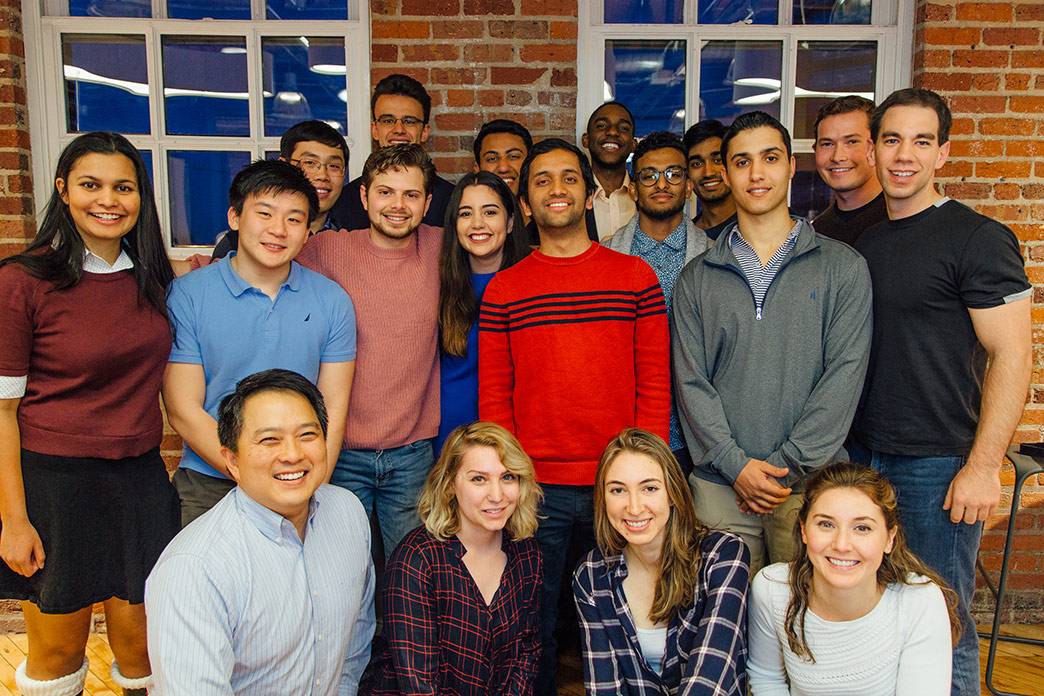 The Duke Innovation & Entrepreneurship Initiative recently welcomed its fourth class of students to its Melissa & Doug Entrepreneurs program. The program, sponsored by entrepreneurs Melissa Bernstein '87 and her husband Doug Bernstein, provides mentorship and funding to students to help them grow their ideas into companies.
The students will travel to the Bernsteins' home in Connecticut over spring break to kick off the program. Over the year, they will meet weekly with mentors Tatiana Birgisson and Jake Stauch to work on their companies and develop pitches.
The students are encouraged to live in Durham over the summer to work on their companies, but may live elsewhere with prior approval. To stay in the program over the summer, the students must first reach a milestone by the end of April. The students set their milestones with the help of their mentors.
Here's a look at this year's student entrepreneurs, as well as what you can do to help them reach their milestones.
Uzoma Ayogu '17
Uzoma Ayogu is from Cape Town, South Africa, and is studying mechanical engineering. He is the CTO & co-founder of Releaf: a data analytics platform that allows foreign investors to make decisions in Africa faster and easier.
To reach his first milestone, Ayogu needs contributions to his Indiegogo campaign. The funds raised will help increase the efficacy and value of the platform and ensure that Releaf can reach its first subscribed customers.
Courtney Bell '17
Courtney Bell, a Rockville, Md., native, is pursuing her bachelor of science in environmental science. She is a co-founder of Ungraded Produce, an online, subscription-based service that delivers boxes of "ugly produce" to customers. Bell has been working on the company since June 2015 and launched a pilot in September 2016.
To reach her milestone, Bell needs help with marketing the company's service, ranging from advertising materials to social media to guerrilla marketing strategies.
Kushal Byatnal '17
Kushal Byatnal is a computer science major from Baltimore. His business is called 60 Seconds Everyday and encourages daily journaling through a nightly phone call. When a user receives the call, he or she is prompted to talk about his or her day, and the service then aggregates the information with photos to create a digital journal.
Byatnal has been working on the service for more than a month and was inspired to create it when, as a senior, he realized he hadn't done a great job cataloguing the memories of his college experience.
To reach his milestone, Byatnal needs a mentor who knows about consumer tech products – especially in areas including habit tracking, productivity and journaling – and can help him find customers.
Arjun Devarajan '18
Arjun Devarajan is a computer science and physics double major from Cary. He is a co-founder of Nebula Learning, a web platform that infuses the middle school math classroom with computer science to simplify math concepts, give them practicality and introduce the topics to students at a young age.
To reach his milestone, Devarajan needs connections to middle school math teachers who are open to innovation in the classroom, especially those who are teaching Common Core 7 and algebra.
Monika Dharia '19
Monika Dharia hails from Alberston, NY, and is studying environmental engineering. Her business idea is to make commonly used plastic products from biodegradable plastic alternatives. She will be starting with ponchos made from sugar.
To reach her milestone, Dharia needs a mentor who can help her acquire customers and pre-order sales.
Mackenzie Drazan '18
Mackenzie Drazan, a Woodside, Calif., native, is a political science major who is also pursuing the Innovation & Entrepreneurship Certificate.
Drazan is the founder of MiResource, a mental health referral platform that works to match adolescents to the correct mental health resources based on the user's individualized needs and preferences.
To reach her milestone, Drazan needs a lawyer who can help write contracts for entities and organizations that will pay to use MiResource. She is also seeking introductions to those who run referrals for mentally ill pediatric patients at Duke Hospital, as well as introductions to any other organizations or hospitals that have mental health referral needs.
Sam Fox '18
Sam Fox is a biomedical engineering major from Darnestown, Md. He is working to create a mechanical device that will transfer disabled patients from beds to chairs. Fox has been working on the project since March 2016, and the initial product will target nursing homes and assisted living facilities.
To meet his first milestone, Fox is seeking a mentor in mechanical engineering, especially in materials science and polymers.
Kelsey Graywill '18
Kelsey Graywill is from Conifer, Colo., and is completing a program of study program of study of her own design called Human Creativity: Empirical, Social & Neuroaesthetics, which explores the science and physical realities that underlie humans' ability to be creative. She finds much of her own creativity manifests through entrepreneurship.
For her company, The Art Clinic, she is currently working on is an art activity book integrated with neurological assessments that can be used as both a therapeutic tool and as a status monitoring and diagnostic tool for patients, their families and healthcare providers.
To meet her milestone, Graywill is seeking a mentor who knows about art therapy.
Zack Hersh '19
Zack Hersh is from Short Hills, NJ, and is studying political science while pursuing an Innovation & Entrepreneurship Certificate. He is developing a product that helps users pre-sort their household's laundry by person and by load type. This product allows many of the traditional steps of doing laundry to be eliminated or minimized, thus improving the efficiency of doing laundry and cutting down the hours spent in the laundry room.
Hersh needs a mentor who can help guide him through the process of iterating on a product and taking it to market.
Albin John '18
Albin John is a neuroscience major from Houston. He is a co-founder of a fashion tech startup called Outfitted that aims to streamline the online shopping process, from finding the perfect outfit to getting it at the best price.
John's team has built an app that will curate from all brands and make online shopping personalized and efficient.
To reach his first milestone, John needs help making connections with brands and manufacturers, as well as a mentor with tech skills who can help guide Outfitted's engineers.
Frank Kosarek '19
Frank Kosarek is from Charlotte and is pursuing a public policy major, an economics minor and an Innovation & Entrepreneurship Certificate.
Kosarek is the founder of InspectX, a platform that connects used car buyers to expert technicians for mobile inspections before a car is purchased. Although the platform currently focuses on the buying stage, Kosarek would like to expand the business to assist used car owners throughout their entire journeys with their used cars.
Kosarek needs a partnership or a pilot program with an automotive sales platform that would offer a consistent level of demand for inspections.
Ray Liu '20
Ray Liu is from Fairfax, Va., and plans to study economics and computer science. After realizing the power of peer-to-peer tutoring through his own tutoring experiences, Liu is now working on a business that licenses a software platform to schools that facilitates peer tutoring and fosters a collaborative learning environment.
He needs a mentor who knows about licensing products to high schools.
Vishnu Menon '19
Vishnu Menon is a math and computer science double major from Charlotte. He is a co-founder of Nebula Learning, a web platform that works to make computer science education more widely accessible by integrating it into middle school math curricula. Nebula tries to provide the meaningful context that is so often missing from math education and to motivate young learners to seek further CS knowledge.  
Menon needs a mentor who can help with gamification and customer engagement, as well as help with graphic design.
Eliza Moreno '18
Eliza Moreno is a gender, sexuality and feminist studies major from Los Angeles. Along with fellow Melissa & Doug Entrepreneur Chandler Phillips, she is working on The Bridge, a site launched in March 2016 to celebrate Black and Latinx women and their creative talents.
The Bridge manages a team of more than 80 writers, dancers, artists, web developers and marketers across six college campuses.
Moreno seeks a mentor who has experience with online businesses that produce content, as well as a mentor who is familiar with online marketing and revenue generation from content production sites.
Chandler Phillips '18
Chandler Phillips, a Lawrenceville, Ga., native, is pursuing a sociology major, an education minor and a Documentary Studies Certificate. She, along with Eliza Moreno, is working on The Bridge, a site launched in March 2016 to celebrate Black and Latinx women and their creative talents. (See above.)
To reach her milestone, Phillips needs mentors who know about the following areas: selling and finding markets for art, branding and producing and distributing products.
Matthew Rock '18
Matthew Rock is an economics major from Orange, Calif. He is the founder of a fashion tech company called Joyce Technologies.
Joyce Technologies specializes in customizable digital necklace pendants. These pendants can be customized with moving or still images, including the wearer's own photos, and can be recharged between wears.
Rock seeks a mentor who can help him with a pre-order campaign. He would also like a mentor who has experience in luxury consumer goods and can help with advertising strategies.