PUBLISHED
StartupConnect Provides Opportunities to Students and Startups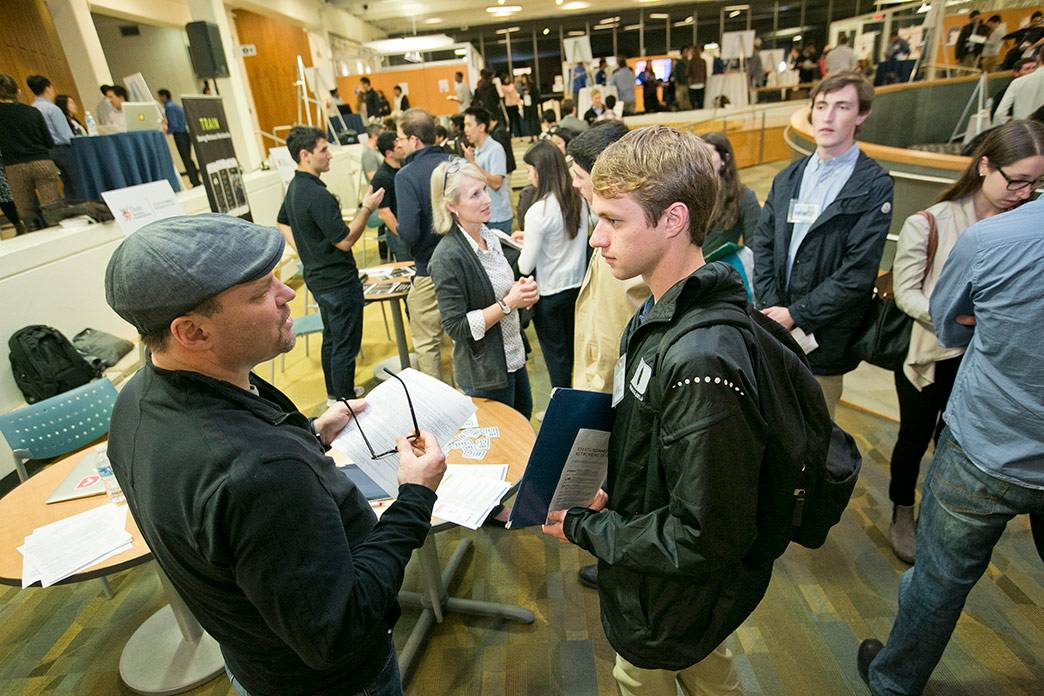 Duke is making it easier for students to find a meaningful internship with a startup company.
Departments and schools across the university have teamed up to host the fourth annual StartupConnect Networking Fair, an event that connects students with startups.
"Students sometimes have a hard time figuring out which startup companies to talk to, or even what it's like to work at a startup," said Howie Rhee, Duke I&E's managing director of student and alumni affairs. "StartupConnect was designed with that in mind. It's a networking fair, not a career fair – it's meant to be a welcoming, casual event that helps students meet potential employers."
This year's StartupConnect Networking Fair will be held from 6 to 9 p.m Tuesday, Feb. 21, in the Gross Hall atrium.
Representatives from more than 20 companies across the nation will be on hand to speak to students at this informal event.
Companies include consumer product companies such as men's grooming product company Tame the Beast, as well as tech companies such as RocketBolt, which helps other businesses use tracking to increase their sales.
Andy Roth, co-founder of RocketBolt, has been to the fair every year and has hired about 15 students he met at the fair.
"The quality of the interns we get is great, and it's great to work within the community," Roth said.
Roth said he appreciates that Duke facilitates the first meeting between students and startups.
Roth, a two-time Duke Law alumnus who completed both his law degree and the joint master's program in law and entrepreneurship, has also benefited from Duke networking events.
He met his co-founder, Aaron Dinin, through a 2013 networking event hosted by the Duke Global Entrepreneurship Network (DukeGEN).
He advises students to do their research before the event to learn about the companies that will be there.
And once students are there, they should be the ones to start the conversations. Come prepared with thoughtful questions, Roth said.
"I'm going to pay more attention to someone who's clearly done their homework," he said.
The StartupConnect Networking Fair is hosted by the Duke Innovation and Entrepreneurship Initiative, the Pratt School of Engineering, the Career Center, Duke Futures and the Fuqua School of Business.