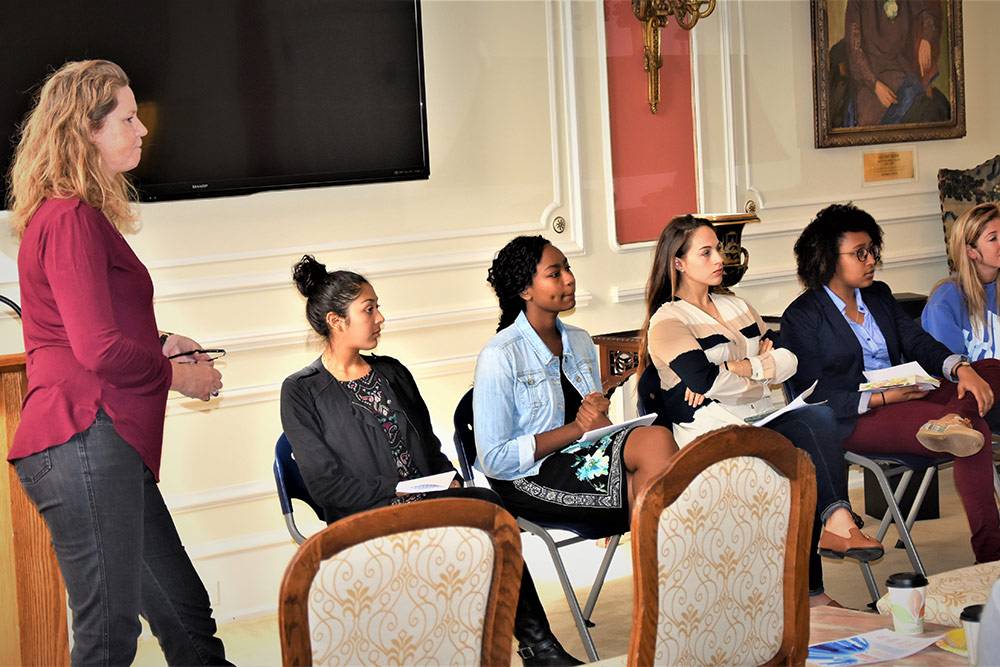 Fueled by bagels, Monuts and coffee, 30 seniors presented their research conducted as part of the International Comparative Studies (ICS) 489S Capstone Seminar in Global Studies on Dec. 3. The seminar uses scholarship, literature and film to revisit in depth the key concepts and themes introduced in the ICS gateway course.
Held in the Duke East Parlors, the ICS Capstone Colloquium presented six student panels on the topics of Environment and Development; Diasporic and Transnational Cultures; Global Trade, Consumption, and Supply Chains; Migration, Refugees, and Rights; Historical Memory; and Contemporary European Culture and Politics.  
Each panel was moderated by a faculty member. Research examples included:
Maria Perez's study explored the telenovela Jane the Virgin as an expression of Latinadad, the concept that Spanish-speaking Latin Americans share some common cultural identities across nationalities.
James Doll's research focused the social and environmental consequences of the US-Columbia Free Trade Agreement.
Mayumi Skorski analyzed responses to Islam in the French media after the 2015 Paris attacks.
Lindsay Gibson explored supply chain challenges in the face of global activism.
In his opening address at the colloquium, ICS Director Lee D. Baker encouraged students to reflect on how much they had learned. "This research represents the capstone of your scholarly experience at Duke, because many of you have integrated your civic and global engagement with your interdisciplinary and language learning, and produced original research for which you should be very proud," Baker said.
The fall capstone experience was led by Assistant Professor of the Practice Jessica Namakkal and lecturer Eli Meyerhoff. The seminar is writing-intensive, with assignments designed to advance writing, analytical and library research skills. As new scholars, students conduct mentored research and present it, receive feedback and revise it.
Many first-year students in the ICS gateway course attended the event and got a glimpse of what they might be able to do in a few years. "I am both inspired and intimidated, but looking forward to majoring in ICS," said one student.
"This is a great example of Duke's intellectual community where students create authentic community and had fun discussing and debating a wide range of global issues," Baker said.