Duke Joins National Initiative to Expand Access to College for Talented Lower-Income Students
American Talent Initiative launches involving 30 leading colleges and universities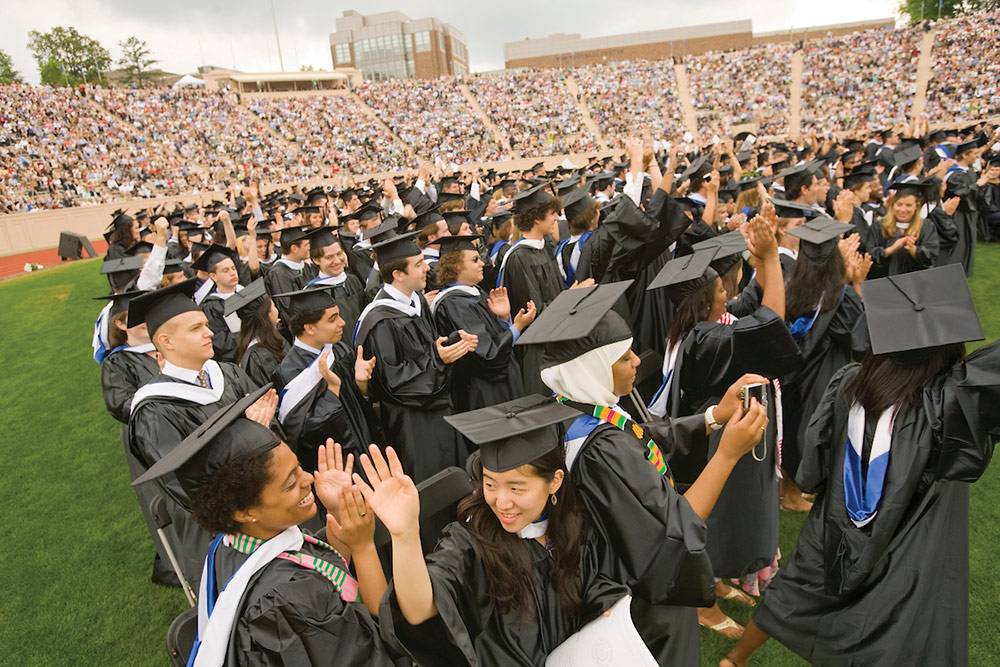 First-generation and lower-income high school graduates who attend universities with strong graduation rates tend to be more likely to earn their degrees and seize leadership opportunities.
Toward that end, Duke University is joining with 29 other leading public and private universities to launch a national initiative designed to provide high-achieving, lower- and moderate-income students with a clearer pathway to those colleges.
Supported by Bloomberg Philanthropies, the American Talent Initiative (ATI) aims to attract, enroll and graduate 50,000 additional high-achieving, lower-income high school students at the 270 colleges and universities with the highest graduation rates by 2025. To reach that ambitious target, the initiative aims to gradually add more top-performing campuses to the ranks of the founding members.
"Duke is pleased to be among the thirty founding members of the Bloomberg Philanthropies' American Talent Initiative," said Duke University President Richard H. Brodhead. "As part of our commitment to access and opportunity, Duke welcomes talented students regardless of their family's circumstances and ensures that all students can thrive on our campus. As this initiative recognizes, enlarging the pool of talented students who can access the quality of education to fully deliver on their promise should be a high national priority."
"Given Duke's long-standing commitment to need-blind admissions and need-based financial aid, we are delighted to be an inaugural member of the American Talent Initiative consortium, to build on our many efforts to enroll and support high-achieving students from less privileged backgrounds," said Steve Nowicki, dean of undergraduate education at Duke.
Each year, an estimated 12,500 lower-income high school graduates with outstanding academic credentials do not attend a school where at least 70 percent of students graduate. These students have earned the opportunity these schools offer, but for a variety of reasons --including a lack of information about their options, confusion about costs and inadequate financial aid offers -- many of them simply lack access. The American Talent Initiative seeks to ensure that these "missing" students have a path to attend and thrive at the institutions with the highest-graduation, said ATI officials.
Other founding initiative members include the University of North Carolina at Chapel Hill and Davidson College, as well as flagship public universities in California, Michigan, Texas and Maryland.
Bloomberg Philanthropies awarded a $1.7 million, multi-year grant to the initiative, which is co-managed by two non-profit organizations, the Aspen Institute's College Excellence Program and Ithaka S+R.
By participating in the initiative, Duke has furthered its ongoing commitment to:
recruit students from diverse socio-economic backgrounds through robust outreach;
ensure that admitted lower-income students enroll and are retained through practices shown to be effective;
prioritize need-based financial aid; and
minimize or eliminate gaps in progression and graduation rates between and among students from low-, moderate- and high-income families.