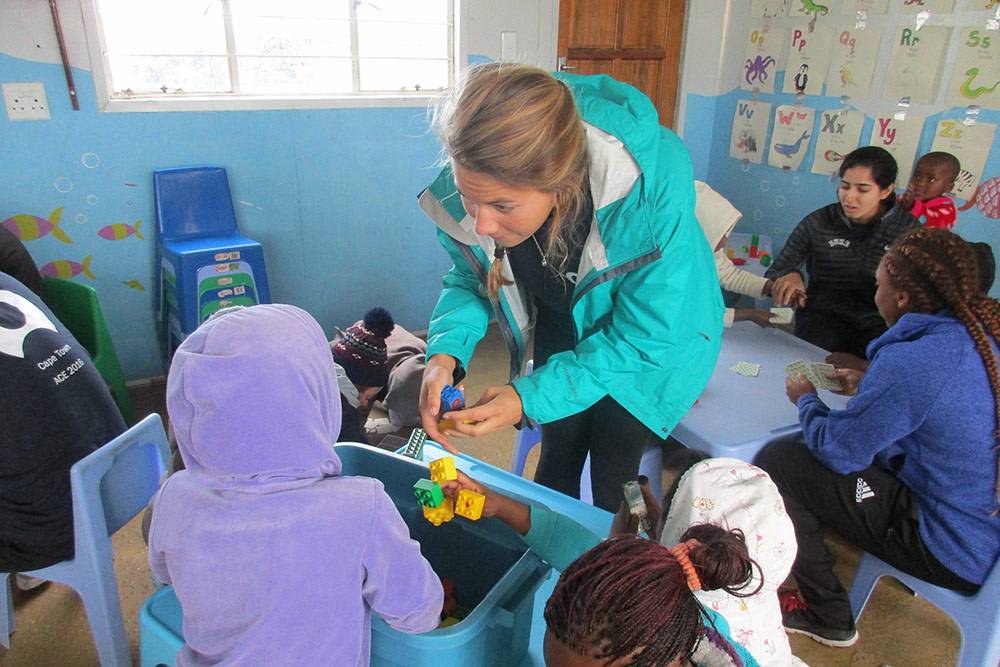 In the summer of 2016, 21 student athletes from Duke joined 19 student-athletes from Stanford for the inaugural year of the Rubenstein-Bing Student-Athlete Civic Engagement Program (ACE). Three of Duke's 21 athletes are also students pursuing a certificate from Duke Innovation & Entrepreneurship, and they used the three-week immersive experience as credit for the 150-hour experience required by the certificate.
The program is modeled after the longer summer service experiences that Duke offers through DukeEngage but was designed specifically to cater to student athletes, said Emily Durham, program director for ACE. The three-week experience abroad – in either South Africa, Vietnam, China or India – allows students to immerse themselves in a new culture without drawing them away from athletic practice and training for an entire summer or semester.
"We designed the ACE program to be an immersive service experience because we know that's part of students' development as global citizens," Durham said.
Bronson Bruneau, a junior Duke football player who traveled to Vietnam through ACE, said it was this promise of immersion that drew him to the program.
"I saw it as an opportunity to give me more of a global perspective," he said.
Oliver Spring, a second-semester sophomore and a Duke soccer player, spent part of his summer in South Africa.
"There are a lot of things that people don't realize from what they read or see on the news," Spring said. "I realized how much apartheid has shaped the nation."
Lizzie Devitt, a junior member of Duke's swimming and diving team who also went on the South Africa trip, said she learned not only from the trip, but from her experiences in the Duke I&E certificate as a whole.
Before participating in the ACE program, Devitt took a social innovation class offered by Duke I&E.
"It really opened my eyes to a lot of things I didn't know were going on in the world," Devitt said. "I've learned interesting and valuable material through the entire certificate."
Each week of the program was a little different, Spring said. The students spent time visiting classrooms and talking about goal setting, playing with kids at the Ikhayalethemba Safe Haven, completing beautification and light construction work and designing and running a track and field enrichment program.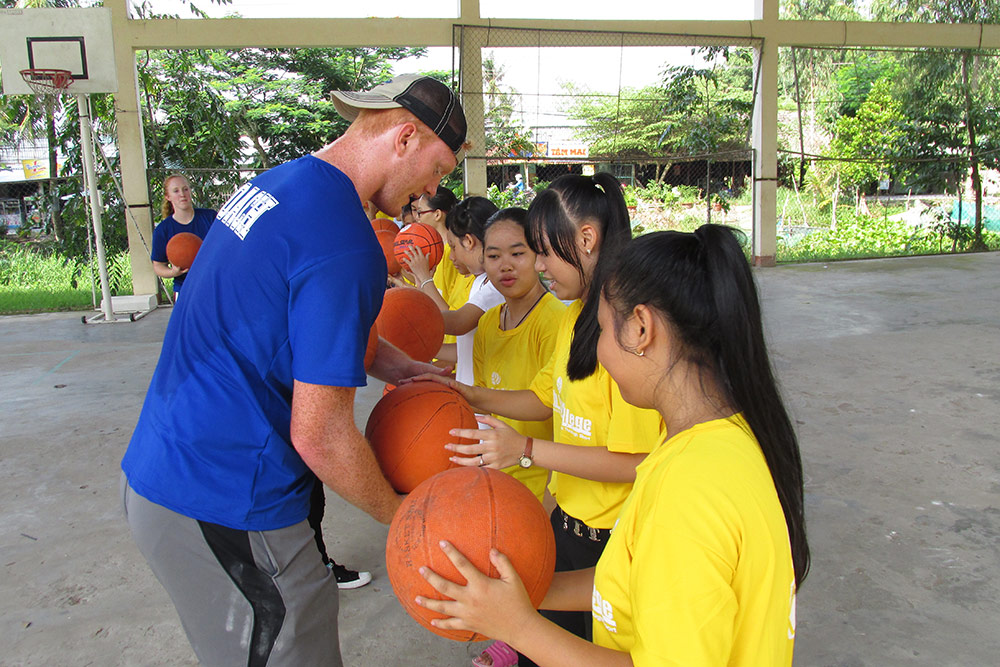 Junior Bronson Bruneau plays basketball with students in Vietnam.
In Vietnam, Bruneau partnered with Vietnamese college students to create lesson plans and deliver physics and basketball lessons to eight- and ninth-grade students who spoke no English.
Bruneau said he had to be innovative in many respects on the trip, including in his communication.
"When you have to teach physics to students who don't speak your language, you have to get creative," he said.
Devitt said she drew on the material she learned in her social innovation class during her experience in the ACE program.
"The emphasis of the whole trip was sustainable progress," she said, adding that the students' work made a permanent impact, such as a project building cement structures to help a community with its water collection.
A public policy major, Devitt said learning about innovation has piqued her interest in innovative solutions in the health field. She got a taste of that in South Africa, when she and her fellow student athletes implemented an exercise program to help a local school get its track and field program off the ground.
Oliver Spring with children in South Africa.
Bruneau said he chose to pursue the I&E certificate because it filled in gaps of the curriculum his mechanical engineering major offered.
"Both the certificate and the ACE program have helped me to realize how I can have an impact in more than just my community," he said.
Spring, a psychology and philosophy major, said that the biggest reason he was drawn to the Duke I&E certificate was the experiences it required.
"Being forced to branch out makes you grow and learn a lot," he said. "I learned so much from the trip, and I'm sure anyone would learn so much from it."
The ACE program reminded Devitt of the I&E certificate because both programs are open to students with diverse interests and majors. "I think it's a testament to how enriching the experience is and how it can be applied to every area of study and every person," she said.
Bruneau said he has encouraged teammates to apply to the program, even giving a presentation on ACE to his team.
"Missing three weeks of training definitely hurts you in some respects, but the benefits you receive from ACE outweigh that by far," he said.