Setting New Records in 'Zero Waste'
Football game day composting and recycling sees highest success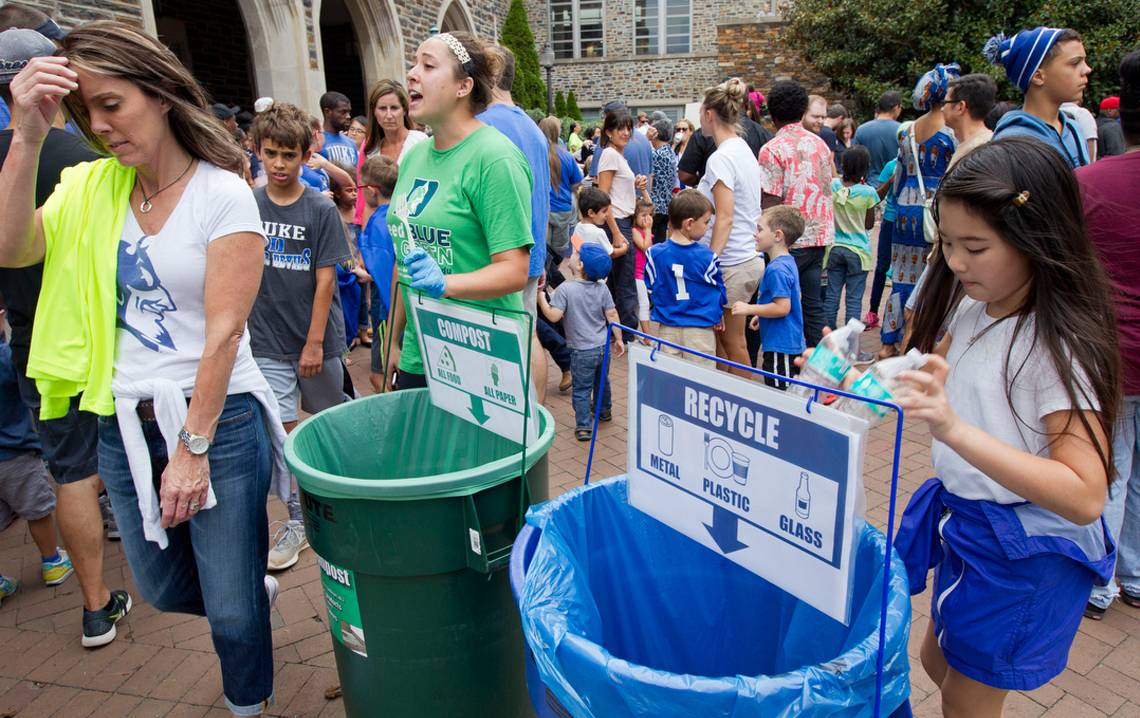 In the third year of Duke football's "zero waste" game day initiative, fans are helping set new records in an attempt to create a more sustainable experience at Brooks Field at Wallace Wade Stadium.
Through the Blue Devils' first four home games this season, Duke achieved one official zero waste designation for the Sept. 10 game against Northwestern University, diverting 93 percent of recyclables and compost from the trash, surpassing the threshold of 90 percent. In three other games against North Carolina Central University, University of Virginia and Army, fans averaged 75 percent diversion, well above 2015's overall season average of 55 percent.
In all, 40,840 pounds of recycling and compost was diverted in the four games versus 10,340 pounds of trash collected. Tallies from the home game against Virginia Tech will be determined in the coming weeks, as well as numbers from Duke's matchup against University of North Carolina-Chapel Hill, which is Nov. 10.
"Our game day volunteers have shown so much enthusiasm to make a difference to educate fans on Duke's environmental and sustainable goals," said Becky Hoeffler, program coordinator for Sustainable Duke. "Knowing that there's a way to integrate sustainability into football thrills everyone involved."
The success of the "zero waste" program has grown in each of its first three years. In the 2015 season, Duke became the first school in the ACC to achieve a zero waste game day when it diverted 94 percent of recyclable and compostable materials in a game against University of Pittsburgh. What sets Duke's sustainable program aside from other colleges and universities is Duke's effort includes volunteers who scour parking lots and help at dedicated recycling stations at the stadium for the entirety of game day – from tailgate until fans leave. Most schools with similar programs focus only on waste created in a stadium.
Along with fans, Blue Devil football players have worked to support the effort. Before this season, members of the team held an event to prepare 10,000 rolls of bags and educational fliers to be distributed to tailgating fans to help explain how to dispose of recyclables, compost and trash on Duke's campus.
"The support from the football team and coach David Cutcliffe is the best part," Hoeffler said. "Members of the program continue to show interest in getting involved and bringing sustainability into athletics is absolutely phenomenal."