The Future is Now at Duke's Humans and Autonomy Lab
Faculty and staff research futurist technology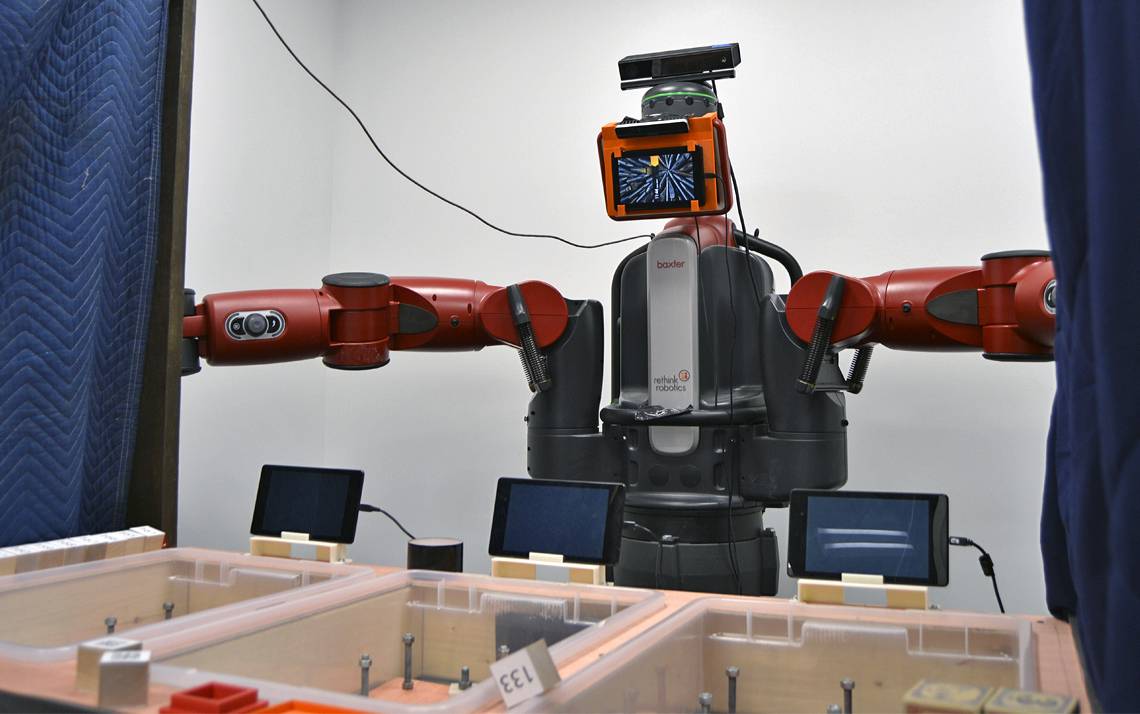 Driverless cars. Drones flying through the sky. Years ago, they would have sounded like details out of a science fiction novel, but they're reality.
As humans become accustomed to interacting with the world through technology and "supervisory control" platforms, Duke's Humans and Autonomy Lab (HAL) is working to lead academic research on how this kind of connection can be utilized in the most positive and safe ways for society.
"We're getting more and more technology all the time and we're relying on these systems to do things for us," said Michael Clamann, a senior research scientist at HAL. "We like to use computer systems to do things that are dull, dirty or dangerous, so we're doing research to better understand what happens to systems when a person supervises a computer system rather than having their hands directly in a situation or environment."
Research by Clamann and others at HAL has recently focused on real world implications of driverless cars, which are being developed by the likes of Nissan, Ford, and Google. One problem facing the use of the vehicles is the interaction and communication with pedestrians. In a normal situation, a driver could make eye contact and display body language to a pedestrian, Clamann said, but with driverless cars, someone crossing the street wouldn't have these kinds of signals.
"So we mounted displays to the front of a pretend autonomous vehicle to show different types of communication like a 'don't walk' symbol or a speedometer," Clamann said. "But what we found is people didn't really pay attention and relied on their past behaviors."
Instead of interpreting the display, pedestrian test participants based their decisions on when and how to cross a street based on the vehicle's assumed speed and an expectation it would slow or stop. The results of the experiment will hopefully inform future designs for vehicle-to-pedestrian communication.
Other research at HAL includes projects with the Department of Defense on use of drones and military training, high-speed rail safety and human-robot interaction in assembly of items, such as in a factory.
"There is a need for so many systems, from consumer product design to military and commercial systems, that will need human-automation interaction," Clamann said. "There's always going to be new work and a different problem to solve."
Here are five fun facts about Duke's Humans and Autonomy Lab:
HAL is made up of one professor, two research scientists, one postdoc, four Ph. D. students, a revolving collection of undergrads and, at any given time, at least one visiting international scholar.
Projects at HAL extend to work on land, water, air, space, and cyberspace.
Faculty and staff have worked with the Air Force, Army, Marines, NASA, Google, Amazon Robotics and more.
Researchers simulated 880 street crossings on Duke's campus as part of HAL's driverless car study.
HAL director Missy Cummings has made a variety of appearances as an expert on automated robotics, including testifying before the Senate Committee on Commerce, Science and Transportation in March on the future of self-driving cars. She also discussed drones on Comedy Central's Daily Show and Colbert Report and in a TED talk.