Walla Named Grand Prize Winner of the 17th Annual Duke Startup Challenge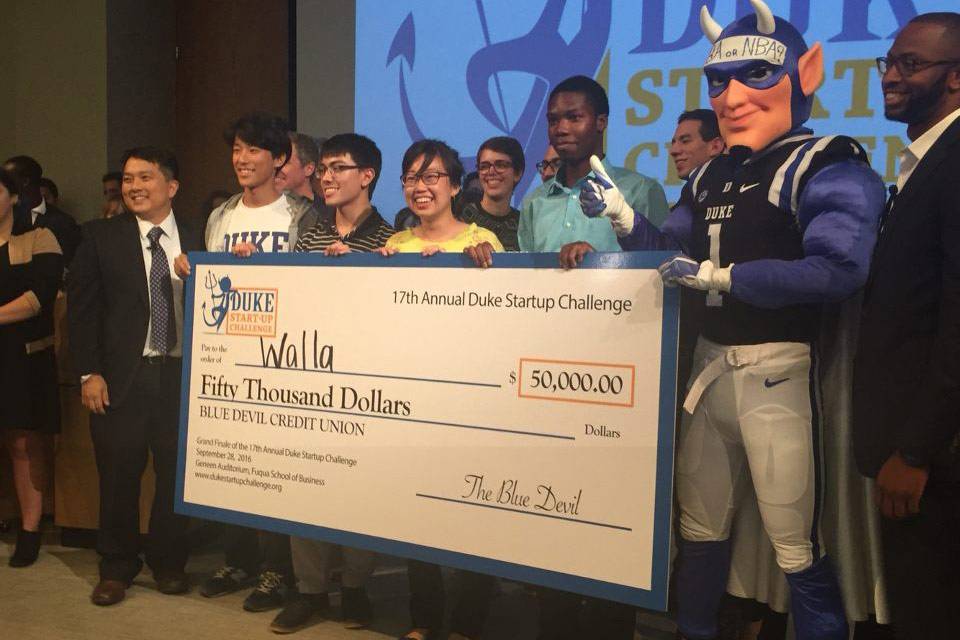 A student-run company's mobile app platform that prevents and reduces student mental illness and substance abuse by combatting social isolation on college campuses was named the grand prize winner at the recent 17th annual Duke Startup Challenge.
Founded and led by CEO Judy Zhu (Pratt '17), Walla allows students to post open invitations to activities and other students can view these activities and RSVP on the same day. This ability to be spontaneous in making plans allows users to "hop from activity to activity," said Zhu during her pitch.
The judges and audience were impressed with the intuitive design for the app, as well as the potential it has to improve the status of mental illness and substance abuse on college campuses.
The award ceremony ended a year-long competition in which Duke students developed and pitched entrepreneurial ideas. Ten finalists competed for the $50,000 grand prize before a full house in Geneen Auditorium and a panel of alumni entrepreneur judges.
Companies BioMetrix and Tiba pitched innovative ideas and technologies that would contribute toward helping the prevention and treatment of physical injuries. GoGlam, Grow With Nigeria, and MedServe were service-based startups that focused on matching people together with opportunities. Teraphic pitched a solution for prototyping and manufacturing terahertz imaging systems using 3D printing.
The team of Ebb won the $2,500 Audience Choice Award for their app that strengthens users' support systems while going through menstruation.
As part of the challenge's award ceremony, keynote speaker Tatiana Birgisson, Trinity '12 and founder and CEO of MATI Energy, spoke about her successes and failures as an entrepreneur.