New Makerspace and Technology Hub Opens on Campus
Grand opening event in renovated Telcom Building space is October 5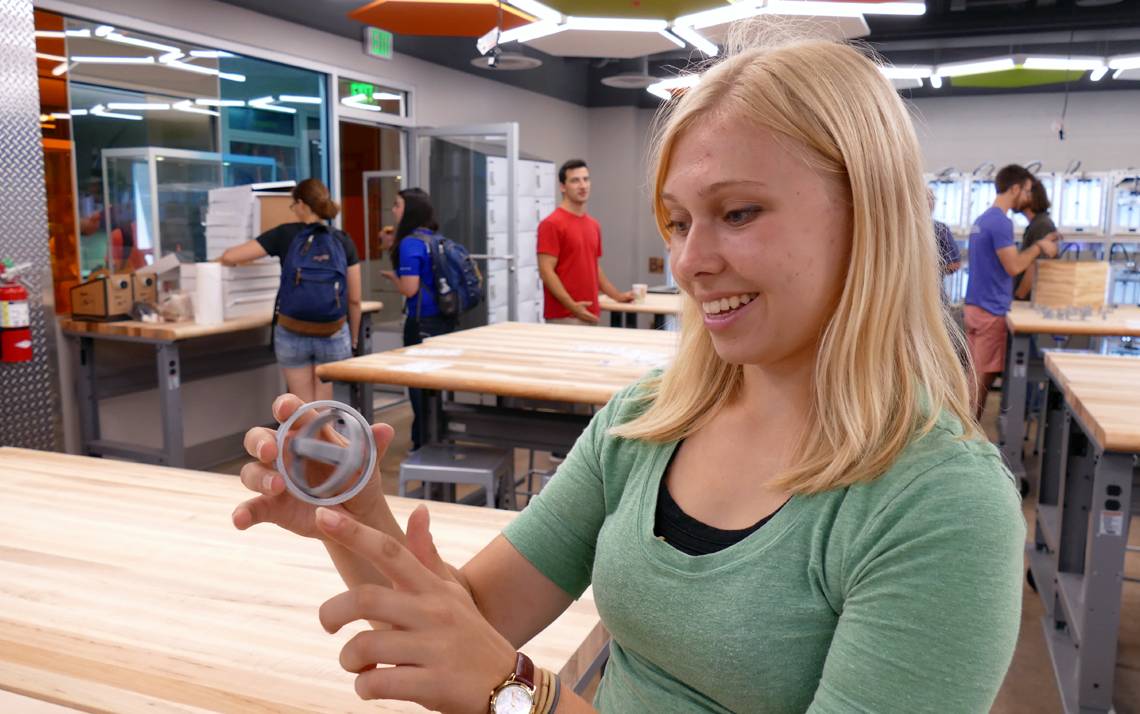 A new Technology Engagement Center, complete with an expanded Co-Lab Studio makerspace, is now open in the renovated first floor of the Telecommunications Building.
Also known as "The TEC," the West Campus facility will be a hub for technology innovation and experimentation, said Julian Lombardi, assistant vice president for research and academic services at the Office of Information Technology.
"It will be OIT's front-facing creative and learning space to support the emerging needs of the academic and general Duke community," Lombardi said.
A grand opening event for the Duke community is 4 to 6 p.m. October 5 in the new space.
TEC brings several OIT groups together in one location – the Co-Lab Studio (a   makerspace,) Duke Research Computing, the Innovation Co-Lab (a technology creativity incubator on campus), and new video recording and editing suites to support the creation of digital and online course materials. The biggest draw is the vastly expanded Co-Lab Studio, which was previously housed in a 400-square-foot room with a rack of 3D printers.
Last year, the Innovation Co-Lab and Studio were used by hundreds of undergraduate and graduate students and researchers.
"The 3D printers were in especially high demand for everything from class projects to startup ventures to medical device exploration," Lombardi said. "Our goal this year is to enable even more creativity though added capacity and new technologies."
The new Co-Lab Studio is about 2,000-square-feet with workbenches, an expanded rack of 55 3D printers, a separate room for fabrication equipment such as laser cutters and CNC routers (computer controlled cutting machines), and a specialized workspace for delicate fabrication jobs. The 3D printers are available to the entire Duke community and can be accessed online through 3Dprinteros.com, where you can send print jobs to the TEC printers to pick up later.
In addition to hands-on workspace and consultation, the heart of the engagement center is an open commons space for sharing ideas.
"It's an active space, not a study or quiet space," said IT Innovation Program Manager, Michael Faber. "The commons is a place for spontaneous interactions."
August Burns, department business manager for Pratt's Fitzpatrick Institute for Photonics, visited The TEC last week. She was so impressed that she will include it during a tour as part of Pratt's "Introduce a Girl to Photonics" in October to expose school-age girls to science and technology.
"Many girls would think 'how cool is that to design and build anything,'" Burns said. "My wheels were turning, and I thought it would be awesome to bring some of the girls over."
The TEC is open to faculty, students and staff, and the The Co-Lab Studio will be staffed daily by students who will assist visitors with projects big and small. The Duke community is encouraged to drop by any time to visit, receive technology consultation or get ideas about upcoming projects.