How Jewish Identity Is Portrayed (Or Not Portrayed) in Hollywood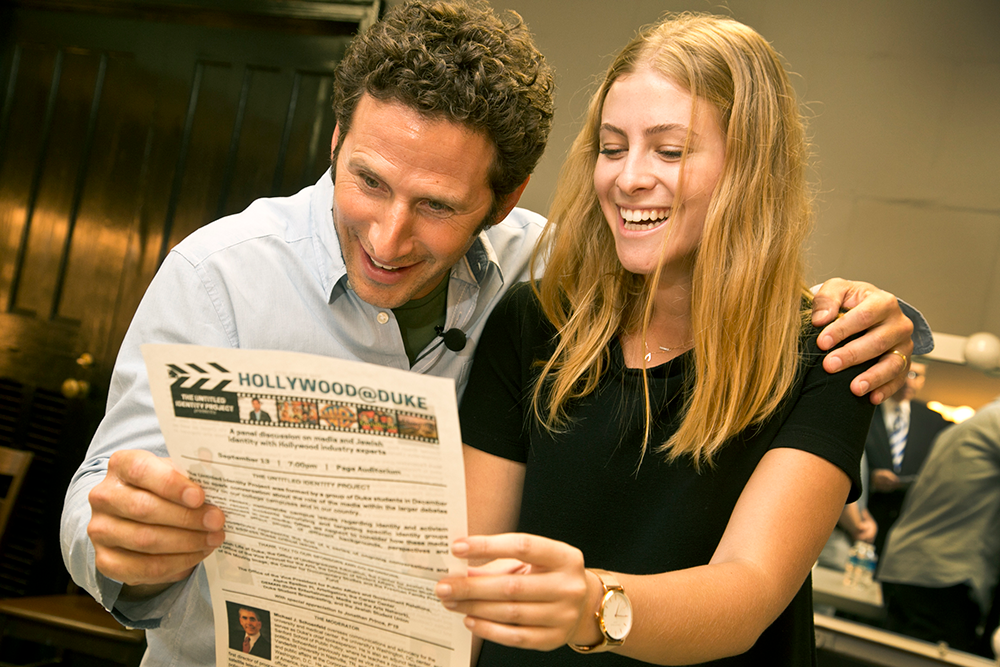 In the movie "Defiance," actor Mark Feuerstein said he was excited to play a Jewish character who takes part in the largest liberation of European Jews in occupied Europe during World War II.  But he knows for every experience like "Defiance," there are times in Hollywood when religious or ethnic identity is hidden or changed.
"Susan Harris tells a story about 'Golden Girls,'" said Feuerstein, who recently stared in the TV show "Royal Pains." "She wrote it about four old Jewish women living in Florida.  They shot a pilot, it was great and everyone was excited, but the network told her 'Rewrite it. Nobody is interested in watching four old Jewish women.'
"So Susan goes back, rewrites it by adding a vowel to everyone's name and suddenly it's about four old Italian women."
Speaking Tuesday at "Hollywood @ Duke," a panel discussion and symposium centered around Jewish identity in today's media, Feuerstein and others talked about how often actors, writers, producers and other in the industry end up "hiding their Jewish identity, whether among ourselves or to keep people from being offended."
Panelists included Feuerstein; agent Ann Blanchard; actress, author and composer Hannah Friedman; casting director and producer Amy Lippens; president of Warner Brothers Films, Greg Silverman; and producer Doug Robinson.
Panelists said that art is meant to be complex, and so identity can show up in unexpected ways. Robinson, producer of the TV show "The Goldbergs," said the show initially had a different title. The network finally settled on the title to avoid confusion with another show.
"The show was based on the experiences of its creator, Adam Goldberg, but being Jewish wasn't central to his identity growing up.  We were concerned that calling it 'The Goldbergs' might alienate some of the audience. It wasn't until the second season that we even addressed the fact that the family was Jewish."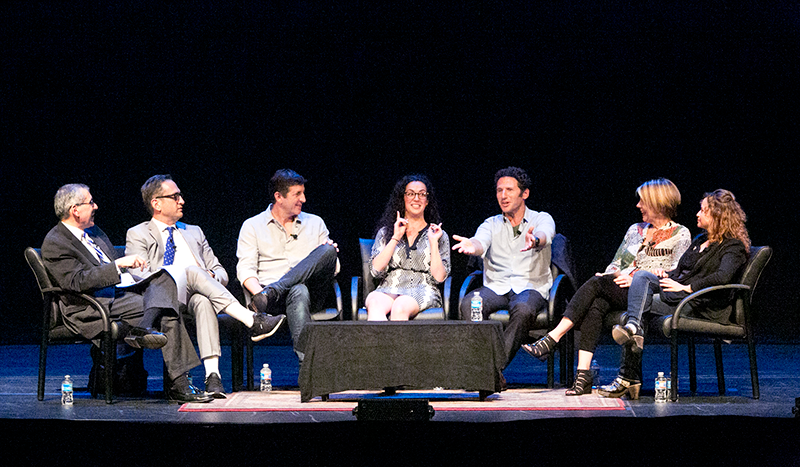 Panelists share stories of working in Hollywood and the portrayal of Jewish identity in films and TV.
Blanchard said that "the good news is that there's more of a tendency for someone's personal identity to be a mark of distinction early in their career. It's important for them to find their voice. 
"But what's interesting is that many of my Jewish clients are sometimes shying away from it.  There is a nervousness sometimes to showing that."
Identity can show through in subtle ways. When Silverman asked the audience to name the most recent Warner Brothers film starring a Jewish character, one person shouted out "Superman."
Silverman laughed.  "Superman was created by Jewish writers who used their experiences, but no, Superman is from Krypton. He's not Jewish."
The answer was "Sully." It's not a central part of the story, but the American Airlines pilot Chesley Sullenberger is Jewish.
The panel discussion was moderated by Michael Schoenfeld, vice president for public affairs and government relations, and held at Page Auditorium.
This new initiative is co-sponsored by the Office of Undergraduate Education, the Office of the Vice President for Public Affairs and Government Relations, the Division of Student Affairs, Jewish Life at Duke, the Center for Jewish Studies, Arts of the Moving Image, Artstigators, the Career Center, DEMAN, the Center for Documentary Studies, the Jewish Student Union, Theater Studies, and Visual and Media Studies. Suggested topics for future events include issues of identity revolving around race, color and gender.