How's Your Cubicle Etiquette?
Duke employees share their do's and don'ts while working in a shared space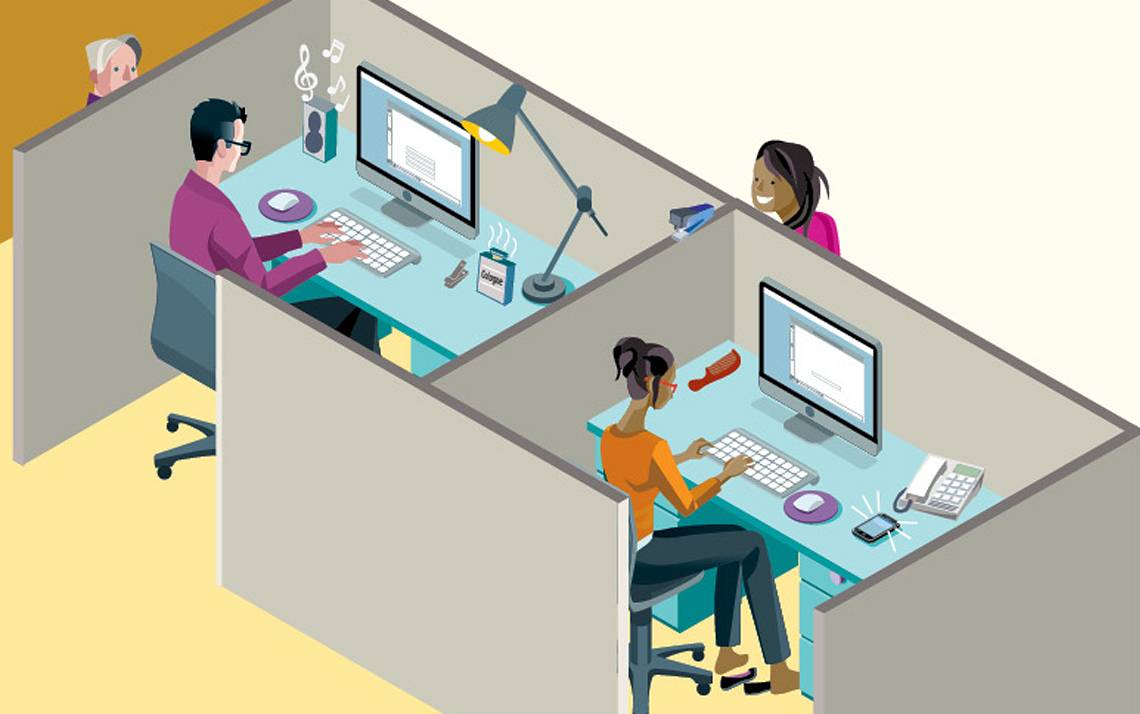 When sharing office space with others, reheating cabbage or fish, conducting meetings on a speakerphone, or clipping fingernails doesn't exactly merit a "Coworker of the Year" award.
However, establishing some best cubicle etiquette practices can enhance colleague collaboration and communication and make daily life easier in the workplace.
"Respect is very important," said Monique Turrentine, a Duke Career Center assistant director for employer development who recently worked in a cubicle setting in Duke's Fuqua School of Business. "If each individual shows a level of respect for themselves and the people around them, that goes a long way."
Working@Duke asked Duke employees to share some #cubetiquette do's and don'ts about working in close quarters, and here's a sampling:
"Make sure your data and privacy is protected since it is an open space and anyone can walk by while you're off with other work. At OIT-CDSS, we take privacy very seriously and will screen-lock customer's computers and devices or log off when we know we will be away from our desks."
Ron Altiery
Team Lead
Office of Information Technology, Centralized Device Services and Support
--
"If you're not super quiet on the phone, you may be sharing more than you'd like. If you get questions from colleagues like, 'Hey, did the sellers of that house accept your offer?', it means you need to lower your voice."
Julia Trimmer
Manager, Faculty Data Systems & Analysis
Office of the Provost
--
"I like the collaboration and learning that takes place because we sit in an open environment and the fun we have while we're at work. It's part of what makes us such a great team."
Marti Brauer
Information Security Analyst III
Duke Health Technology Solutions
--
"It is bad 'cubetiquette' for someone to pop his or her head over the cubicle wall without warning in a sneak attack maneuver! Sometimes the abruptness of the wall pop-over is startling. Other times, I could be taking a bite of lunch or focusing intently on something. Approach my desk on foot, please, so I can see you coming."
Rose Porges
Executive Assistant
Duke University Health System
--
"Working in a cubicle has been a very good lesson in awareness for me. I am much more aware of how loud things are, not just voices, but phones, walking with heels and other everyday things that we usually tune out in a busy environment."
Mary Davis Wallace
Donor Relations Project Coordinator
Duke Health Development and Alumni Affairs
--
"Make sure to control your emotions. If you're having a bad day, everyone can see you. There's no privacy. I would recommend shaking it off by taking a walk to the break room, getting a snack or going outside."
Srini Iyengar
Senior Technology Partner
Learning & Organization Development
--
"To work in a cubicle farm is to be battling distractions from almost all sides, and in the end, I try to minimize my contribution to it by using private spaces for phone calls, eating in the break room and keeping conversations down. But I also acknowledge that I have no control over others, and I would prefer a happy, collegial environment."
Debrah Suggs
Senior IT Analyst
Office of Information Technology
--
Send In Your Do's and Don'ts
Share #cubetiquette advice on Working@Duke's Twitter and Facebook pages.