7 Female Duke Deans Share Leadership Insights
Deans from schools across Duke discuss leadership journeys during a panel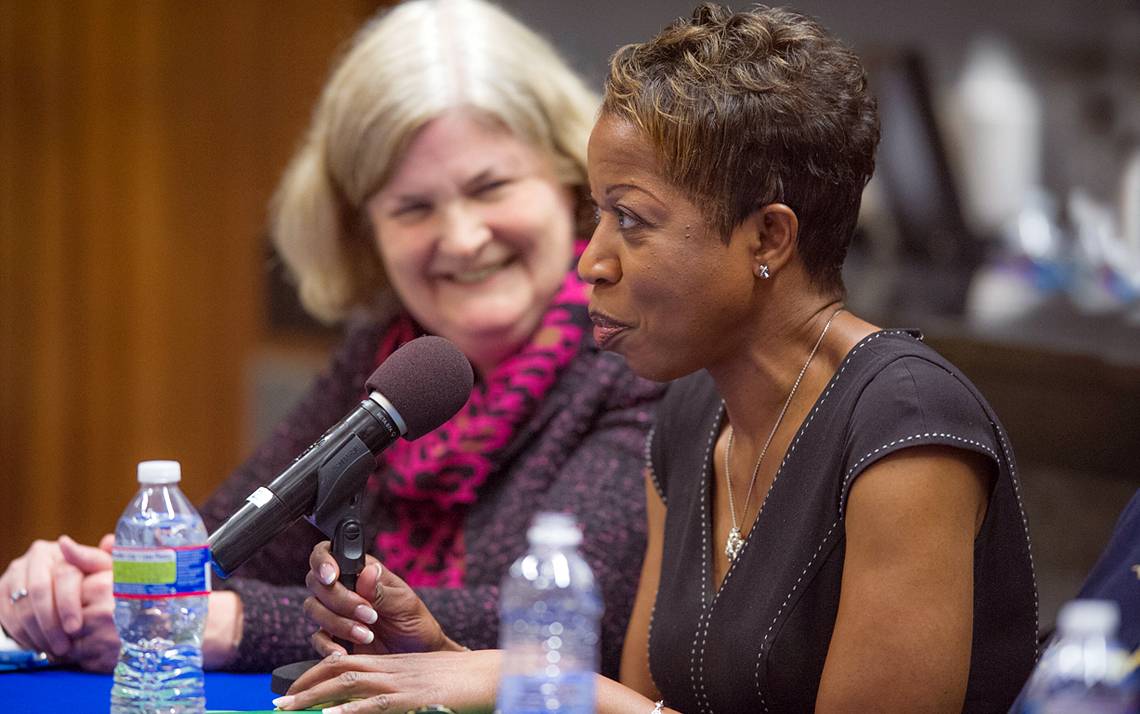 Addressing about 60 Duke students, staff and faculty during a panel discussion Monday, seven female deans at Duke discussed balancing work and life, important leadership qualities, overcoming self-doubt, and stereotypes of female and minority leaders.
Each dean also described her own path to academic leadership roles at Duke.
An estimated 40 percent of new dean appointments in higher education across the U.S. in the past two years have been women, possibly indicating a turning point in higher education leadership, said Kirsten Corazzini, an associate professor in Duke's School of Nursing who served as a panel moderator. The event was organized by the Faculty Women's Network and Caucus at Duke.
"We gather today to honor these individual unique narratives of each of the accomplished scholars in her trajectory toward her current leadership position here at Duke University," Corazzini told the audience gathered in Gross Hall for the panel discussion.
Below are some shared insights from the panel discussion:
"When I became dean here in 2007, about 12 to 15 percent of medical school deans were women. Had been that way for a while. Still is. When I came, Duke made a big deal about the fact that I was the first woman dean of a top-10 medical school, in fact, the first woman dean of what the national organization considers a research intensive medical school, and I still am. So we are not making progress in the way some other fields are. I sit in a lot of meetings where I'm the only woman or one of only a couple women."
Nancy C. Andrews
Dean, Duke School of Medicine
Appointed in 2007
--
"Each of us I'm sure has something that looks like a team that we count on. When I was in graduate school my first year, I was struggling really hard. The one African-American faculty member in the Department of Chemistry at UNC-Chapel Hill, this African-American male, wonderful organic chemist, he said to me one day, 'You know, this is not stellar. Maybe you want to be a high school teacher.' My mother was a high school teacher. I didn't have any problem with high school teachers. But it was like, 'Ugh.' And I thought, OK, this is going to be interesting. And then I met my mentor soon after that. …He was an assistant professor, he was two years older than I was, and to this day we're still mentor-mentee together. …My mentor doesn't look at all like me. But this is the person who invested in me and he saved my life right then, and he taught me how to do everything that he was learning how to do as an assistant professor, and he just walked me through that. So finding your people is critical."
Valerie S. Ashby
Dean, Duke Trinity College of Arts & Sciences
Appointed in 2015
--
"I come from a different leadership stance in that most, 92 percent, of the faculty are women, and we know from the literature that women expect different things from leaders, but almost all of us have to work with very diverse faculty so you actually find yourself, I find myself having to moderate my style of responding and to certain requests and certain things. But I like to echo what previous deans have said. If this is what you think you want to do when you're 30, you need to ask yourself why. Because it's a great job, but it takes a lot of conflict skillset. And most of all, you have to learn how to take care of yourself and stay centered and every day understand why you're doing what you're doing and who you're doing it for."
Marion E. Broome
Dean, Duke School of Nursing
Appointed in 2014
--
"As an assistant professor, I had four young kids and I was a single mother, and the only thing I was worried about was getting my next publication and getting tenure, so this idea of leadership was nowhere on my mind. But as my wonderful colleagues have said, leadership sometimes is not something you choose…but it's something that chooses you. What you oftentimes find is people watch how you move through the world. They watch how you deal with conflict. They watch how your temperature goes up and down in terms of how quickly people can anger you or not. They watch your sense and sensibilities about decision-making, whether you consult with other people in doing so or make those decisions yourself, but most importantly, they watch your scholarship and mentorship."
Linda M. Burton
Dean, Social Sciences
Appointed in 2014
--
"My journey's been a bit different than many people in academia. I left home when I was still in high school because my house was not a safe place, so I didn't have the opportunity to go to college until I was in my early 30s while I was raising children and working at the fabric store to pay my tuition. So I went to school to do my bachelor's degree and then my master's degree and then my Ph.D. all in a row, it took many years, and I did it out of a deep sense of call that my vocation was to be a leader in the church in some specific ways. …Being in community with trusted friends, with people who loved me, with people who would encourage me, with people who wouldn't let me off the hook when I was tired, made all the difference in the world. I couldn't be here if it was just up to me. And so as you're pursuing your vocation, whatever it is, I really encourage you to have a circle of friends that you can trust, that you can speak the truth to, that you'll encourage each other."
Elaine Heath
Dean, Duke Divinity School
Appointed in 2016
--
"Those stereotypes are there. …And if you feel that you have to tiptoe around what other people might think, you're really not going to be able to do this job, that somehow you have to conform to what they think you should be. It's a lose-lose situation for you, not for them, because they have basically won, OK, because they've forced you to be somebody that you're really not. In order to do that, it takes a great deal of confidence, and that confidence comes from your scholarship, having gone through the ranks from the various leadership roles that you've had, whether it's in the university or professional societies or whatever. That gives you the confidence to say, 'It is what it is.'"
Paula D. McClain
Dean, The Graduate School
Appointed in 2012
--
"Maybe we really have to put aside a masculinist model of what leadership is because a lot of the new literature on leadership is all about vulnerability. The best leaders reveal themselves to their team. They're not always trying to seem above and away from the people they're leading. Those are demagogues. That's not a leader. A leader is somebody that you can invest in. So I just choose to go the route of being the person that somebody can see themselves as. I don't want to be above everybody else. I'm an advocate and a facilitator. Because if people think it's just for you or to elevate your ego, then that's not a model of leadership that I espouse at all."
Gennifer S. Weisenfeld
Dean, Humanities
Appointed in 2016