Stadium Renovations Enhance Football Experience
Brooks Field at Wallace Wade Stadium has one more year of construction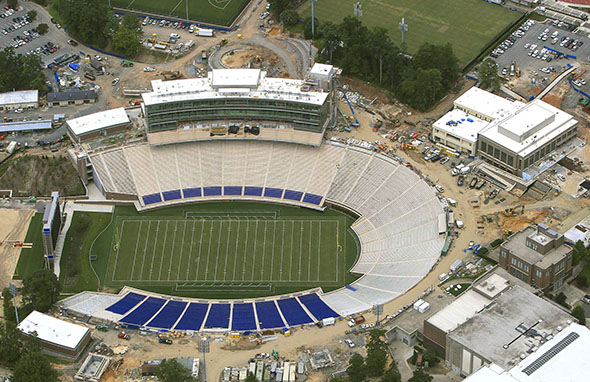 With the season opener for Duke football on Sept. 3, construction crews are winding down on the latest phase of a $100 million, multiyear renovation project at Brooks Field at Wallace Wade Stadium.
The completion of Blue Devil Tower – a 97,160-square-foot home for press, coaching staff, club seats and luxury suites – won't be the only noticeable change for fans when they return for the Blue Devils' home opener against North Carolina Central University. Since the end of last season, crews have been working to create new ticket booths, enhance concessions and restrooms and upgrade seating, including the addition of options for fans with disabilities. 
"We are excited about the future of Wallace Wade Stadium as it brings our fans closer to the action and provides more amenities than ever before," said Mike Cragg, deputy director of athletics/operations. "The improvements we've made over the last two years have made the stadium better than ever and we can't wait to showcase it to fans."
Upgrades include: 
When Duke football opens its season Sept. 3 for its annual Employee Kickoff Celebration, more fans will be sitting in comfort after the expansion of bleacher seat chair backs, which are fold-down, Duke-blue chairs with armrests. Prior to 2015 season, Duke Athletics added the seats on the east side of the stadium among reserved seats. The west side will now mimic the same enhancement with nine additional sections getting the upgrade.
The president's box, formally part of sections six and seven on the east side of the stadium, has been removed and replaced with reserved seating and an ADA platform.
New ADA platforms have been added on the west side, with most close to Blue Devil Tower. A future phase of construction will include Duke completing ADA platforms atop all 32 sections.
New, permanent concession stands have been installed under Blue Devil Tower and will include options ranging from hot dogs and hamburgers to milkshakes, smoothies and pizza. Stands will also get a technology upgrade with Cisco StadiumVision, a digital signage and TV service that will display menus on TV screens and include a dedicated TV to broadcast the football game.
Two new restroom facilities have been added on the west side of the stadium, one each for men and women. Fans will also have access to four of family and gender-neutral bathrooms. 
With the construction of the Scott Family Athletics Performance Center, Athletics added eight new ticket windows in the concourse area outside the stadium, between Cameron Indoor Stadium and Brooks Field at Wallace Wade Stadium. Fans will be able to stop by on game day to purchase tickets, but employees can lock in season tickets right now for just $125, more than 50 percent off regular price. 
Visitors looking to add to their Blue Devil wardrobe or memorabilia will have more space to shop in a new Duke Athletics team store. Through September, fans can visit the Duke Team Store, located in Card Gym. In early October, Athletics will open a 3,500-square feet space called the Johnson Family Team Store in the Scott Family Athletics Performance Center and the Card Gym location will close. Both stores operate three hours before and one hour after all home football games. 
Following the best practices recommended by the Department of Homeland Security and National Center for Spectator Sports Safety and Security, Duke has implemented additional security measures for football game days starting this season. The procedure is an expansion of measures first used at Cameron Indoor Stadium.
All fans entering the stadium will be required to pass through metal detectors, which will be set up at each entry point to Brooks Field at Wallace Wade Stadium. Bags or purses of any kind will not be permitted with exceptions:
Wristlets/clutches (with or without a strap) that fit in the palm of the hand (no larger 5 inches x 8 inches x 1 inch).
Duke Stores merchandise bags with receipt for purchase, with some restrictions.
Bags for medical and/or childcare needs.
Bags for credentialed game day staff.
For a full list of details related to new security measures, see this story.
Still to Come 
After the 2016 football season comes to an end, some renovations will still need to be completed. These include adding new ticket booths on the east and north sides of the stadium and enhancing remaining concessions and restroom space on the east side.